Want to replace your old skylight? As the gaming monitor is the first sensation diffuses on your PC, it must be chosen with care so that it fits perfectly to your needs. This article tries to help you make your choice, especially if you want to play in the best conditions.
In this article, you will learn all you need to know to understand the current display technologies, and to better choose your best gaming monitor under 300 matching to your activities. But first and foremost, here is a selection of monitors, which we think is the best feature-price-quality ratio!
If you are looking for an inexpensive monitor then you can check out the Cheap Gaming Monitor under $100
Best Gaming Monitor Under 300
Although the PC itself is important, a screen has the potential to enrich or ruin your computing experience. After all, the time you spend on your PC will put you in constant interaction with this screen. And it's not just a question of size anymore. There are more choices today than ever and a vast array of options to consider.
A gaming monitor can also increase the capabilities of your laptop or PC even PS4 or Xbox. The right screen will, therefore, maximize your PC experience, and this Buyer's guide will help you evaluate the options so that you choose the perfect gaming monitor for your situation.
Also Read: Best Gaming Monitor Under 200$ 
Best Gaming Monitor Under 300 Dollars | 2022 Comparison Table
Top Quality | Great Price | 5-Stars Picks
Best Gaming Monitor Under $300 | Products Overview 2022
1. Acer Nitro VG271 Best Gaming Monitor Under 300 (Editor's Choice)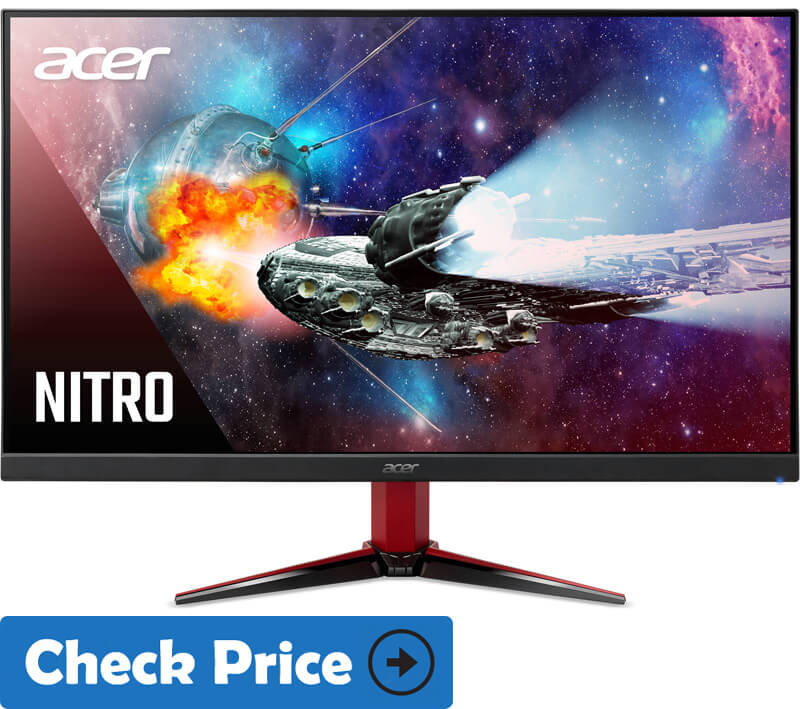 Key Specifications
Display Size: 27-inch
Resolution: 1920×1080  FHD
Panel Type: IPS
Response Rate: 1 ms
Refresh Rate (Hz): 144Hz
Sync Technology: G-Sync/FreeSync
Contrast Ratio: 1000:1
Aspect Ratio: 16:9
Brightness 350: cd/m²
Dimensions (WxDxH): 22.32 x 9.6 x 15.18 in
Weight: 13.99 lbs
About Monitor:
Every screen is important in competitive games. The Acer VG271 Game Monitor has a full HD (1920×1080) resolution monitor that can track gameplay.
With AMD Radeon technology, the game's FPS is determined by the graphics card, not the monitor's fixed refresh rate, which provides a serious competitive advantage. This design saves desktop space and lets you place multiple monitors side by side to create a seamless widescreen display.
Design:
At first glance, nothing suggests a player monitor and only the touch of blue on the foot suggests a bit of fantasy. The 27-inch slab has a matte coating that limits annoying reflections.
The back of the monitor is as sober as the front, except for the foot which this time reveals its bluish side. Acer ignores the passage of cables and it will be tricky to gather them in the back of the foot. We can also notice the presence of screw threads compatible with VESA fasteners 100 x 100 mm.
The only ergonomic adjustment offered by this monitor is that of the inclination between -5 ° and + 20 °. Acer offers no portrait mode, no rotation, and even less height adjustment. This last point is far from being anecdotal, especially during prolonged use.
Also Read: Best 24 inch Monitor For Gaming
Performance:
A pleasant surprise that this Acer Nitro VG271. This 27-inch mid-range display boasts a very good 1920×1080 pixel IPS panel and supports AMD's FreeSync technology. It ensures good fluidity for recent games with a refresh of 40 to 144 frames per second, depending on the capacity of the graphics card of the PC.
The response time of 1 ms and viewing angles of 178 ° which is perfect for gaming
Features:
The 27-inch VG271 monitor with 1920 x 1080 full HD resolution in 16: 9 format provides stunning high-quality images in every detail. Zero frame design eliminates the thick frame available on traditional monitors and frees up space, so you can see from end to end because it is a valuable screen.
Say "goodbye" to st sound and tear. With AMD RADEON FREESYNC, the monitor image is synchronized with the image on the graphics card, eliminating screen tears and providing a smooth gaming experience.
Advanced liquid crystal formula for advanced IPS technology that achieves excellent color performance with no color difference at any viewing angle.
For light colors, the VESA DisplayHDR 400 certification provides excellent contrast and color accuracy, allowing customers to experience AAA games.
Fast response time of 1ms to improve the player gaming experience. Regardless of fast action or dramatic transitions, everything runs smoothly without the annoying effects of streaks and ghosts.
The 144Hz refresh rate speeds up the number of frames per second and produces a very smooth 2D motion scene. With a fast refresh rate of 144Hz, Acer monitors reduce the time required to render images, reduce input delays and provide gamers with great gaming experience.
Connectivity:
The lightweight connectivity of the Acer Nitro offers only two HDMI inputs, a DisplayPort and a headphone output. It still includes two speakers of 2 W whose quality is clearly poor, but which will be used to watch short videos.
Also Read: Best Monitor For Video Editing
Pros
Excellent default calibration
FreeSync compatible between 40 and 144 Hz
Open angles
embeds two speakers of 2 watts
Delayed display
VRB backlight scanning system
Cons
Limited contrast
No height adjustment or rotation
No USB hub
No cable routing system
Final Thoughts:The Acer Nitro VG270UP is a very nice surprise. It displays a perfectly calibrated image, open angles and a delay in the reduced display. The FreeSync compatibility between 40 and 144 Hz is a real plus, but it is especially noticeable by its powerful backlight scanning system (VRB) that is usually found on much more expensive monitors. Putting aside the limited contrast and ergonomics, this monitor is an excellent choice for players looking for performance at a good price.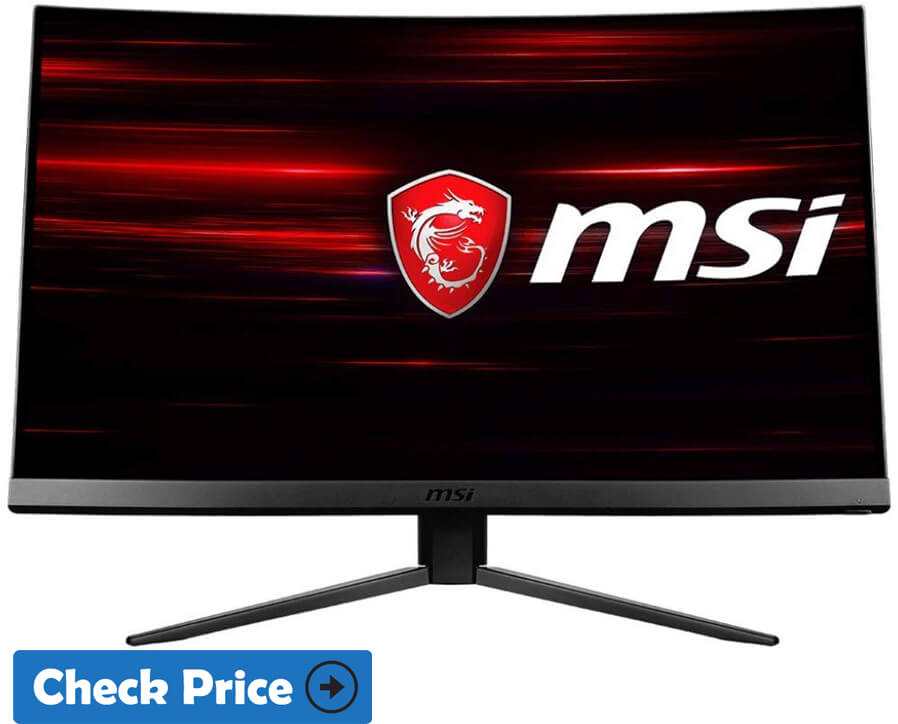 Key Specifications
Display Size: 24-inch
Resolution: 1920×1080  FHD
Panel Type: VA
Response Rate: 1 ms
Refresh Rate (Hz): 144Hz
Sync Technology: AMD FreeSync
Contrast Ratio: 600:1
Aspect Ratio: 16:9
Brightness 350: cd/m²
Dimensions (WxDxH): 22.32 x 9.6 x 15.18 in
Weight: 11.02 lbs
About Monitor:
Immerse yourself in the action with the MSI Optix MAG241C curved monitor ! Designed for digital entertainment, this 24-inch Full HD curved screen with VA slab offers a high-quality image and optimized visual comfort. Thanks to its frequency of 144 Hz and its AMD Freesync compatibility , it offers a display of great fluidity.
Design:
Its a Gamer design monitor with a slim and curved frame having wide viewing angles of 178 °, this MSI monitor offers a perfectly consistent color display, regardless of your position in front of the screen.
Performance:
With a high refreshing rate of 144 Hz, this MSI monitor offers a display of perfect fluidity with ultra-detailed images, even in the heart of the action. The ideal for a perfect playing comfort! Ideal for perfect gaming comfort, especially for fans of fps, racing games or sports games! Indeed, these games require fast and precise movements that will be ensured by a high refresh rate and a reduced response time.
Show what you can do with the Optix MAG241C gaming monitor! Equipped with a 24 "curved VA slab with 144 Hz refresh rate and 1ms response time, this monitor will help you spot your opponents faster. For an extremely smooth display, AMD Freesync technology will synchronize Refreshing the screen with the graphics card Other built-in technologies will keep you on target and quickly become your best allies during your game.
Although it is very difficult to realize, the flicker rate of a standard screen is 200 per second. This flicker causes pressure on your eyes and can cause vision problems and eyestrain. With Anti-Flicker and Less Blue Light technologies, enjoy better eye comfort, with less flickering and bluer light.
Also Read: 7 Best Monitor For Eye Strain
Features:
The MSI game monitor features a 144 Hz VA LED display with refresh rate and response time that delivers the greatest benefits in fast-paced game genres such as fast-rate shooters, fighters, racing sims, and real-time strategies, Sports. These types of games require a very fast and accurate movement. Outperform competitors with extremely high refresh rates and fast response time monitors.
Enjoy the highest level of immersion in the latest games with a 180-degree multi-monitor configuration in a very narrow frame. Improves continuity between screens during playback, work, or general computing.
The typical flicker rate of a typical display screen is about 200 times per second, which is not visible to the naked eye but can cause fatigue over time. MSI Anti-Flicker technology provides a very comfortable viewing experience by reducing the amount of flicker.
MSI Gaming monitors are built using AMD FreeSync technology to create the smoothest graphics in the game. Screen or st sound. Enjoy a very smooth visual effect and a game without delay.
Game OSD applications make game monitor setup much easier and eliminate the need to navigate through all menus using the monitor buttons. Set up the monitor using the keyboard and mouse. The app also has keyboard shortcut options so you can easily switch between different games.
Also Read: Best Monitor for Coding & Programming
Connectivity:
It has 2 HDMI 1.4 connectors and 1 DisplayPort connector. It also has a built-in headphone support.
Pros
R1500 light curvature provides optimal visual comfort
AMD Freesync Technology
Anti-Flicker and Less Blue Light technologies
Final Thoughts: The MSI Optix MAG241C offers perfect game performance with high refresh rates, low input delays, and 1 ms high-speed MPRT speeds. At the same time, it provides exceptional image quality with bright colors, high contrast, and curved displays.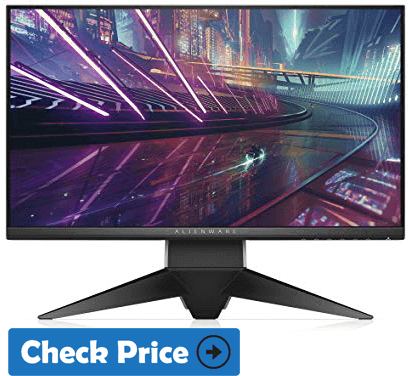 Key Specifications
Display Size: 27-inch
Resolution: 1920×1080  FHD
Panel Type: TN
Response Rate: 1 ms
Refresh Rate (Hz): 240Hz
Sync Technology: G-Sync/FreeSync
Contrast Ratio: 600:1
Aspect Ratio: 16:9
Brightness 350: cd/m²
Dimensions (WxDxH): 21.88 x 10.57 x 20.56 in
Weight: 13.47 lbs
About Monitor:
Offering optimal playing conditions, the Alienware AW2518H monitor will allow you to reach the heights! 240 Hz refresh rate, NVIDIA G-SYNC technology and ultra-fast response time, its qualities are numerous. Go on an adventure with high-performance gear and bring victory to every game.
This model features a 24.5-inch TN panel with Full HD resolution, NVIDIA 3D Vision support for immersive parts, full connectivity, and superior comfort with ergonomic design and comfort technologies ocular. In addition, AlienFX technology brings you an RGB light touch for unforgettable moments!
Also Read: Best Portable Monitor For Gaming
Design:
This screen has a modern and sleek look for a natural integration into your gaming space. Enjoy an ergonomic design with the practical management of inclination, height, rotation or pivoting and get comfortable for these marathon-style gaming sessions. The thin frame also allows an effective multi-screen installation for wild parties!
Performance:
With the powerful combination of technology NVIDIA G-SYNC and a refresh rate of 240 Hz, the Alienware AW2518H screen you will experience ultra-smooth parts with sharp graphics and without jerks. In addition, the 1ms ultra-fast response time offers responsive gameplay to not be surprised by your enemies!
This 24.5-inch monitor boasts full HD resolution (1920 x 1080 pixels) and integrates multiple game modes to suit your preferences. Opt for a preset mode (FPS, RPG, RTS) or customize your settings via 3 modes available.
Personalize your gaming environment with the AlienFX RGB lighting system . Find 16.8 million colors available and fight your enemies under a banner that looks like you! The logo and the elements on the back of the AW2518H illuminate for a total effect.
Features:
24.5-inch screen with Full HD resolution (1920 x 1080)
Clear, fluid image with NVIDIA G-SYNC technology
Fast response time of 1 ms (gray to gray)
Ultra Low Motion Blur: blur effects of diminished moving objects
Maximum vertical frequency of 240 Hz
NVIDIA 3D Vision compatible
Ergonomic design : tilt, swivel (-90 / + 90 °), rotation (-20 / + 20 °), height (130 mm)
Connectivity: HDMI, Display Port, USB 3.0 hub (4 ports)
Superior play-ability with Flicker-free ( anti-flicker technology) and Comfort-view (blue light reduction)
It has a customizable AlienFX lighting
Connectivity:
Finally, find a wider connectivity including two HDMI ports, a Display-Port connector and 4 USB 3.0 ports.
Pros
Fast response time
High refresh rate
Excellent color and brightness
easy to access USB and audio ports
Cons
OSD operation could be solved with more elegance
Final Thoughts: A very good 240hz bright colors, the screen is adjustable and its height can be changed, the only weak point is the support that takes a lot of space but ensures good stability. I recommend if you want to buy a 240hz.
4. AOC U2790VQ Top Gaming Monitor Under 300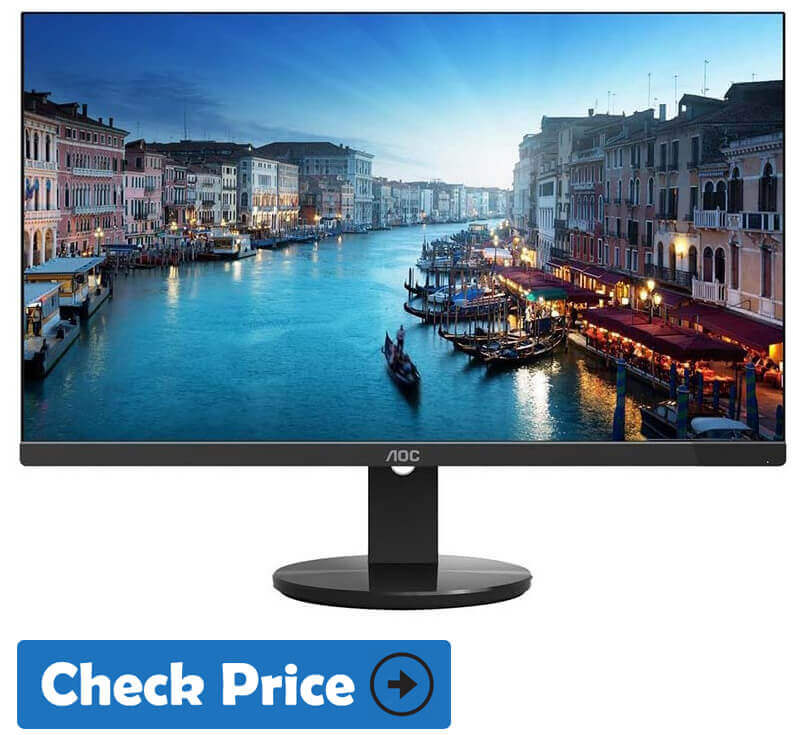 Key Specifications
Display Size: 27-inch
Resolution: 4K 3840×2160 UHD
Panel Type: IPS
Response Rate: 5 ms
Refresh Rate (Hz): 60Hz
Sync Technology: G-Sync/FreeSync
Contrast Ratio: 600:1
Aspect Ratio: 16:9
Brightness 350: cd/m²
Dimensions (WxDxH): 24.21 x 1.71 x 14.33 in
Weight: 11.35 lbs
About Monitor:
The AOC U2790VQ monitor will provide you with an unprecedented viewing experience with its 27-inch IPS panel with 4K resolution.
Enjoy stunning images that are rich in detail and color, no matter what position you are looking at from. Thanks to the frameless design, this monitor is ideal for uniform multi-monitor configurations.
With multi-scanner technologies and AOC LowBlue mode, your eyes are well protected from harmful flashes and blue light.
Also Read: Best Portable monitor for Macbook Pro
Design:
The modern and frameless design of this monitor maximizes screen space and creates a clean and attractive presentation.
Expand your vision with multiple monitor settings. The frameless design (with a narrow edge) offers minimal bevel distractions and an extra clean configuration for maximum battle/workstation.
Performance:
10-bit color provides smoother color transitions and is capable of displaying more colors than typical panels with 8-bit color depth.
With an HD Ultra resolution of 4K 3840 x 2160 pixels, the images are sharper with individual pixels, being more imperceptible. These features at the top of the line are excellent for content creation or watching streaming media.
Also Read: Best 4k Monitor For Macbook Pro
Features:
IPS panels produce realistic colors that do not change when viewed from the side.  It produces more than 1 billion colors in rich details.
It has 20,000,000: 1 dynamic contrast ratio showing deeper black & white colors.
It has LowBlue mode protects your eyes from the harmful blue light spectrum.
Connectivity:
Ports including DisplayPort 1.2, 1.4 HDMI and HDMI 2.0 have been provided for flexible connection to different PCs and multimedia equipment.
Pros
frameless design
5 ms response time for quick responses
Wall mount (VESA compatible)
Final Thoughts:The AOC U2790PQU looks like a competitive and well-specified 4K panel for the desktop and it doesn't disappoint. The image quality is always remarkably sharp when viewing UHD content, whether it's Photoshop or 4K movies.
Key Specifications
About Monitor:
This Scepter game monitor features a 30-LED display with built-in speakers. It serves as a game monitor and has a refresh rate of 200Hz screen.
The screen is a backlit Full HD screen. The general design is curved & frameless and the profile is ultra-thin.
Design:
Colorful LED lights illuminate the curved back cover of the monitor, providing a unique and modern design
Performance:
Playing fast action games and watching action movies and adventure movies always require a fast and accurate pixel response from the LED. Fast response time reduces ghosting and blurring so users can enjoy the monitor clearly and accurately.
200Hz, more than twice the standard refresh rate, allows images to pass instantly, improving player visibility and avoiding blurry images.
Also Read: 10 Best Ultrawide Curved Monitor
Features:
Scepter's 21: 9 UltraWide Curved Monitor attracts more viewer attention with a 30-inch screen that closely resembles the contours of the human eye.
With FreeSync, players can enjoy the fluidity of video and on-the-fly movement thanks to fast games. FreeSync is AMD technology that virtually eliminates tears and jaggedness due to differences in graphics card frame rate and monitors refresh rate.
FPS and RTS are custom display settings defined by Scepter to improve the gaming experience. First-person shooter (FPS), real-time strategy (RTS).
Reduce the blue light on the monitor to protect against eye fatigue, irritation, and tension. This makes working with documents, watching movies, playing games more comfortable and longer.
Monitors with built-in speakers provide office-level sound quality for teleconferences and internetwork shops. Similarly, enjoy high-quality sound while listening to your favorite songs.
Connectivity:
There are two HDMI ports and a VGA port to connect the monitor to the desired devices.
Three HDMI ports provide refresh rates up to 120Hz, and DisplayPort ports speed up the refresh rate to 200Hz, providing versatile benefits for action-packed gameplay.
Pros
Predefine FPS-RTS settings enhancing gaming
Built in powerful speakers
Back Cover Lights
Final Thoughts: Its a good consumer game screen thanks to its high color accuracy and contrast. In addition, the inclusion of AMD FreeSync and its curved design enhances its gaming credentials.
6. Acer XF250Q  Monitor Under 300 USD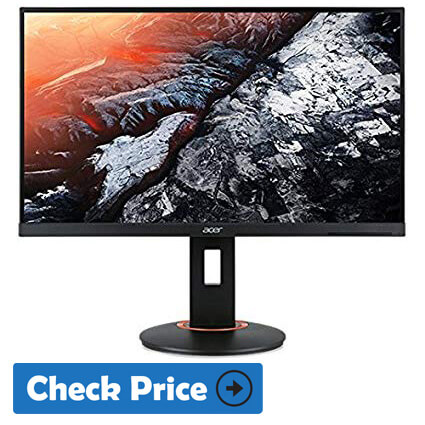 Key Specifications
Display Size: 24.5-inch
Resolution: 1920×1080  FHD
Panel Type: TN
Response Rate: 1 ms
Refresh Rate (Hz): 240Hz
Sync Technology: G sync/ FreeSync
Contrast Ratio: 600:1
Aspect Ratio: 16:9
Brightness 350: cd/m²
Dimensions (WxDxH): 22.32 x 9.6 x 15.18 in
Weight: 13.99 lbs
About Monitor:
Introducing Acer XF250Q Game Monitor-A full HD resolution monitor that can track gameplay. This G-SYNC compatible monitor provides more of what you need for a gaming experience.
Unleash the full potential of the game and offer much richer colors than before. Live something new. In addition, users can enjoy a comfortable viewing experience while playing back on ComfyView with a flicker-free low-gradation display.
Also Read: Best Gaming Monitor Under 400 USD
Design:
The build quality of the Acer XF250Q gaming monitor is a bit cheaper when using simple plastic, but the stand is completely ergonomic and is fully ergonomic and has a height adjustment of up to 150 mm, a tilt of -5°/35°, + /60°, 90°, and VESA mounting compatibility 100x100mm.
Performance:
GTG (gray to gray) 1ms fast response time improves the player gaming experience. Regardless of fast-moving actions or dramatic transitions, everything runs smoothly without the annoying effects of streaks and ghosts in the Acer XF series.
The 240 Hz refresh rate speeds up the number of frames per second and produces a very smooth 2D motion scene. With a fast refresh rate of 240 Hz, Acer monitors reduce the time required to render images, reduce input delays and provide gamers with excellent gaming experience.
NVIDIA G-SYNC compatible displays have been validated by NVIDIA and are fully integrated with GeForce graphics cards so you can play at the optimal refresh rate without breaking yourself.
Features:
With a 1920 x 1080 full HD resolution in 16: 9 format, the 24.5-inch XF250Q monitor delivers amazingly high-quality images.
Acer's flicker-free blue light filter, ComfyView, and low grading technology will keep you fighting for hours. These features allow for long-term use and minimize eye fatigue during long game sessions.
With Acer ErgoStand, you can rotate, tilt, rotate, and move the monitor up and down, so you can find the most comfortable viewing angle and monitor the thrust to enemy areas. VESA compatible mounts offer an elegant and space-saving option even in tight spaces.
Connectivity:
Connectivity options include HDMI 1.4, HDMI 2.0, DisplayPort 1.2, two internal 2W speakers, and a headphone jack. FreeSync works with both HDMI 2.0 and DP in the VRR range of 48-240 Hz.
Pros
Best quality visual result
90° Pivot for vertical view
deliver an ultra-smooth 2D motion
Final Thoughts: The Acer XF250Q is an excellent monitor for fans of competition. Its performance is destined primarily for very nervous FPS players, while its G-Sync compatibility will please the owners of GeForce graphics cards.
7. AOC C32G1 Curved Frameless Monitor Under 300 USD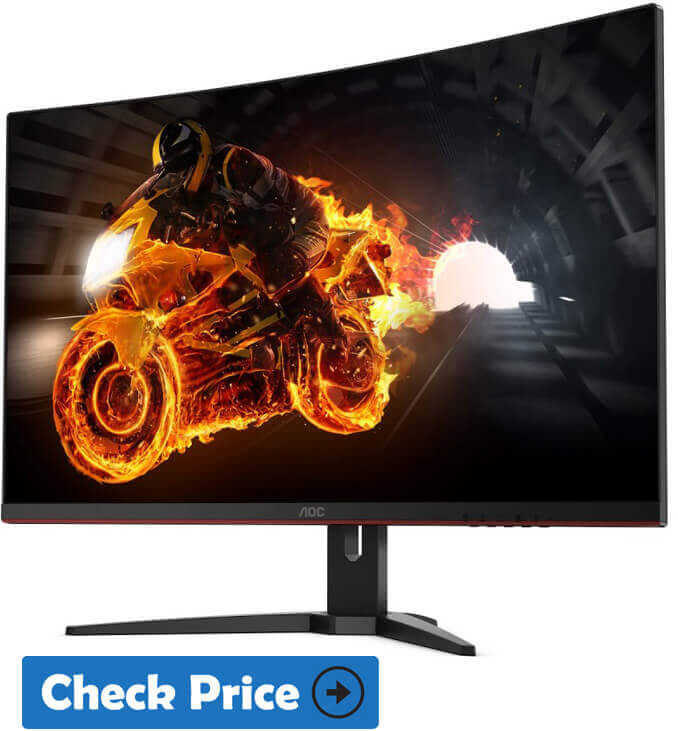 Key Specifications
Display Size: 32-inch
Resolution: 1920×1080  FHD
Panel Type: VA
Response Rate: 1 ms
Refresh Rate (Hz): 144Hz
Sync Technology: G-Sync/FreeSync
Contrast Ratio: 600:1
Aspect Ratio: 16:9
Brightness 350: cd/m²
Dimensions (WxDxH): 21.8 x 9.64 x 20.87 in
Weight: 15.38 lbs
About Monitor:
The C32G1 is equipped with a giant 31.5 "contourless VA panel, curved at 1800R in full HD resolution, 144Hz, 1ms MPRT, FreeSync and many other features dedicated to the game to experience the best experience.
Design:
The AOC deploys a resolution of 1920 x 1080 on its diagonal of 32 inches. It's a double-edged sword.
Bend radius 1800R: The curved design wraps around you to make you the center of the action and put you in the heart of your game.
Performance:
AOC's Flicker-Free technology uses a backlit DC slab that reduces levels of twinkling light. Eye fatigue is reduced to a minimum, you just have to enjoy your long intense play sessions without losing comfort!
Regardless of your configuration, access much higher frame rates and the smoothest displays with AMD Free-Sync technology. Whether you are running in the middle of explosions or crunching your tires in bends dripping with rain, say goodbye to distortions and offsets and let your opponents bite the dust you leave behind.
Get a frame rate twice as fast as ordinary screens and say goodbye to jerky images and fuzzy movements.
With a refresh rate of 144Hz, each image is neatly reproduced and in smooth succession, so you can accurately align shots and enjoy high-speed racing and enjoy the victory.
Features:
Develop your vision with different screen settings. Fine, contourless edges minimize distraction for the final battle.
Connectivity:
Pros
Stunning level of contrast
AMD Free sync
Reasonable color quality
Cons
The backlight is too dim
Fewer tuning options than rivals
no USB ports
Final Thoughts: It's wide curved and offer good color and contrast, if you are looking for a big screen with prominant results pick this one.
How to Choose Best Gaming Monitor Under 300 USD | Unrivaled Guide 2022
Display technology
Cumbersome CRT monitors are a thing of the past; today, LCD flat screens dominate the market. However, there are several types of display technologies, each with its own strengths. Most are backlit to LED, although some LCDs still use fluorescent cold cathode tubes.
Displays using Twisted Nematic (TN) technology are limited in viewing angles, brightness, and color fidelity, but offer a fast response time (often 2ms or less), which makes it popular with gamers.
Vertical Alignment (VA) displays have the advantage of high brightness, excellent color fidelity, and good black levels, but their refresh rate is below the TN.
The IPS technology is a favorite when it comes to color fidelity and viewing angles, but their weakness lies in a relatively slow response time. You can also find the PLS mention on some screens that are, essentially, the Samsung version of the IPS.
Also Read: Ultimate Monitor Buying Guide

Resolution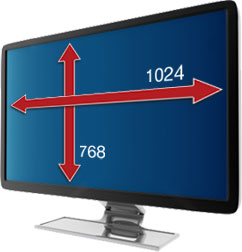 Resolution is one of the most important choices to make when shopping for a computer monitor. The higher the resolution, the greater the amount of information the monitor will be able to display. High resolution also means that text and images will be sharper. The sharpness of the display depends on a combination of things including the resolution, screen size, and distance to it.
Most monitors today offer at least Full HD (FHD) resolution or 1920 x 1080 pixels. With 25 to 29-inch monitors, Quad HD (QHD) resolution, however, begins to become more common, with 2560 x 1440 pixels of the display.
Choose an ultra-wide monitor and you could get a WQXGA (2560 x 1500) or WQHD (3440 x 1440) resolution. An increasingly popular choice on widescreen monitors is the 4K Ultra HD resolution.
It offers 3480 x 2160 pixels for graphic content of extreme clarity. The next step, in the ultra high resolution, is the 5K. It is still rather rare, but this resolution of 5120 x 2880 spreads more than 11 million pixels at a time on your screen.
Also Read: Best 1440p Monitor for professionals
Wide screens
Popular for use in productivity or gaming, widescreen displays use a different picture format than traditional monitors. This feature, in turn, makes them wider (hence their name) and makes them an ideal choice for simultaneous viewing of multiple documents side by side, or for providing a larger viewing angle in a video game.
Curved screens
The curved-screen computer monitors, like the curved 27-inch LED monitor from Samsung, are relatively new. Their panel has a slight curl that provides a more immersive shot, making these monitors very popular with PC gamers and those who like to watch videos on their computers.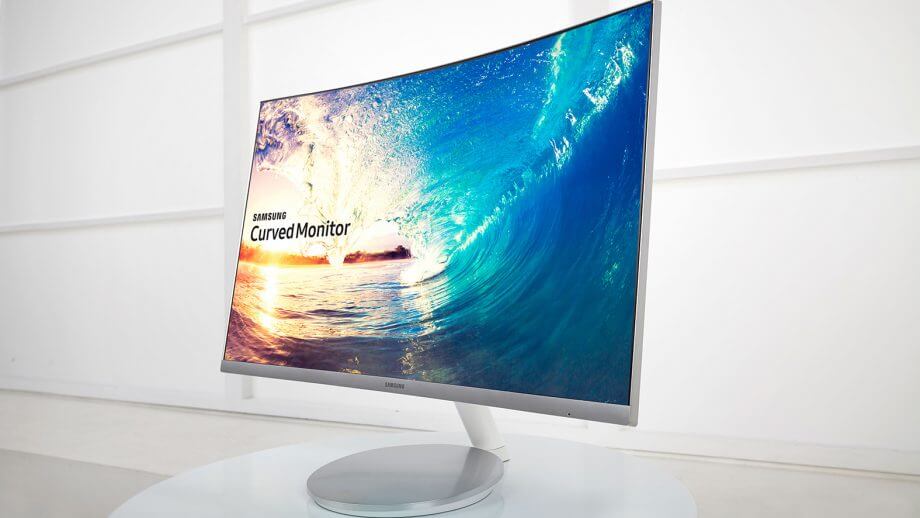 Refresh rate and response time
Two factors that affect how the image appears to the viewer are the refresh rate and the response time. The refresh rate is a measure of how many times per second the image appears on the screen. 60 Hz is the default refresh rate on most monitors - or 60 frames per second - while others deliver a refresh rate of 120 Hz for faster response to user actions and minimal blur in the movements.
The response time measures the time it takes the monitor to change the color of a pixel. Different colors require different delays, but the standard value for this calculation is the transition time from the lowest value of gray (black) to the highest (white). Fast response time translates into fewer visual effects like jerky images and ghosting.
Players and those who use their computer for multimedia will want to be attentive to these two values ​​and aim for a high refresh rate (ideally 120 Hz) and a very low response time (5 ms and less is considered optimal speed).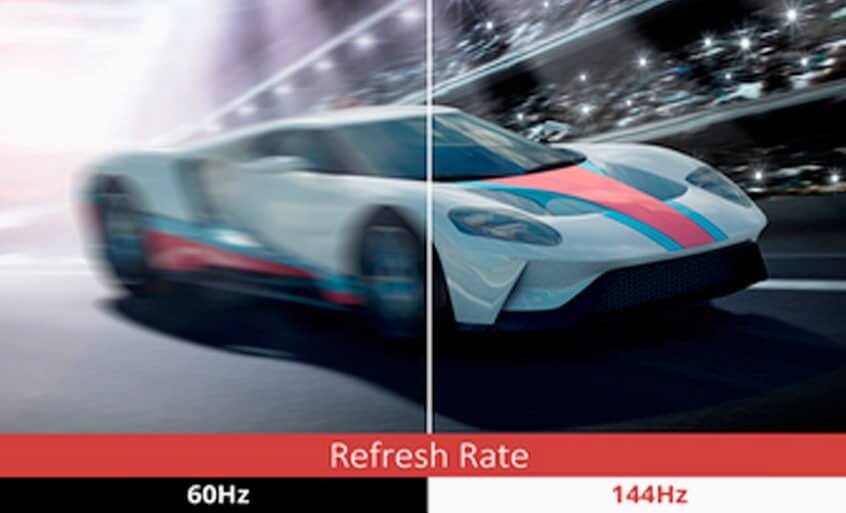 The Monitor Contrast
Contrast is the ratio of the darkest black to the brightest white your monitor can produce. Such a ratio can be, for example, 1000: 1. The higher the ratio, the better the contrast. With high contrast, the images will look livelier on the screen.
The Luminosity (Brightness)
As the name suggests, this value indicates the maximum brightness that your monitor can produce. This is particularly important if you plan to use your screen in a room that is already very bright since the displayed content must stand out from the ambient light to be clearly visible.
We measure the brightness in cd / m2, and the higher the values, the better it will be. If you use your monitor in a dark room, you can still decrease the brightness, while the opposite is impossible.
The Color Gamut
No need to break your head here if you only want to browse the web. On the other hand, players and professionals will want to take into serious consideration the color gamut of their monitor.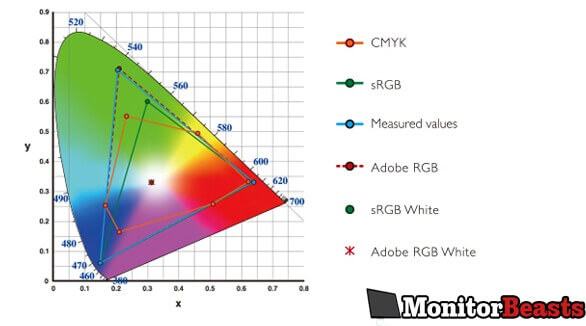 This is essentially the color palette that your screen is able to display. It is represented according to three standards: sRGB, Adobe RGB and NTSC, followed by the percentage of the color gamut that the monitor can display with fidelity. As is usually the case, the higher the numbers, the better the performance.
Also Read: Best Monitor For Photo Editing Under $500
The most demanding standards are Adobe RGB and NTSC - these are the ones that graphic and video editing professionals will want to keep an eye on. A monitor with a high Adobe RGB color gamut, like the ASUS ProArt (99.5% Adobe RGB),
The Angle of Vision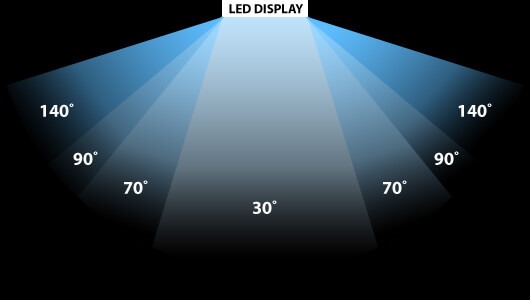 If you sit directly in front of your monitor, the viewing angle is not very important. On the other hand, if you look at it from one side, or if several people are watching it at the same time (and in this case, some will be forced to look at it at an angle), a large viewing angle will greatly improve things.
The higher this value, the more extreme the angle from which you will be able to watch the monitor without the distorted image being displayed.
The Antiglare
The surface of a computer screen is only a large glass panel. If you work in a room with multiple windows or multiple sources of lighting, this can cause reflections that are harmful to the proper viewing of the screen. A monitor with anti-reflective coating helps reduce these reflections and, in the process, reduce the impact on your eyes. The finish will usually be matte, but may also be glossy.
The Touch Screen
Fans of touch features with Windows 10 might want to choose a touch screen computer. This allows you to interact with the content displayed on the screen in the same way as you do with your tablet, smartphone or touchscreen laptop.
Also Read: Best Portable Monitor For Laptop
Connectivity
When shopping for a new computer screen, connectivity is important to consider. Many high-end monitors come with multiple connectivity options, while others have a limited variety of ports.
Most of today's computer monitors offer HDMI for high-definition video and audio content using the same cables you use to connect your accessories to your flat-screen TV. Other popular digital options are DVI (video only, no audio) and DisplayPort. The USB-C high-speed port is also expected to gain popularity and is more and more present on recent computers. For old school analog connectivity, several computer monitors continue to offer VGA support.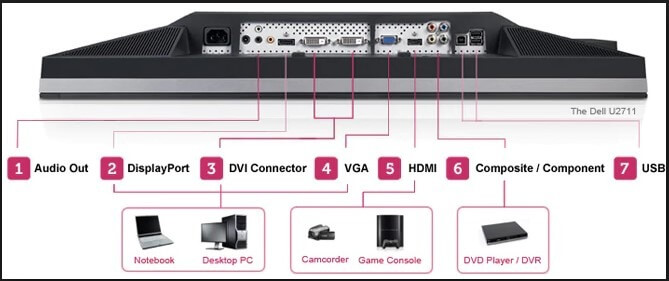 When choosing a monitor, be sure to consider the connectivity options that are appropriate for your computer, preferably with a digital option that supports high-resolution content. Adapters exist, but having an original connection is the easiest (and least expensive) way out.
Energy consumption
Electricity is now more expensive than ever, and the level of energy consumption has become important for many. In general, the larger the screen and the higher the resolution, the more energy-intensive the monitor will be. For maximum savings on your electricity bill, look for a monitor with the ENERGY STAR seal - which means it requires, on average, 25 percent less energy than other monitors of its caliber.
Adjustment Options
For occasional use, the basic computer screen, fixed on its support, should suffice. But the adjustment can greatly improve the ergonomics of a monitor, and may even be essential depending on the use you make of it. Ideally, a computer monitor should be able to pivot on its support and tilt up and down as well. This ensures a good viewing angle and allows you to minimize glare.
For greater comfort, look for a monitor whose height you can also adjust. Some professional users will look for a monitor that can rotate vertically, from portrait to landscape.
You may also want to completely get rid of the base mount and install your monitor on the wall to free up your workspace. In this case, look for a screen compatible with VESA media.
Optimized monitors for the game
Computer monitors for players offer several options for optimizing the game. This can range from the button to activate a game mode to the ability to quickly switch from one refresh rate to another, support High Dynamic Range (HDR), 3D support and technology to reduce motion blur.
One of the most popular advanced features for the game is the G-Sync, which allows monitors connected to computers with Nvidia graphics cards to reduce shifts, jerks and image tearing.
Technology to save your retinas
Some computer monitors offer Eye Saver technology. Designed to prevent eye strain from prolonged screen use, this technology includes features such as blink reduction or blue light levels. Curved monitors can also help relieve eye strain.
The Extras
Manufacturers of computer monitors offer several extras to make their products more attractive. It can be a software feature that provides support for PIP (picture-in-picture). It can also be an extra at the component level, which can have a big weight in your final decision.
Among the most popular are the built-in webcam (ideally 1080p), USB ports (the monitor can become where you put your USB connections together), the USB charger for accessories and mobile devices, and built-in speakers. Some monitors also support simultaneous connections to multiple devices, allowing them to be connected to both your computer and your game console.
Also Read: 10 Best Console Gaming Monitor
The Accessories
Once you have purchased your computer monitor, you may want to add accessories to optimize your experience. It's also a good time to add features that were not included with your monitor at the time of purchase.
For example, you can add a webcam to just about any monitor, or replace the one you already have for a 1080p Full HD model. If your monitor does not have any speakers - or if the built-in ones do not have the bite you want - add a set of computer speakers.
You can opt for a basic two-channel stereo set, or for a 5.1-channel surround sound system. If your computer monitor can not take the perfect position you want to give it, monitor support can make a huge difference. This can be as simple as a tablet to raise your monitor, or as adjustable as an articulated wall mount. Most buffs can even get support to position multiple monitors side by side.
Remember to take the requirements of your PC into consideration
As a reminder: Before making your decisive choice, make sure your new monitor takes the requirements of your PC into consideration. For example, if your PC is equipped with a video card that maximizes Full HD resolution, you will not get the maximum output from this 4K UltraHD display that makes your eye. If your only video connections are HDMI, make sure to choose a monitor that comes with HDMI jacks.
Adaptive cables and a better graphics card can solve the problems, but it's always a matter of planning these things from the get-go so you have everything on hand when it comes time to enjoy your new computer monitor.
Conclusion:
Well, this was all about the best gaming monitor under 300 USD I hope you got your monitor through my in-depth researched-based guide, feel free to post your suggestions and feedback in the comment box below.
Top-Rated Gaming Monitor Under $300 in 2022
Also Read: