You can't deny it, even if you have a very powerful PC with a good graphics card on the market, the most important thing is to have the best quality monitor to play because through it we will enjoy a better gaming experience.
Although the power of the computer has a significant impact, it is not only about the performance of your PC. Having the best graphics resolution and the highest sound quality is also essential for maximum fun.
Therefore, if you are considering improving the graphics experience when playing, we present a detailed selection of the best gaming monitors Under 200 Dollars.
Also Read: Best Gaming Monitor Under 300
Best Gaming Monitor Under 200 Dollars in 2022
In this article, you will find the best gaming monitor under 200 USD, that you can buy for a very affordable price and without leaving aside the features you are looking for.
Best Gaming Monitor Under 200 $ | Comparison Table
Top-Picks | High Quality | Affordable Price
Best Gaming Monitor Under $200 | 2022 Products Overview
1. Acer XFA240 Best Gaming Monitor Under $200 (Editor's Pick)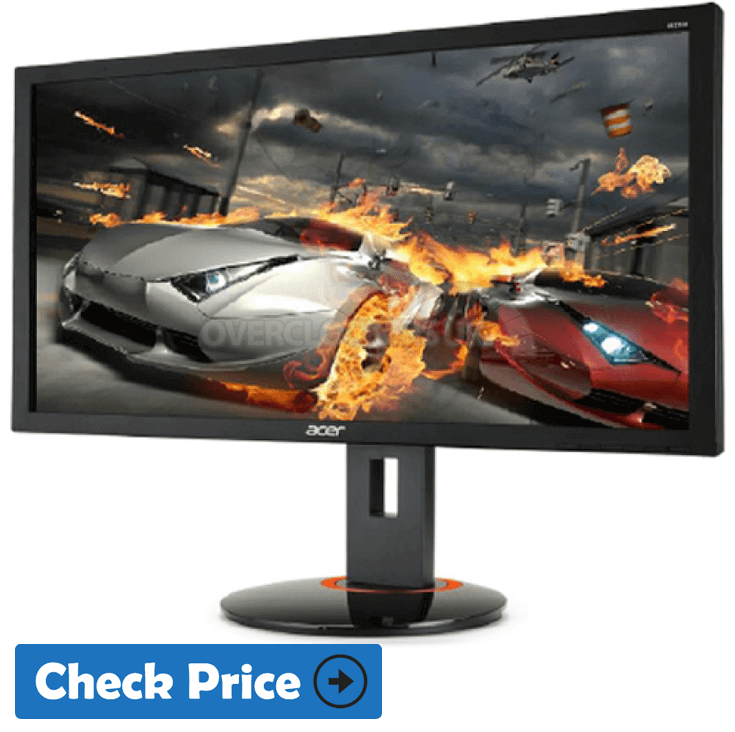 Key Specifications
Display Size: 24-inch
Resolution: 1920×1080  FHD
Panel Type: TN
Response Rate: 15 ms
Refresh Rate (Hz): 144Hz
Sync Technology: G-Sync/FreeSync
Dimensions (WxDxH): 22.32 x 9.6 x 15.18 in
Weight: 13.99 lbs
Contrast Ratio: 600:1
Aspect Ratio: 16:9
Brightness 350: cd/m²
About Monitor:
In competitive games, each picture matters. Introducing the Acer XF series game monitor: the Full HD resolution monitor that can keep up with your game.
Through the AMD FreeSync technology, the frame rate of the game is determined by its graphics card, not by the fixed frequency of the monitor, which gives it a great competitive advantage. In addition, users can enjoy a comfortable viewing experience while playing without flicker, low attenuation, and Comfy-view screen.
The design saves space on your desktop and allows you to place multiple monitors side by side to create a large screen without problems.
Also Read: 10 Best Gaming Monitor For PS4 & Pro
Design
Performance
Features
Connectivity
A stand with the regulation of all the necessary parameters and a turn into portrait orientation
The Acer XFA240 24 "monitor features Full HD resolution (1920 x 1080) that presents amazing and high quality images with excellent details that not only improve the work efficiency of users, but create an exceptional visual enjoyment.
With AMD Free-sync, the frame rate of the game is determined by your graphics card, not by the fixed refresh rate of the monitor. This means that the frames of the monitor are synchronized with the frames of the graphics card, which eliminates the tearing of the screen and offers very smooth gaming experiences.
A fast 1 ms response time improves the in-game experience. No matter how fast the action moves, the transitions are made without problems, without the annoying effects of the spots or the ghost effect.
Acer's large, 24-inch, flicker-free monitor eliminates annoying screen flicker and provides a comfortable viewing experience, especially for those heavy monitor users, such as programmers, writers, students or graphic designers.
For users who need to view their monitors for extended periods, the XF monitor is equipped with Acer Eye-protect technology that reduces eyestrain and provides a comfortable viewing experience. Flicker-less technology helps to eliminate screen flicker and a blue light filter reduces exposure to blue light that can cause long-term eye damage.
Give a breather to your neck too, the ergonomic stand allows you to find the most comfortable view with inclinations from -5 ° to 35 °, adjust vertically up to 5 inches and rotate up to 90 °.
It support of technology Free-sync during the game you will not be distracted by delays or discontinuous display.
It can easily connects to PC using DVI-D Dual Link, HDMI or DisplayPort.
The monitor is equipped with a built-in 2×2 W stereo system
Also Read: Best Monitor for Programming & Coding
Pros
Integrated eye protection and ergonomics
Realistic transmission of all shades of colors
Final Thoughts:
The Acer XFA240 is the inexpensive 24″ 1080p 144Hz 1ms
best gaming monitor and you can buy it under 200 dollars
, It provides a flexible refresh rate for both AMD and NVIDIA well-suited graphics cards. It's the top 144Hz gaming monitor for the cash.
2. BenQ GW2760HS Gaming Monitor Under 200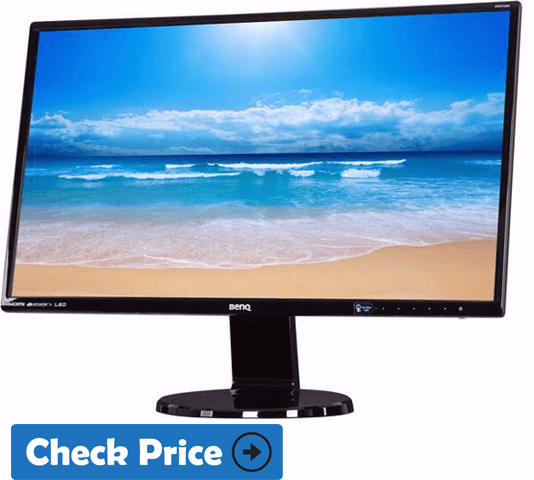 Key Specifications
Display Size: 27-inch
Resolution: 1920×1080  FHD
Panel Type: VA
Response Rate: 2 ms
Refresh Rate (Hz): 60Hz
Sync Technology: G-Sync/FreeSync
Dimensions (WxDxH): 24.5 x 18.5 x 7.5 in
Weight: 13 lbs
Contrast Ratio: 3000:1
Aspect Ratio: 16:9
Brightness 300: cd/m²
About Monitor:
BenQ has been specialized in the manufacture of monitors for many years. Its range of gaming monitors is now included within the ZOWIE brand and the model GW2760HS is its maximum expression.
This BenQ gaming monitor offers a 27-inch diagonal on a VA panel with FHD resolution (1920x1080 pixels) that has been specially designed for video games. Its 60Hz and 2 ms refresh rate (GtG) is proof of this.
Also Read: Best Monitor For XBOX One Gaming
Design
Performance
Features
Connectivity
The designed use in this monitor both horizontally and vertically, giving you more versatility.
The border &  Frame is thin & very small of just 1.1 centimeters,it will fit quite easily in any office without taking up too much space.  
This monitor has an amazing contrast ratio of 3000: 1, which is three times higher than a standard IPS monitor, this will allow you to enjoy deeper blacks when we visualize contents in the equipment.
With Full HD resolution of 1920 × 1080, you can enjoy all your favorite games and movies in 1080p quality and the GtG response time of 4ms is also very well seen that it is a VA panel and not TN.
It is very remarkable in this terminal is; its response time of only 2 milliseconds.
This 27-inch monitor is equipped with an LCD panel with AMVA + technology.
The Aspect Ratio with widescreen 16: 9 and has a resolution Full HD 1,920 x 1,080 pixels
It also guarantees great working comfort thanks to a backlight that does not flicker.
It has built-in speakers, flicker-free technology, and BenQ Senseye Human Vision technology, which offers the most accurate colors.
It has built-in technologies to prevent eye fatigue, it also has a sensor that analyzes the environmental light to automatically adjust the ideal lighting.
This screen offers VGA, DVI and HDMI interfaces for the connection and has a VESA mounting bracket.
Final Thoughts: This model is honestly a rich gaming monitor. Its main feature are excellent brightness, enhanced VA panel, flicker-free performance, and high contrast. If you want a big screen under a tight budget then this beast is for you.
3. Acer ED242QR Curved Monitor Under 200 (Recommended)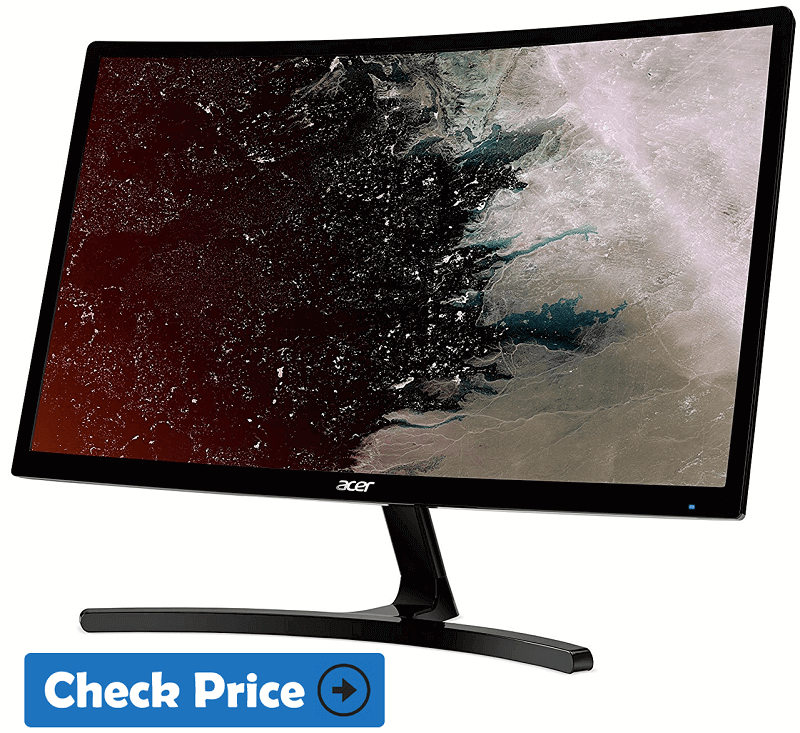 Key Specifications
Display Size: 23.6-inch
Resolution: 1920×1080  FHD
Panel Type: VA
Response Rate: 4 ms
Refresh Rate (Hz): 144Hz
Sync Technology: AMD FreeSync
Dimensions (WxDxH): 21.4 x 7.6 x 15.9 in
Weight: 7.4 lbs
Contrast Ratio: 600:1
Aspect Ratio: 16:9
Brightness 200: cd/m² 
About Monitor:
Acer ED242QR is a mid-range monitor that has a 23.6-inch LED screen with Full HD resolution and curvature on its ends in order to offer a more immersive gaming experience.
Inside there are enough functions so that the latest generation titles can be enjoyed in the best possible quality.
It is a curved screen with a 16: 9 aspect ratio to wrap the user in a world of entertainment with each corner of the screen at the same distance from the eyes.
Also Read: Best 1440p Monitor
Design
Performance
Features
Connectivity
The Acer ED242Q was designed with a wide viewing angle function that shows the color with precision up to 178º both horizontally and vertically, so it is not necessary to be centered in the room so that the image remains unchanged.
Its panel can tilt from -5 to 20º so that the team is the one that is positioned according to the personal comforts.
The LED screen of 23.6 inches is a fundamental component of its structure, starting with a Full HD resolution (1920 x 1080 pixels) that offers the sharpest image quality and provides a perfect image with a wider view. The final result is more realistic images and in more detail that makes the games have a truly cinematic style.
Ultrafast response time of 4 ms is offered, which helps reduce the effect of ghosting and smudges on the screen so you can see with total clarity and fluidity scenes that occur at full speed.
The presence of AMD FreeSync technology, which eliminates screen tears so that it can be played without the possibility of trepidation. This system allows that the frame rate of the game is determined by the graphics card installed in the computer and not by the fixed frequency of the monitor.
If you plan to spend a lot of time in front of the screen, visual fatigue can be a health problem that ends up appearing in people's daily lives. Thus, Acer Flicker-less and BlueLightShield technology offer a visual experience without fluctuations and reduce the impact of irritating blue light on the eyes without reducing the brightness and contrast levels to a minimum.
The curved monitor of Acer was designed with all the characteristic angle view that shows the color with precision up to 178 degrees so that no matter what angle you choose to see it from, your monitor will display colors perfectly.
Keeping pace with the action as the fast 4ms response time reduces the ghost effect and the spots so you can see in the vibrant clarity without blurring.
It has Analog VGA connector + HDMI digital connector
Pros
Advanced options for "gamers"
Protection against visual fatigue
Silky smooth visual effects
2-year manufacturer's warranty
Final Thoughts: Overall, the Acer ED273A is a fully clad gaming monitor. If you are looking for a curved gaming monitor under 200 USD, then you can quickly this one.
4. LG 25UM58-P UltraWide Gaming Monitor Under 200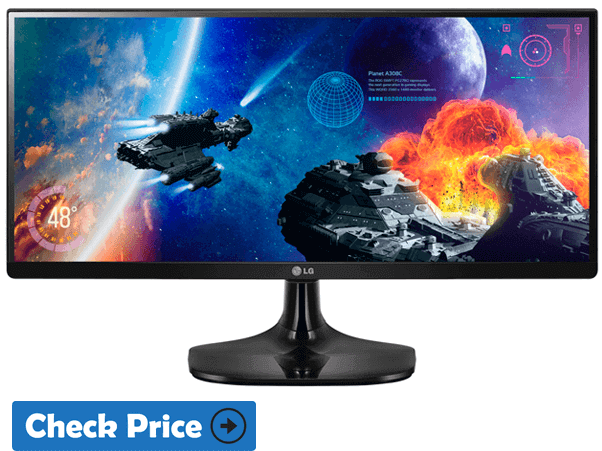 Key Specifications
Display Size: 25-inch
Resolution: 2560 x 1080 WFHD
Panel Type: IPS
Response Rate: 5 ms
Refresh Rate (Hz): 75Hz
Sync Technology: Dynamic Sync
Dimensions (WxDxH): 22.32 x 9.6 x 15.18 in
Weight: 10.4 lbs
Contrast Ratio: 600:1
Aspect Ratio: 21:9
Brightness 200: cd/m² 
About Monitor:
LG is one of the manufacturers that has been betting the most ultra-panoramic formats on their productivity-oriented monitors, but now it does so with a specific version for the gamer audience.
The LG 25UM58-P is a monitor with 21: 9 and 25 inches format with which LG enters fully into the market of ultrawide gaming monitors.
Design
Performance
Features
Connectivity
With a full black design and frames of just 10mm (1cm) we will find at the bottom of the screen, a small stick with which we will control all the configuration options and settings of this ultra-wide screen as: brightness, contrast, color or split screen.
The Monitor is simple but very elegant, without frames except at the bottom. The support allows us a certain degree of inclination, to adapt it to a position that is more comfortable for us. We are before a monitor that measures 609 mm high and 55 mm wide. It also weighs 10.4 Ibs.
Its VESA 75 × 75 compatibility gives us the possibility to hang it on the wall and thus save space.
The LG monitor with 25 inches which allows us to get an excellent panoramic experience in games and an increase in productivity in office tasks, as we have already mentioned in our guide to buying ultrawide monitors.
The LG 25UM58-P mounts a UPS panel with an extended 1080p resolution, which leaves a count of 1920×1080 pixels, a response time of 5 ms (GtG) and a refresh rate of 75Hz.
We will not count on this monitor led ultrawide screen IPS with any technology like Nvidia G-Sync or AMD Freesync, because as we have said, it is one of the ultrawide monitors cheap LG brand.
These features are joined by support for Nvidia G-Sync and other image enhancement technologies of the brand such as Dynamic Action Sync and an exclusive black stabilizer system that improves contrast in darker scenes.
This LG 25 led ultrawide screen IPS monitor also offers a WFHD resolution of 2560 x 1080px, something like Wide Full HD, or what is the same, a horizontal extension of Full HD 1080p, which will not be especially demanding for our processors nor for our graphics cards, but getting a good result for any type of task.
It also has sRGB color space> 99%, achieving almost professional results, which join the good work of the IPS panel and get greater coverage of color spectrum with + 99% sRGB in this monitor 25 LG.
Black Stabilizer System, specially designed for scenes of dark contrasts, where a greater brightness is achieved.
Game Mode: This allows you to edit the settings and settings of this LG Ultrawide 25 monitor to adapt it to any type of game, allowing you to use it as an LG gaming monitor.
PIP Mode and Screen Split: these ultrawide LG 25UM58 monitor modes will allow us to work in a multitasking format comfortably. We only have to access the "OnScreen Control" to activate the LG screen split mode.
Energy efficiency : with regard to the energy efficiency of this LG ultra wide monitor we find a B rating , with an annual consumption of 38kWh / year .

The connectivity is provided by an HDMI 2.0 and a DisplayPort 1.2. In addition, it includes 1 USB 2.0 connectors and a headphone jack.
Unfortunately we will not have ports like DVI-D, nor DisplayPort , as well as any USB port for charging devices, or USB Type-C port for data transfer.
Pros
Cheapest ultrawide monitor, value for your money
PIP mode in Screen Split
Reliable
Final Thoughts: As we have seen, we are faced with what is possibly one of the best ultrawide monitors in terms of quality/price in the market in 2022, perhaps that is why it is the monitor that we use every day for more than 8 hours, and we are delighted with it.
5. Dell SE2417HG Cheapest Gaming Monitor Under 200 USD
Key Specifications
Display Size: 24-inch
Resolution: 1920×1080  FHD
Panel Type: TN
Response Rate: 2 ms
Refresh Rate (Hz): 60 Hz
Sync Technology: G-Sync/FreeSync
Dimensions (WxDxH): 21.9 x 7.1 x 16.6 in
Weight: 9 lbs
Contrast Ratio: 600:1
Aspect Ratio: 16:9
Brightness 300: cd/m²
About Monitor:
Within the genre of monitors that try to offer complete features for all types of conventional uses and also invest some time in achieving good overall aesthetics, there is no doubt that the Dell SE2417HG model is worth taking into consideration.
It is a mid-range monitor that is presented as an option that correctly combines its attractive design for sight, good quality materials and a 23.6-inch screen with Full HD resolution that includes the necessary features to provide an optimal experience. display. Then we review each of its best features.
Also Read: Top Portable Monitor For Laptop 
Design
Performance
Features
Connectivity
It has an elegant and elegant finish, highlighted by thin bevels that have been improved over previous-generation models, as well as a black piano color finish that is very attractive in its posterior area. , resistant materials and a robust combination of metal support that gives it a modern look. Thus, it is a monitor that combines perfectly with any room decoration.
I appreciate the easy access buttons present in the lower bezel, the user can adjust in matters of second elements such as precision colors, brightness, and contrast of the screen to obtain the correct view according to the type of content that you wish to see.
In official dimensions, it is an option with 21.9 x 7.1 x 16.6 inches, while its weight is approximately 9 pounds.
VESA support is also available for those who do not want to use the aforementioned base and are plated to place it directly on the wall.
It promises high-quality, clear image reproduction, achieving sharp effects and vibrant colors through native Full HD resolution (1920 x 1080 pixels). As already mentioned, this is a 23.6-inch IPS panel, quite acceptable figures for tasks ranging from enjoying a good movie or playing video games to editing tasks or managing office suites.
If I talked about the "gamer" segment, a distinction before dozens of competitions in the market is the ability to execute high-quality images with an impressive response time of 2 milliseconds. Reducing the deviation in the transition time means that moving images in fast transition scenes remain smooth and impressive.
The maximum brightness levels of 300 cd /m², viewing angles of 160º in vertical and 170º in horizontal, native contrast ratio 1000: 1 and dynamic option that leads to 8000000: one.
Reproduction of 16.7 M colors is also supported and covers 72% (CIE 1931) and 84% (CIE 1976) in the Gamut color range.
A black finish and an easy-to-access button combination, you can precisely adjust the colors, brightness and contrast of the screen to get the correct view.
This monitor complies with the latest regulatory and environmental standards , such as ENERGY STAR certification
The 2 integrated HDMI ports and keep your gaming console , laptop and other devices always connected and ready to use.
Pros
Sleek design monitor with shiny covers, a matte screen and a sturdy base
Improved slim bevels
Cons
It does not have speakers
Final Thoughts: This Dell monitor takes advantage of Dell's expertise in this area. The manufacturer has made special care of its ergonomics, but neglected its video inputs. The screen still deserves its five stars, especially recommending users demanding in terms of quality and ease of use, with a PC only.
6. Acer ED273 Cheap Curved Gaming Monitor Less Than 200 Dollars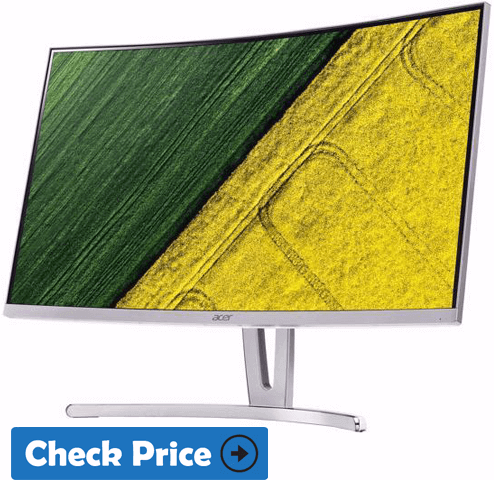 Key Specifications
Display Size: 27-inch
Resolution: 1920×1080  FHD
Panel Type: VA
Response Rate: 4 ms
Refresh Rate (Hz): 75Hz
Sync Technology: AMD FreeSync
Dimensions (WxDxH): 23.7 x 8.19 x 17.6  in
Weight: 10.73Ibs
Contrast Ratio: 10M:1
Aspect Ratio: 16:9
Brightness 200: cd/m² 
About Monitor:
The Acer ED273 offers a 27-inch display with a 1080p display at 144Hz refresh rate for maximized gaming performance and entertainment performance at a low cost.
The monitor is equipped with a VA curved slab for an immersive experience and deeper vibrancy with excellent contrast levels for gaming. The Acer ED273 is a sign of market maturity, as it considers refreshing at 144Hz as the standard specification. This makes its acquisition more simple and affordable.
Also Read: Best monitor for Gaming Under $400
Design
Performance
Features
Connectivity
The Acer ED273 can be easily confused with a Vanilla screen if it had not adopted a slightly more aggressive shape at 1800r of curvature. This model is available in two colors, white and silver (wmidx) or black (Abidpx), but the latter is more interesting in view of its gaming features.
The face is bezel-free, the edges of the screen are delimited by a thin plastic layer on the edges, providing an unobstructed vision for users.
 The monitor and its dimensions are refined and reasonable, although it is thought that maintaining its black exterior shining with dust and scratches would be a rather complicated task.
The depth of the Acer ED273 should not occupy much depth on your desktop, the moment with its support it occupies just 6.6 inches. Curvature and low price make this game screen a prime candidate for three-screen configurations.
The Monitor features a 27-inch curved VA panel with a 1920 x 1080 resolution, a 144Hz refresh rate, and a 4ms response time. Note that the white and silver version (wmidx) has a refresh rate of only 60Hz, so try to avoid changing the schemes for colors if you want to game with a nice definition.
The screen will be delivered with a matte anti-glare coating for maximum glare. However, this treatment is not refined, the screen may have a grainy display due to the low density in pixels.
Although Acer had to use shortcuts to arrive at this price are visible immediately after a glance at the Acer ED273. The device only offers tilt, so some users may prefer to use the support arms or monitor brackets for a little more anthropometric freedom. Fortunately, this part can be replaced by VESA brackets with the 100 x 100 bolt model.
This screen curved Acer better respects the natural curve of your eyes and offers a perfectly homogeneous vision. This curvature also allows a greater immersion, integrating your peripheral vision, for an enveloping sensation.
The WLED backlight is not as bright as 230cd / m2, the contrast is at least a good 1600: 1 at 50% brightness. This level does not reach the expected ratio of 3000: 1, but the screen already provides rich black and excellent visibility in low light scenarios.
The fast 144-Hz refresh rate reduces image latency and gives gamers the ability to improve their gaming experiences. The images displayed are smoother, sharper and the reality is clearer. it's maximum.
AMD FreeSync technology puts an end to jerky games and torn images, with a smooth, artifact-free performance at virtually any frame rate. See the latest advances in PC gaming performance. FreeSync technology, available on a selection of APUs and AMD GPUs, solves the communication problems between the processor and the monitor, eliminating the rips and jerks of images, for extremely fluid play-ability!
There are not many connectivity options on the Acer ED273, but its form should provide enough coverage for your PC and other gaming devices.
The I / O includes a DisplayPort 1.2, HDMI 1.4 and DVI for video inputs, plus a 3.5mm jack plug that complements the built-in 3-watt speakers.
Pros
Excellent display fluency
Matt screen: visual comfort without reflections
Optimized eye comfort with Flicker-less and Blue Light Shield technologies
Final Thoughts: It is of enormous value to budget-conscious people, If you are interested in an affordable monitor that can instantly improve your gaming with a 144Hz display, this model deserves your consideration.
7. ASUS VG245H Cheap Gaming Monitor
Key Specifications
Display Size: 24-inch
Resolution: 1920×1080  FHD
Panel Type: TN
Response Rate: 1ms
Refresh Rate (Hz): 75Hz
Sync Technology: FreeSync/Adaptive Sync
Dimensions (WxDxH): 22.0 x 12.95 x 1.96 in
Weight: 11.3 lbs
Contrast Ratio: 600:1
Aspect Ratio: 16:9
Brightness 250: cd/m²
About Monitor:
Designed to enjoy console games in the best possible conditions, the ASUS VG245H offers a 24 "diagonal, full HD resolution, 1 ms response time and 75 Hz refresh rate, GameFast Input technology, AMD FreeSync and two HDMI ports.
The delay of the entrance can result in a problematic interaction, especially in the fastest games. The GameFast Input technology minimizes the delay so you can keep up with any game and be as competitive as possible.
Also Read: Cheap Gaming Monitor under $100 
Design
Performance
Features
Connectivity
Extremely ergonomic design
It has 24-inch Full HD Game Monitor with ultra-fast 1ms response and GameFast Input Technology for smooth gaming experiences.
This monitor incorporates FreeSync, a technology to avoid jerks, the image is interspersed and gives you a more fluid action and free of defects, something that is a clear advantage in games FPS, RTS, racing and sports.
Features AMD FreeSync technology that eliminates split screen and those slow frames per second.
Exclusive ASUS GamePlus key for game enhancements and GameVisual for optimized visuals
VESA wall mount saves space on your desk as well as an ergonomically designed base with pivot, tilt, axis and height adjustments.
This monitor provides 1 ms of response time for you to enjoy a focused, smooth, unsharp image, and respond instantly to what you see on the screen, an obvious advantage when competing.
Two HDMI ports that allow you to connect your game console and another HDMI device at the same time.
Pros
GameFast Input
AMD FreeSync support
Spontaneous interface
OSD joystick
Final Thoughts: With 5-stars rating & thousands of positive reviews, it is one of the compact gaming monitor with a best image quality for a TN panel display and flat gameplay performance.
8.  AOC G2460PF TN Monitor Under 200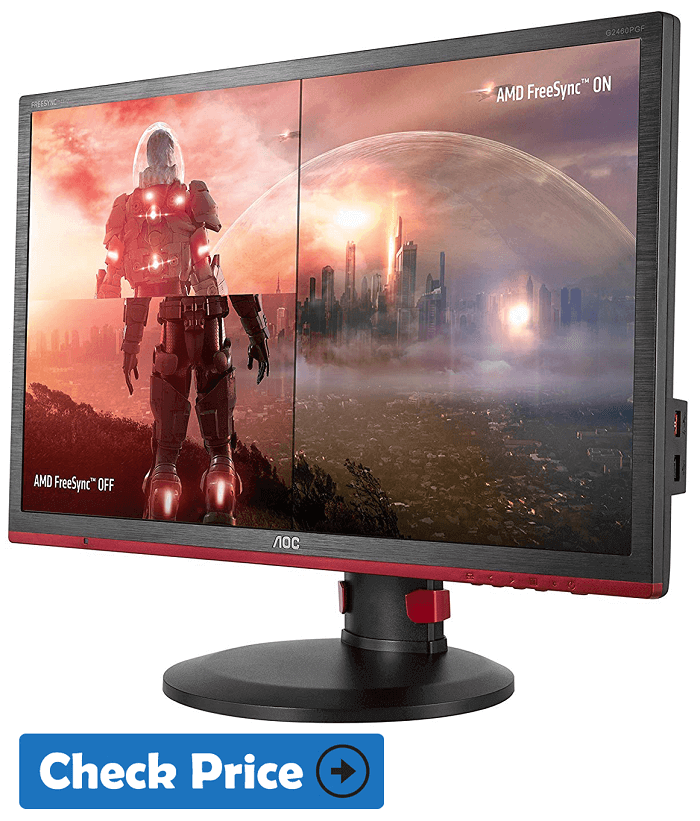 Key Specifications
Display Size: 24-inch
Resolution: 1920×1080  FHD
Panel Type: TN
Response Rate: 1ms
Refresh Rate (Hz): 144Hz
Sync Technology: G-Sync/FreeSync
Dimensions (WxDxH): 22.2 x 9.6 x 20.6 in
Weight: 14.4 lbs
Contrast Ratio: 600:1
Aspect Ratio: 16:9
Brightness 200: cd/m² 
About Monitor:
Undoubtedly, among the best gaming monitors is this incredible 24 "monitor designed especially for intense games and high speed.
Its response time of 1ms and its frequency of update of 144 Hz will allow you to make fast and precise movements without losing image quality and without any lag.
Also Read: Dual Monitor Setup
Design
Performance
Features
Connectivity
This monitor designed for experienced players has a size of 24 inches and is equipped with the best technology to ensure the most efficient game, with a total speed in response time and a refresh rate of 144 Hz that serves to reduce all types of visual defect.
A 24 "monitor that comes equipped with a resolution of 1920 x 1080 pixels and with the most advanced WLED technology. And with many other characteristics that we will mention next.
The quality of the colors is fine, but it is not comparable to the IPS and they do not have as much depth (although this should not be a counter, just an appreciation.)
I appreciate its FreeSync technology, the user will be able to synchronize all the refresh frequencies of both the graphics card and the monitor, with the idea of ​​effectively eliminating frame tearing, stuttering and input lag.
And thanks to its frequency of update of 144 Hz, the user will be able to say goodbye to the blurred movement and see everything, absolutely everything, with a superior fluency.
One of the main reasons has been that it makes use of another technology different from that of most monitors, called PWM – Pulse Width Modulation (especially the lower range ones), which decreases the damage to the eyes and will allow us to have a monitor pc " flicker-free" , which is especially useful for people sensitive to "flickering" (kind of flickering that is easier to see when we record a screen send) or simply want to decrease the visual fatigue as in my case. In this case, it uses Direct Current Modulation technology.
Through a resolution in Full HD, the images on this monitor will always be characterized by having the highest realism and sharpness, although they are in full motion and at great speed on car tracks or in action situations.
You can quickly move from the computer to the console with the idea of ​​experiencing a variety of sound and visual possibilities, playing your favorite games on different devices.
It incorporates integrated speakers so that we can enjoy directly from this monitor not only games but also movies and music, with sufficient sound quality to not be required to connect external speakers.
It has different connectivity ports such as VGA, DVI, HDMI with MGL, screen port, four (4) USB ports and a USB hub.
It has an integrated USB 2.0 center both active and passive, which generates easy and convenient ports to connect all types of USB devices.

Pros
Much more fluid games, especially the FPS type CS GO.
Freesync. It does not slow down or "lag"
Minimizes visual damage / comfortable visualization
Response time 1ms
Cons
The minimum brightness can perhaps be something elevated for sensitive people, although lowering all the parameters
Final Thoughts: This monitor in this price range(of the cheapest, since other options are 27 inches, quite more expensive and in my opinion very large) will allow us to enjoy more of our time on the computer and will be an added value to our gaming peripherals, especially for the freesync that includes and that we can use with an appropriate AMD graphic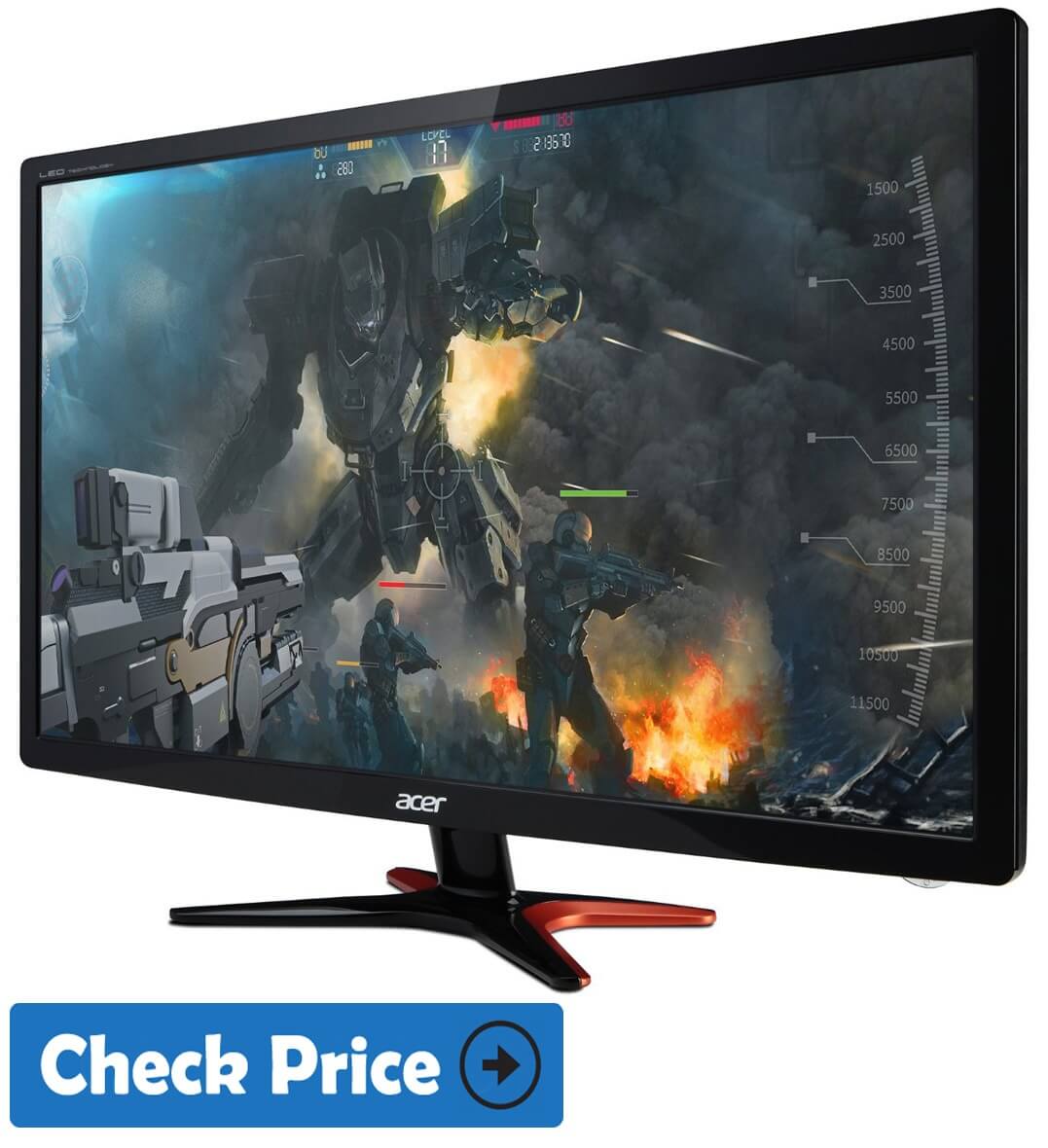 Key Specifications
Display Size: 24-inch
Resolution: 1920×1080  FHD
Panel Type: TN
Response Rate: 1 ms
Refresh Rate (Hz): 144Hz
Sync Technology: G-Sync/FreeSync
Dimensions (WxDxH): 22.2 x 7 x 15.8 in
Weight: 7.7 lbs
Contrast Ratio: 600:1
Aspect Ratio: 16:9
Brightness 200: cd/m² 
About Monitor:
Acer has recently added to its catalog of monitors the new model GN246HL , which has a size of 24 inches , Full HD resolution , and is specifically designed for Gamers since thanks to its LED-TN panel has a latency of only 1 ms , and also has a refresh rate of 144 Hz . As if that were not enough, it is the first 24-inch monitor that supports NVIDIA 3D Lightboost technology .
This new Acer GN246HL is, as you may have guessed, a 3D monitor. Therefore, Acer includes two glasses to be used in conjunction with the monitor with games compatible with NVIDIA 3D VISION. With its response time of 1 ms and its refresh rate of 144 Hz, it is practically a perfect monitor to play in 3D.
Design
Performance
Features
Connectivity
The monitor of the GN series is designed for the extreme game, so it has support in the form of X two colors and an aggressive look. The extremely compact profile with an LED panel allows you to adapt to any game space, whatever its size.
The GN246HL FullHD is a monitor designed by and for gamers. Its amazing 144 hertz frequency and 1 millisecond response time will leave you speechless.
It does not stand out in resolution – it is a FullHD, 1920×1080 pixels more – but in 3D capabilities, since it has the NVidia 3D Lightboost and NVidia 3D Vision 2 technologies (with the possibility of using a pair of glasses simultaneously) integrated and prepared to work without further complication.
With Full HD resolution you will not miss the smallest detail in any game. The images will come alive thanks to the excellent contrast ratio achieved with Acer eColor Management.

It has 170/160 degree (horizontal / vertical) viewing angles, 16.7 million colors, and a dynamic contrast ratio of 100,000,000: 1. Its typical consumption is 23 watts.
Its support the technologies of NVIDIA 3D Vision 2 and 3D Lightboost offers a very interesting 3D functionality, especially if you already own a 3D Vision Kit.
3D LightBoost is a new screen technology from NVIDIA, It provides 3D images up to twice as bright as those of existing solutions, as well as improvements in color quality.
The GN246HL Predator also makes it possible for two players to share 3D game viewing simultaneously, with an additional set of glasses.
This Acer GN246HL has VGA, DVI and HDMI video inputs.
Pros
Stereoscopic 3D visualization features.
Final Thoughts: This monitor designed for experienced players has a size of 24 inches and is equipped with the best technology to ensure the most efficient game, with a total speed in response time and a refresh rate of 144 Hz that serves to reduce all types of visual defect.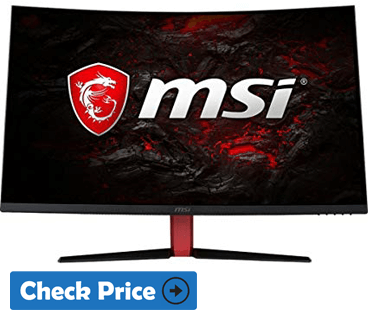 Key Specifications
Display Size: 24-inch
Resolution: 1920×1080  FHD
Panel Type: VA
Response Rate: 1 ms
Refresh Rate (Hz): 144Hz
Sync Technology: FreeSync
Dimensions (WxDxH): 21.3 x 15.7 x 7.0 in
Weight: 9.1 lbs
Contrast Ratio: 600:1
Aspect Ratio: 16:9
Brightness 250: cd/m²
About Monitor:
Get to the heart of the action with the curved monitor MSI Optix MAG271C! Designed for digital entertainment, this 27-inch Full HD curved screen with VA panel offers high image quality and optimized visual comfort.
Also Read: Best Ultrawide Curved Monitor
Design
Performance
Features
Connectivity
It is a design with very prominent colors, playing with the seriousness of the color black and the touches of color in different red scale that gave that modern taste to the external appearance of the monitor.
The bevels on the front are ultra-thin, with the exception of the lower one, since the logo of the brand is located in the central area, without highlighting or shining excessively. In the lower right part, it has all the keypad relative to the OSD menu; It should be noted that the buttons are a bit hard, winning millions of useful beats.
The back part follows the same line, done in matt black tone with some details in red. It has the section of centralized connectors on the right side, next to the area where the support is placed but these are hidden, in principle, by a cover.
This becomes like an extension of the monitor, with red details crucial for the design. It is adjustable in positions of the angle of position. It can bend forward up to 5 degrees and backward a stop of 15 degrees.
The dimensions of this monitor with support are 543 mm wide, 403 mm high and 192 mm deep. The total weight including the support is 5.46 kg.
This monitor of the brand MSI is about a curved LCD screen in 1800R of 23.6 inches (diagonal screen is 59.9 centimeters.) It has attached an LED backlight system with a Full HD resolution of 1920 x 1080 pixels The pixel size is 0.27156 mm. The typical aspect ratio is 16: 9.
This screen does not produce the subsequent image effect that occurs in some monitors, since it has a very high refresh rate, of the order of 144 Hz.
The MSI Optix MAG271C monitor with a slight R1800 curve offers optimal visual comfort, whether for video games, multimedia entertainment or office applications. The curved screen will immerse you in your game and immerse you in an extraordinary visual experience!
The response time of the monitor is 1 ms, which helps to eliminate the tear or rupture that may be caused in the image of the screen; without forgetting that the speed of the frame, at shorter response times, may seem choppy.
The viewing angle that reaches both vertically and horizontally is 178 degrees. In addition, in relation to the color range it must be indicated that it has an NSTC of 85% and an sRGB of 110%; values ​​that surely offer a color perfectly adjusted to reality.
The maximum brightness of the image is the typical value for most monitors, with 250 candelas per square meter. Its typical contrast level is 3000: 1 and the dynamic level reaches 100M: 1.
The panel is 23.6 inches with a resolution of 1920 × 1080 pixels, and is of a slightly curved VA type, with a response time of 1 ms and a refresh rate of 144 Hz.
It has a total of seven viewing modes that can be controlled perfectly from the OSD. One of the modes is of ecological type to be able to control the total consumption of the monitor without the excess of hours of game penalizes negatively our monthly invoice of the light.
The MSI G24C is a monitor that does not have speakers so it requires an additional audio system that will connect to the computer directly since the connectivity of the panel does not allow it either.
Anti-Flicker and Less Blue Light. Play for even longer without visual fatigue.
In terms of connectivity, it should be noted that this MSI brand monitor does not have too many input / output ports, only the ones listed below. These connectors are: an HDMI port in version 1.4, a port DPI in version 1.2 and a DVI port.
Pros
Curved gaming screen (1800R). The best immersion
178 ° of viewing angle
1ms of response time to eliminate tears on the screen
OSD gaming. Create the best configuration for your game
AMD FREESYNC Technology
Cons
It does not include support for VESA mounting
Final Thoughts:
If you want a classic and slim with slight
curved gaming monitor 300 USD
then i will suggest you to pick MSI brand, its durable, reliable & best for gaming.
How to Pick The Best Gaming Monitor Under 200 | Buyer's Guide
To choose a good monitor under $200, you will need to take into account those aspects that can really help improve your gaming experience.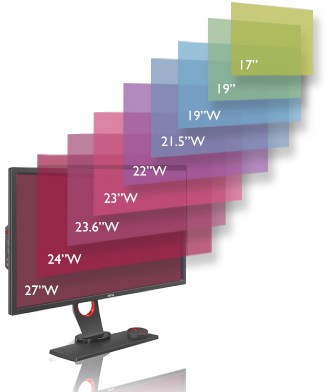 There are cheap and quite efficient monitors manufactured to meet your gaming needs, but if the cost of a professional gaming monitor is within your budget, then do not hesitate to buy it.
Monitor size:
It should oscillate between 24, 27, or 34 inches and this will be defined by the distance that you are on the monitor. If we have a peripheral too large, the view will not concentrate on all the content of the screen, but it will be looking only at the corners trying to cover all the content.
The closer you are to the monitor, the ideal would be to have a smaller and more suitable gaming monitor.
Also Read 8 Types of Computer Monitors | All About LCD CRT TFT DLP LED
Screen resolution: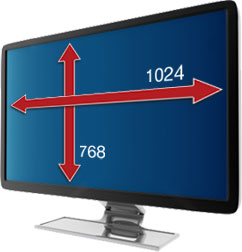 It is the number of pixels that you can observe on the screen and you will see it as maximum resolution or as the resolution of the screen itself.
The resolution is given by the horizontal and vertical ratio of the screen measured in pixels, however, we can also find different resolutions in the market ranging from (640x 480) to ultra HD resolution (7680 × 4800).
This is important to know when choosing a processor that takes advantage of all the capacity you have in your peripheral as a gamer is important to consider all the details.
Currently, we can find gaming monitor resolutions from 1024 x 768 pixels (XGA) to a wider resolution of 7680 x 4800 pixels (WHUXGA). For a gaming monitor, we should not evaluate resolutions that are not close to full HD.
Type of panel:
After the size and resolution, the sequence determines how a panel is needed. Although there are not many options, each panel is superior to one another.
TN Panel: It is the cheapest and most common panel type. It is the ideal panel type for those who like to play with high response times and screen refresh rate. In this type of panel, colors are not preferred by the designers as they will vary according to the viewpoint of the monitor.
VA Panel: Although this panel type is not very common, it provides more accurate colors than TN. Although it is known as the best black panel, the colors differ again according to the point of view.
IPS Panel: Although it is an expensive type, it is the panel type that shows the best colors. These are the most preferred panels by graphic designers. Because the response time and screen refresh rate are lower than the TN panels, it is not preferred by those who like to play.
Also Read: IPS vs TN For Gaming | Which one is best [Solved]
Refresh Rate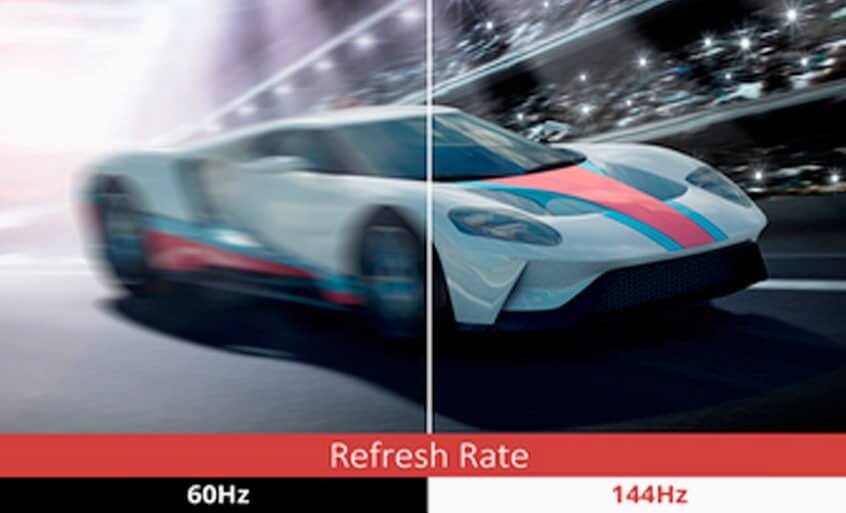 There are peripherals that offer high standards in refresh rates (the frequency with which an image appears on the screen), with a frequency in Hertz from 60 to 240.
Response Time
The screens with AMD FreeSync technology, have much faster transitions. This is important if you want to use your screen to enhance your video game skills. The longer the response time of your monitor, the transitions between images will be slower.
Choose a monitor with low response times and you will have a unique experience when playing video games in a fast and fast way or watch an action movie with many scenes in movement.

Also Read: Response Time vs Refresh Rate in Monitor | The Higher is Better or the Lower One
Aspect ratio: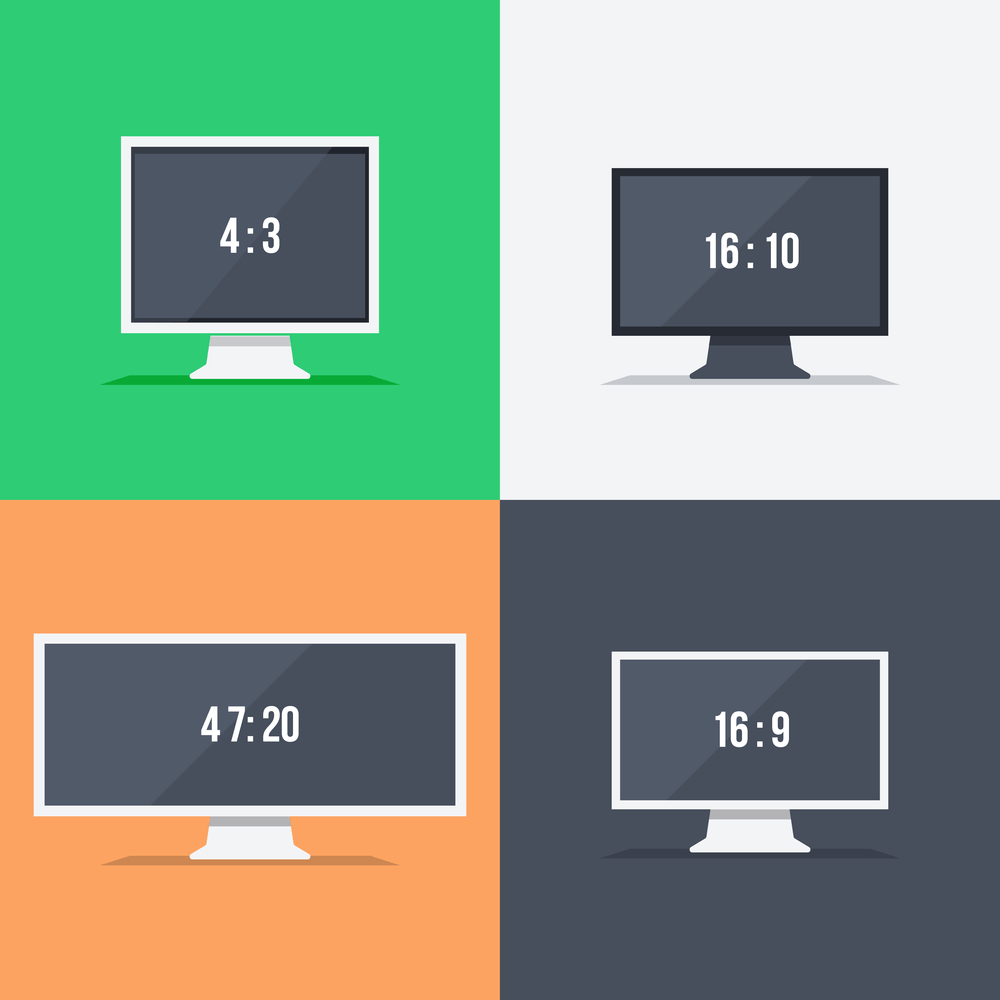 It is defined as the relation between the width and height of a screen expressed in the axis plane "X: Y".
Throughout this article you will appreciate that the gaming monitors have an aspect ratio of 16: 9, 16:10 21: 9, the reason for this is that this resolution constitutes a midpoint for the ordinary applications of the computer
For the multimedia relationship that requires the games of PC or consoles is why this relationship will allow you to do different activities on your monitor without problems.
Also Read: What is HDR Gaming
Brightness / Contrast / Color / Viewing angles on the monitors: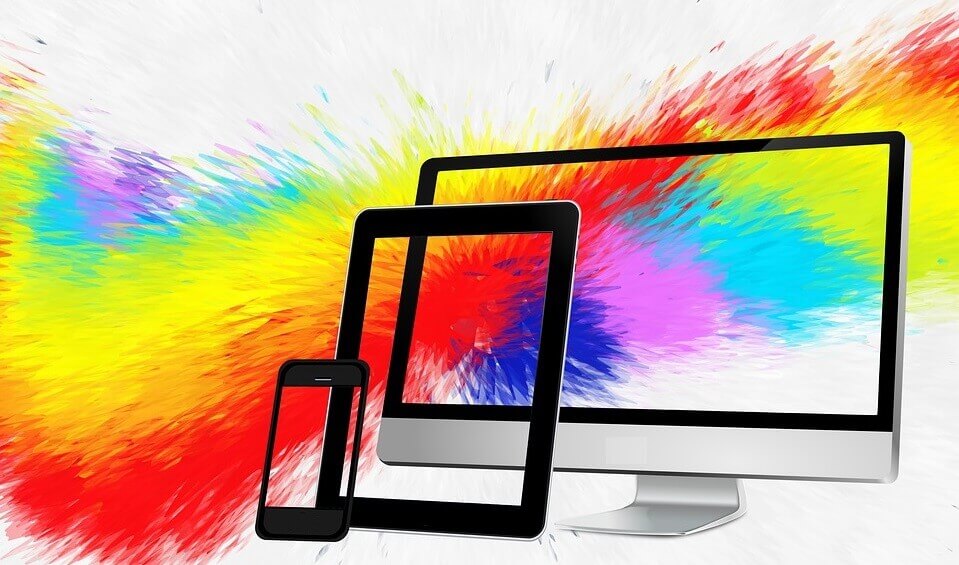 It is also important that you take into account the technical characteristics of the screens.
Normally these parameters are more taken into consideration in professional monitors than in standard models, but when opting for a high-performance gaming monitor, these characteristics are very important for superior game quality.
In these ideal parameters for gaming the brightness can be considered ideal from 200 cd / m2; the contrast ratio should be at least 850: 1; the viewing angles of 176 degrees or greater and support measured in percent for the different color palettes.
FreeSync and NVIDIA G-Sync Processors and Ports of Connections: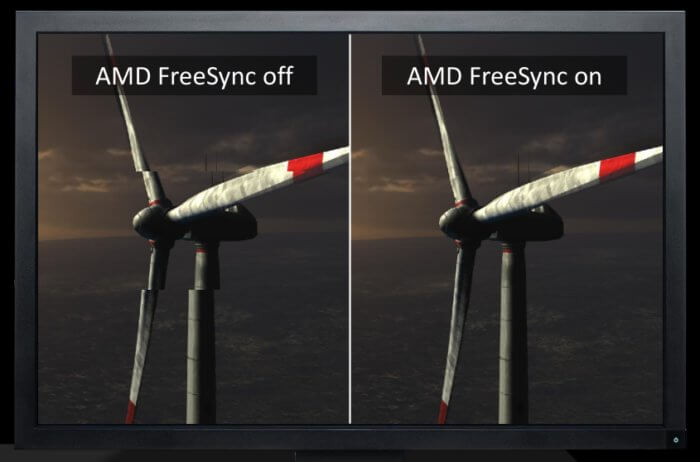 The best gaming monitors of 2022 offer a good number of input connectors. From the obsolete analog VGA connections to the most modern of all, like the USB Type-C.
The most used currently go through HDMI or Displayport, another important point that you have to consider and that is also created with games in mind is the support for technologies such as AMD FreeSync and NVIDIA G-Sync.
These gaming technologies improve the communication between the graphics processor and the monitor and this is important that you consider when buying your gaming monitor.
Monitor Stand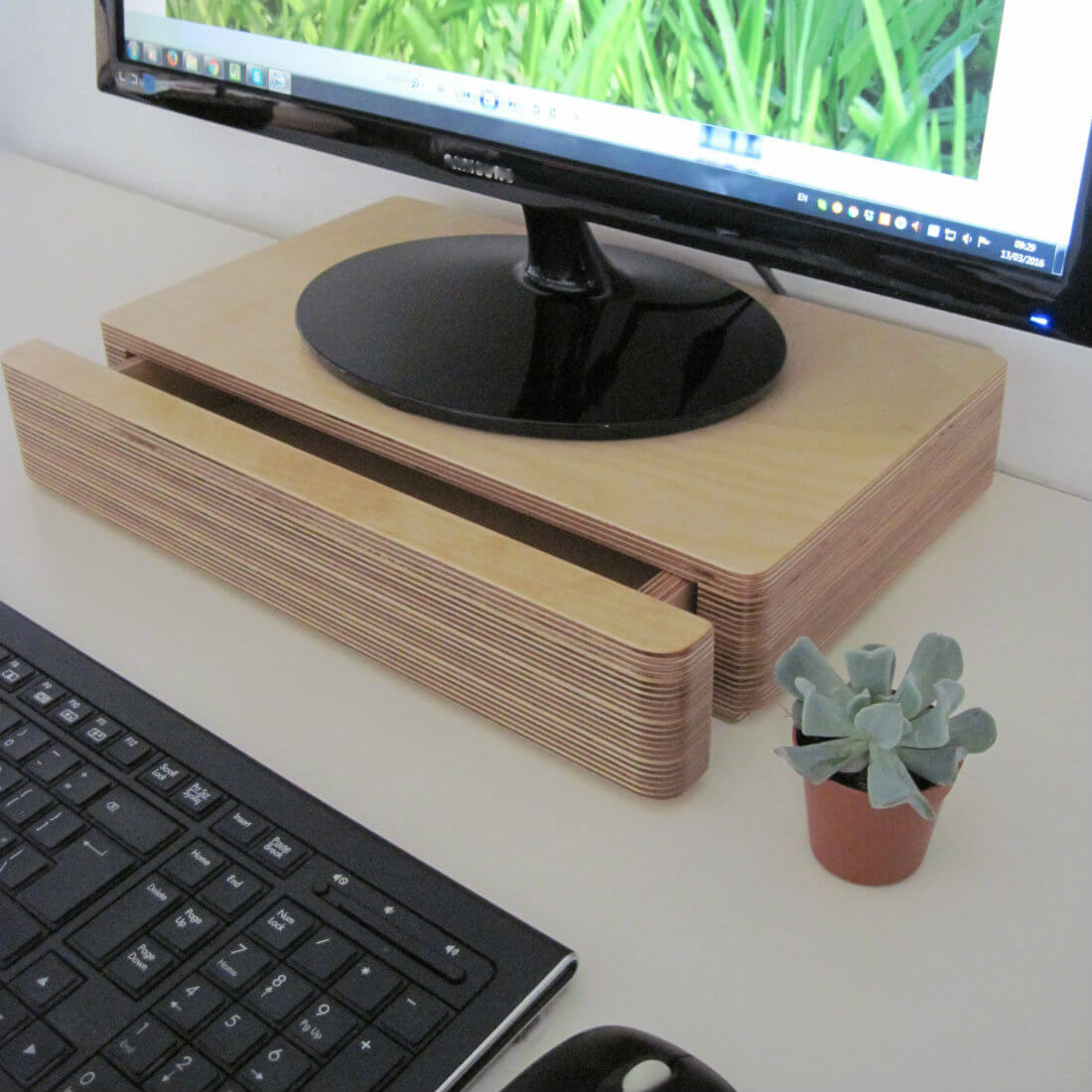 When choosing a monitor, choosing monitor models that can be moved up and down to right, left, up, and down instead of fixed ones will provide more comfortable use. This means that you can only move your monitor as needed in your work, except for play and normal use.
At the same time, you can absorb the differences in perspective that will emerge from the height difference.
Eyes Protection
If you need to spend hours working or you are one of those who likes to play, take into consideration monitors that have a blue light and blinking technology, thus reducing fatigue or eye fatigue and you can optimize your time on the PC.
Also Read: Best Monitor for Eye Care and Strain
Input or Connectivity
This is Important: If you want to convert your monitor into a video game console. The type and quantity of ports entries are essential to choosing a monitor. At a minimum, you need USB, HDMI, VGA, and DVI.
Since VGA is now an older connection type, if you have a video card that supports a connection type other than that, definitely choose one of the others. While DVI is the most common on the basis of prevalence, HDMI is now also preferred due to its increased connectivity to the TV.
The Display Port is the best connection type of our day. So if you have DP on your video card, your selection should be in this direction.
Almost all the monitors that we mentioned above meet this requirement and most have built-in speakers, headphone port and DisplayPort input.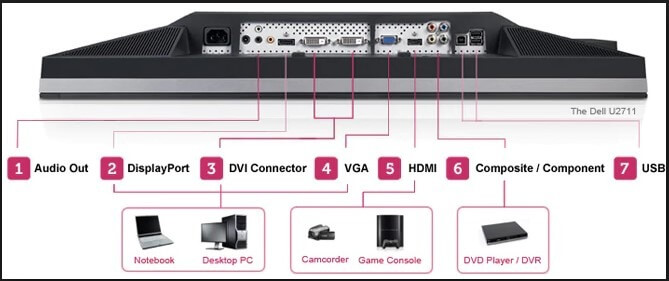 Curved Gaming Monitors:
It is another of the advances in emerging technologies for gaming that promise to get more involved in the game and improve the vision on the sides in larger models that could previously have been a bit darkened depending on the angle of vision.
Therefore, you must be up to date with this type of technology that will allow you to improve your game viewing and feel more immersed in it.
Multi-Monitor Mode
Many gamers are lovers of multi-monitor mode, if you are one of them, make sure that the monitor you choose does not have frames that can interrupt the display of your image on several screens. And finally, take into account its price.
Why Use Gaming Monitor
The gaming monitors comprise an essential part of the computer system that we use to carry out certain activities, be it recreational, work, or for the so-called electronic sports or eSports.
These monitors can be used for different tasks such as; the Main screen of the PC gamer, as a secondary screen for games that require displaying useful information or as a monitor for consoles.
When choosing the new monitor, it is important to know a couple of things that will help you to live extraordinary gaming experience.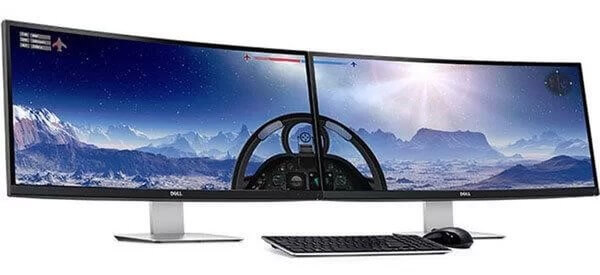 The decision to buy a specific monitor for gaming is the most important for all lovers of high-quality video games since we have to take into consideration that the gaming screen will be that surface where you will fix the view for several hours.
The advisable thing is to choose a chord monitor to be visualized at an optimal distance and to the form in which we play, that is why it is necessary to take into account some particularities between gaming monitors that will be able to help you at the time of acquiring the desired monitor for your games.
Also Read: How to Play 4k Video on PC or Mac (Ultra HD) | Hardware Software Requirements
Differences between a Gaming Monitor and a Standard Monitor
Although, although both monitors can cover the gaming needs of each gamer quite well, there are usually certain differences between gaming monitors and standard monitors that can make a noticeable difference.
First of all, gaming monitors not only have higher screen resolutions, they even possess 3D mode for greater realism; It is also necessary that gaming monitors offer a much faster update frequency so that gamers are aware of all the action.
The sound is another feature that gaming monitors are a necessity and may not be so important when talking about standard monitors. Gaming monitors require integrated speakers with the best sound quality, clean, enveloping and powerful to maximize the gaming experience.
Also Read: 18 Things To Do With Old Computers That Still Work in 2022
And finally, gaming monitors are usually equipped with the necessary technology to offer less blinking blue light and greater clarity in dark areas that are so classic of any game. This is usually an important difference for every gamer who likes FPS or MOBA games because a better visualization of the battlefield can give you an advantage during the game, revealing the position of hidden enemies or valuables that may not be so easy to visualize with a standard monitor.
Where to buy a monitor at a good price?
In this list, we select the best monitors in the market so that you can choose the monitor that best suits your needs.
If you want to buy a monitor at a good price, you must do it at AMAZON, the giant knows what he does when he talks about delivering the products in record time without causing problems for the buyer.
Top Gaming Monitor Under $200 | FAQs
Conclusion:
I hope you enjoy my reviews and the ultimate buyer's guide to pick the best gaming monitors under 200. If you have any query please let me know in the comment box.
Top-Rated Gaming Monitor Under 200 USD in 2022