You have a PC, Mac, Linux, or any other game console and you want to take advantage of an all-encompassing image that immerses you in the heart of the action and your work in order to keep your concentration? The Best Curved Gaming Monitor is then essential.
This display technology seems so obvious today for office automation but also gaming that one wonders why we had not thought of it before!
The first time I saw a curved screen was at my garage! And I admit that I was immediately seduced by the working comfort it brought, in fact with this type of screen you need to turn your headless to access the information. But also and even more important, it limits visibility to people on the side, which protects your privacy and your data a little more.
Today, I'll show you the Best Curved Gaming Monitor that you can buy under 300 dollars.
Best Curved Gaming Monitor Under $ 300
Before you start, create a list of features that you are looking for in a Curved Gaming Monitor in this way, choosing the best one for your needs from this list would be much simpler. No matter what your requirements are, this list contains the Curved Gaming Monitors Under $ 300 that will satisfy them!
Also Read: Best Gaming monitor under 400 USD
Best Curved Gaming Monitor Under $ 300 | Comparison Table
5-Stars Picks | High Quality | Top Brands
Best Curved Gaming Monitor Under $ 300 | 2022 Products Overview
1. AOC CQ27G1 Best Curved Gaming Monitor Under 300 (Editor's Choice)
Key Specifications
About:
The Aoc Cq27g1 is the most affordable 27 ″ 1800R Curved, 1440p 144Hz gaming monitor, but it offers excellent image quality thanks to its high contrast ratio, high resolution and vivid colors.
In addition, it has many game functions such as FreeSync and 1ms MPRT which ensure flawless performance.
Design & Performance:
The manufacturing quality of the Aoc Cq27g1 144Hz monitor is excellent considering the price. You benefit from a thin frame and a sturdy metal base which even offers a height adjustment up to 130 mm, a pivoting of +/- 35 °, and an inclination of -4 ° / 22 °. You can also mount the screen on a third-party stand via the VESA 100x100mm model.
It has a fully ergonomic stand and frameless design on 3 sides.
It is based on a 27 ″ curved VA panel with a true-color depth of 8 bits and a wide color range sRGB of 122%, which gives rich and vibrant colors.
In addition, it has a high static contrast ratio of 3000: 1, which results in deep blacks. Today, the colors are not as precise and consistent as on IPS models, but the black and dark tones are much more vivid.
With a maximum luminance of 250 bits, the monitor is not exceptionally bright, but under normal conditions of use, it is more than enough.
For an optimal viewing experience, change the color temperature from "Warm" to "sRGB" or "User".
In addition, the VA panels also offer wide viewing angles of 178 degrees. So unless you look at the screen from a really weird angle, there will be no change in color or contrast.
Features:
The resolution of 1440p reaches the point of equilibrium of the pixel density of ~ 108 PPI (pixels per inch) on 27 ″ screens, which means that you will get a lot of images as well as details and sharp texts.
It has an anti-flicker backlight and a built-in slightly bluish light filter, which allows you to watch the screen for hours without having to worry about eyestrain or ailments of the head.
The input offset is just below 4 ms delay, which is imperceptible, while the 144 Hz refresh rate allows for a responsive and enjoyable gaming experience.
As is the case with all VA panel game monitors with a high refresh rate, there is smudging of fast-moving objects when dark pixels predominate in the image, but this is tolerable – unless you do not be an avid FPS player, in which case you would be better off with a 240Hz screen in this price range anyway.
The display is equipped with 1 ms MPRT shake reduction technology which can, thanks to the backlight, reduce the number of noticeable streaks in fast games.
Activating MPRT technology of 1 ms, however, limits the maximum screen brightness. Fortunately, using the MBR setting in the monitor's On-Screen Display (OSD) menu, you can manually adjust the frequency of the backlight strobes from 0 to 20 in increments of 1 until you find the perfect compromise. between the clarity of movement and the brightness of the image for you.
Game functions include Shadow Boost (increases the visibility of objects in the dark), Game Color (quick adjustments of color saturation), Frame Counter, Low Input Lag (bypasses certain image post-processing for an offset of 'minimum input), a custom crosshair and image presets (three custom modes plus FPS and RTS presets).
Connectivity:
Connectivity options include two HDMI 2.0 ports, DisplayPort 1.2, and a headphone jack. FreeSync is supported on all three display connectors up to 144 Hz at 2560 × 1440. The monitor also supports 1440p 120Hz on Xbox One X.
[youtube https://www.youtube.com/watch?v=SN0CvLhksbM]
Pros
Affordable 1440p 144Hz display
High contrast ratio, rich colors and vivid details
Many game features, including 1ms MPRT and FreeSync
Robust and ergonomic design
Cons
Moderate ghosts in fast games, mainly in dark scenes
The brightness peak could be higher, but it is acceptable
OSD joystick would be better than standard shortcut keys
Bottom Line: The Aoc Cq27g1 is an affordable 27 ″ 1440p 144Hz gaming monitor that offers immersive picture quality and smooth performance. Its excellent design quality and plethora of features are also an important asset considering the price.
Key Specifications
Size 27
Aspect Ratio 16:9
Panel Type: VA
Native Resolution Full HD (1080p) 1920 x 1080 at 144 Hz
Contrast Ratio 3000:1 / 20000:1 (dynamic)
Image Brightness 250 cd/m2
Color Support 16.7 million colors
Horizontal Viewing Angle 178
Vertical Viewing Angle 178
Brightness 250 cd/m²
Horizontal Refresh Rate 31 – 165 kHz
Backlight Technology LED backlight
Vertical Refresh Rate 49 – 144 Hz
About:
The Scepter C248B-144RN is the cheapest 144Hz game monitor on the market, but offers many interesting features, including ultra-thin curved design, AMD FreeSync and its VA panel scontrast ratio. The curvature of the monitor screen is 1800R, which slightly increases immersive and depth.
Design & Performance:
The C248B-144RN Scepter is a very slim design with ultra-thin glass. Note that the image is not from end to end because there is a thin black border around the screen. This is true for all frameless models, at least for now.
If you are using the VESA 75x75 mm pattern to mount the screen, you can tilt the monitor screen by -5°/15° to remove the stand. The screen has an anti-reflection matte coating to prevent reflection.
This monitor is based on a 3000:1 high static contrast ratio VA panel (vertical alignment).
Compared to other panel technologies with a contrast ratio of up to 1000:1, such as IPS and TN, the Scepter is the brightest with the deeper black, darkest color.
The Scepter screen supports 8-bit color depth and provides a wide viewing angle of 178 degrees.
The colors are not as accurate and consistent as the colors in the IPS panel but are much better than the colors seen in more expensive TN models.
The maximum brightness is 250 knits, which are sufficient to provide a comfortable visual experience under normal lighting conditions.
Features:
The 1080p resolution provides the right amount of screen space and clarity of detail without excessive requiring the CPU/GPU to achieve a high frame rate.
The  Scepter has an input delay of about 4 ms at 144 Hz, and even hardcore gamers have a slight delay between action and on-screen results. If you want to play mostly competitive FPS games, you should look for a TN panel and a 1080p 144Hz game monitor with a response speed of 1 ms instead.
The Scepter C248B-144RN supports AMD FreeSync over HDMI and DisplayPort, with a variable refresh rate (VRR) range of 48 to 144 Hz.
If you're using a compatible graphics card, you can enable FreeSync to synchronize the monitor refresh rate with the GPU frame rate, effectively eliminating screen tearing and stuttering in the VRR range.
Standard image adjustments such as pre-adjusted image preset (FPS, RTS, film, eco, standard, user), blue light shift (low blue light filter), flicker-free backlight, and brightness, contrast, sharpness, color temperature - advanced gamma and hue/saturation settings.
Also Read: Best 1080p IPS Gaming Monitor
Connectivity:
Connection options include HDMI 1.4 (up to 120Hz), HDMI 2.0 (144Hz), DisplayPort 1.2 (144Hz), and headphone jack.
Pros
Best for a limited budget
Offers extra USB ports
Cheapest 144Hz gaming monitor
Cons
Not certified as G-SYNC compatible by NVIDIA
Key Specifications
Size 27″
Panel Type VA-Type LCD
Resolution 2560 x 1440
Aspect Ratio 16:9
Maximum Brightness 400 cd/m2
Contrast Ratio 1000:1
Refresh Rate 170 Hz
Adaptive-Sync Technology G-Sync, Adaptive-Sync
Bit Depth / Color Support 6-Bit+FRC (16.7 Million Colors)
HDR Compatibility HDR10
Color Gamut 95% DCI-P3
Response Time 1 ms (GtG)
Viewing Angle Horizontal: 178°
Vertical: 178°/su_list]
About:
Asus ROG Strix have a VA type screen with a diagonal of 27 ″ to be precise. The panel offers a definition of 2560 x 1440 pixels (WQHD) with a refresh rate of 170 Hz . The announced brightness is 400 cd / m² with a contrast announced at 1000: 1 . The viewing angles are 178 ° vertically and horizontally. The response time is 1 ms from gray to gray.
ASUS announces compatibility with AMD FreeSync 2 HDR technology, DisplayHDR 400, and the screen covers 94% of the DCI-P3 gamut (with 125% of the sRGB color space). The screen has a 1800R curvature and we also have Shadow Boost technology. Like many ASUS screens now, it has RGB lighting on the back of the screen and will project the ASUS logo on your desktop just below the foot.
Also Read: Best Gaming Monitor Under 300 Dollars
Design & Performance:
Your Asus Strix gaming screen, as precise and efficient as it is, must be able to adapt to your habits and your playing comfort. This is why the XG27VQ is particularly compatible with VESA wall mounts to save space. Its adjustable foot also offers you the adjustment of tilt, rotation, and height! Its thin-edged design and its integrated lighting effects also bring you an aggressive and unique design right down to the details of the back cover or the foot!
Notice to all gamers! Imagine yourself in front of a 27-inch screen immersed in your video game of the moment managing your game as if you were really there! This is the effect that this curved VA panel (1800R) with a 16: 9 display could give you. Despite this impressive curved diagonal, the details are not reduced since this ROG Strix XG27VQ comes with a resolution of 2560 x 1440 pixels in other words WQHD.
In addition, even with a VA technology panel, you will get a response time in 1 ms! Size and immersion are the words that best define the characteristics of this screen, but also the feeling of pleasure it will give you when you are immersed in your favorite game or movie!
Features:
This imposing curved 27 "panel has a display frequency of 144 Hz, enough to bring ultra-fluid and sharp images! In addition, this screen carries with it the FreeSync technology developed by AMD! This functionality synchronizes the number of images displayed by your screen and the number of images sent by your graphics card, resulting in an extremely smooth image with no tearing or stuttering effects.
In addition, two technologies are at your service to triumph: flicker-free and low blue light. The first will reduce the flickering of the screen, while the second will reduce the blue light emitted by the screen, responsible for eyestrain. Play longer and with more comfort!
Connectivity:
To combine design and functionality, the ROG Strix XG32VQ screen incorporates a cable passage location in its base to slide them to an advanced connector. Indeed, your ROG screen will provide you with an HDMI port, a DisplayPort, and a mini DisplayPort! Two USB 3.0 ports are present to allow you to connect your peripherals.
Definition WQHD comfortable
170 Hz FreeSync compatible
Good size/definition ratio for the game
Radius of curvature favoring immersion
[/su_box][/su_column]
Cons
Limited connectivity for a FreeSync model
No backlight scanning (ULMB)
[/su_row]
Bottom Line: Gaming screen requires, we find a worked design and that we already know from the ASUS ROG STRIX screen range. We will therefore have a fairly impressive set since the screen is still 27 ″. The slab is curved and the curvature is particularly well seen on a slab of such size. Everything is very harmonious with a slab with a mat surface and a "borderless" design.
Key Specifications
Size 23.6″
Panel Type VA-Type LCD
Resolution 1920 x 1080
Aspect Ratio 16:9
Pixels Per Inch (ppi) 102 ppi
Maximum Brightness 250 cd/m2
Dynamic Contrast Ratio 100,000,000:1
Refresh Rate 75 Hz
Adaptive-Sync Technology FreeSync
Bit Depth / Color Support 6-Bit+FRC (16.7 Million Colors)
HDR Compatibility None
Response Time 1 ms
Viewing Angle Horizontal: 178°
Vertical: 178°
About:
The Acer Nitro is a very nice surprise. It displays a perfectly calibrated image, open angles and reduced display delay. The FreeSync compatibility between 40 and 60Hz is a real plus, but it is especially remarkable for its very efficient backlight scanning system (VRB) which is usually found on much more expensive monitors.
Putting aside limited contrast and ergonomics, this monitor is a great choice for gamers looking for performance at a good price.
Also Read: Best Portable Gaming Monitor
Design & Performance:
The Acer Curved Monitor is designed with a wide viewing angle that accurately displays the viewing angle up to 178 degrees, so no matter which angle you choose, the monitor displays the color perfectly.
The curved 16:9 screen wraps you in the entertainment world, providing a uniform viewing experience without blind spots, with every corner of the screen at the same distance from the eye. Tilting the screen 5 to 15 degrees will make it look more comfortable.
The fast response time of 4 milliseconds reduces ghosting and streaking, allowing you to watch without delaying the action and without being blurry.
Features:
Resolution: Get your hands on the Nitro ED242QR to take advantage of its undeniable advantages dedicated to gaming. At the display level, you can count on a 24-inch VA panel with rich colors and Full HD resolution (1920 x 1080). You will have the ability to appreciate all the beauty of the graphics of your favorite games, especially since the HD compatibility of this monitor allows you to benefit from more vivid colors and greater contrast on compatible content.
Refresh & Response: If you are more into fast and/or competitive games, Acer has equipped this monitor with a fast refresh rate of 75Hz and VRB (Visual Response Boost) technology to achieve 1 ms response time. AMD's FreeSync system is also there and aligns the monitor refresh rate to that of the graphics card to eliminate screen tears or jerks. You will only have to make the powder talk to take advantage of your opponents and secure the victory!
Enjoy seamless display with AMD FreeSync technology. This eliminates screen flicker and allows you to play without shaking. In AMD FREESYNC, the frame rate of the game is determined by the graphics card and not by the monitor's fixed refresh rate.
Connectivity:
Ports: 1 x HDMI & 1 x VGA
Also Read: Best Gaming Monitor Under 100$
Pros
It is a refined and slim design.
It reduces eye fatigue and helps the involvement of long-running play without eye stress.
Display high-quality images from different angles at a wide viewing angle
It has the excellent image quality and allows you to adjust its color settings.
It provides excellent performance and fast response time.
Cons
The monitor does not have any speakers
Not very suitable for performing write and read tasks
Bottom Line: This monitor will certainly help to meet the needs of the game. If you are considering investing in a curved gaming monitor for less than $300, this is a good choice. The Acer ED242QR monitor review is based on some of the important aspects of the monitor. These factors play an important role in improving the user's gaming experience.
5. MSI Optix G27C2 Top Curved Gaming Monitor Under 300 Dollars
Key Specifications
Size 27″
Panel Type VA LCD
Curvature 1800R
Resolution 1920 x 1080
Aspect Ratio 16:9
Pixels Per Inch (ppi) 81 ppi
Maximum Brightness 300 cd/m2
Contrast Ratio 3000:1
Refresh Rate 144 Hz
Adaptive-Sync Technology FreeSync
HDR Compatibility None
Color Gamut 85% NTSC 110% sRGB
Response Time 1 ms
Viewing Angle Horizontal: 178°
Vertical: 178°
About:
Show me what you can do with the Optix G27C2 game monitor! The monitor features a 27-inch curved VA panel with a 144 Hz refresh rate and 1 millisecond response time to quickly find your opponent.
AMD Freesync technology delivers a very smooth display, synchronizing the refresh rate of the screen with the refresh rate of the graphics card. Other integrated technologies ensure that you reach your target and quickly become the best ally in the game.
The Optix G27C2 monitor uses a 1800R curved panel. It is the most comfortable format and is suitable for a variety of applications, from the office to the game. Curved screens are also great for immersing yourself in the game. You can live your experience in a more realistic way.
Also Read: Best Gaming Monitor Under 200 USD
Design & Performance:
The monitor's matte plastic finish creates an elegant and sophisticated look, with the red metallic border highlighted by the MSI brand color. The plastic is definitely of high quality and the final look of the monitor is modern and smooth. The glass is thin, making it ideal for multi-screen displays.
The stand is made of metal, provides a solid base for the monitor, and has a red accent on the back. Support is easily assembled with a few small screws that stabilize the entire product. The MSI ensures that the appearance remains elegant because the screw-in section is covered with a fully integrated panel. The stand is on the long side, but it doesn't take up space on the table.
By offering a panoramic view of 178 °, the Optix G27C2 allows you to benefit from a wide viewing angle and therefore the same quality of images and colors even if you are out of the way.
The monitor does not have a VESA mount.
Features:
Resolution & Panel size: The 27 "Full HD LCD screen (1920 x 1080) with LED backlight. For graphics color quality, the MSI Optix G27C2 has an excellent color depth of 8 -bit, resulting in smoother gradients and more accurate colors. The monitor panel has good viewing angles and offers better contrast and colors than TN panels.
Refresh: For the extremely fast frame rates, the MSI Optix G27C2 has a maximum refresh rate of 144 Hz that allows smoother gameplay.
Response: The minimum response rate of MSI Optix G27C2 is 1 ms, which is can cause ghosting effects. In terms of pixel density, the MSI Optix G27C2 has a low density of 81 pixels-per-inch, resulting in pixelated text and picture quality.
Contrast: MSI Optix G27C2 has an excellent contrast ratio of 3000: 1.
Sync Tech: The MSI Optix G27C2 is a relatively new monitor. With the AMD FreeSync support, this monitor is compatible with both AMD and NVIDIA graphics cards. The MSI Optix G27C2 has the Display Port and this is essential for NVIDIA cards to work with AMD FreeSync.
The G27C2 monitor is optimized to reduce blue light from the screen, which can be harmful to the eyes. Thanks to the dedicated technology, you can play for several hours without feeling eye strain.
Need some help on the Battlefield? With the FPS Front Sight feature, you can more easily aim and hit your target and gain an advantage over your opponents.
Connectivity:
Connectivity is fundamental. Comes with HDMI 1.4 port, DisplayPort 1.2, and DVI-D dual link. This is not a reason for dissatisfaction because this is sufficient for the average PC connection. The standard package also comes with a DisplayPort and HDMI cable, so it's convenient because it can be taken out of the box immediately.
Pros
1800R curved panel for better comfort
144 Hz refresh rate for more fluidity
1 ms response time to avoid tearing
Faithful color reproduction
Anti-flicker technology and blue light protection
178 ° panoramic viewing angle
AMD FreeSync for extremely smooth images
Cons
The brightness of MSI Optix G27C2 is lower than other monitors.
Bottom Line: The consensus on the monitor is very certain. Monitors have limitations, but you won't miss the price. Size, refresh rate and response time are ideal monitors for gamers and graphic designers. If the small problem is not a break, this is a monitor you can be proud of.
Key Specifications
Size 22″
Panel Type IPS-Type LCD
Resolution 1920 x 1080
Aspect Ratio 16:9
Pixels Per Inch (ppi) 93 ppi
Maximum Brightness 250 cd/m2
Contrast Ratio 1000:1
Refresh Rate 60 Hz
Adaptive-Sync Technology FreeSync
Bit Depth / Color Support 6-Bit+FRC (16.7 Million Colors)
HDR Compatibility None
Color Gamut 108% NTSC 129% sRGB
Response Time 5 ms (GtG)
Viewing Angle Horizontal: 178°
Vertical: 178°
About:
This elegant brilliance monitor offers an unrivaled field of vision. Its wide angle screen allows you to benefit from a clear and striking image, whatever the angle of front view. Flicker reduction technology reduces eye strain due to prolonged use.
Design & Performance:
Philips adopts a fairly classic design; the screen edges are black and only the aluminum base gives a semblance of character to the whole. The coating of the slab is matt, which prevents reflections.
The aluminum base has a depth of 22 cm which is fairly good for a 22-inch model.
The Philips is content with adjusting the tilt between -5 and + 20 °. The stand is not rotatable and, above all, it is impossible to adjust the height of the screen, a feature that is far from anecdotal.
IPS screens use advanced technology that widens the viewing angle to 178/178 degrees, making it possible to view the screen from almost any angle. Unlike traditional tiles, IPS screens produce incredibly crisp images in vibrant colors, ideal for photos, videos, web browsing, but also for professional applications that require precise colors and constant brightness at all times.
Also Read: Best Gaming Monitor For PS4 & Pro
Features:
Image quality is of paramount importance. Classic screens are good, but you expect more. This Full HD screen offers a resolution of 1,920 x 1,080. It offers faithful rendering of images thanks to the precision of details combined with high brightness, incredible contrast, and realistic colors.
Your games should not be reduced to a choice between irregular gameplay and jerky images. The new Philips monitor saves you those worries. The display is smooth and free of artifacts, at virtually any frame rate, thanks to AMD FreeSync technology, a high refresh rate, and ultra-fast response time.
This model is content with a refresh rate of 60 Hz, but it is FreeSync compatible over a fairly reduced range between 48 and 76 Hz. It is also devoid of flicker (Flicker-Free) and offers a blue light filter.
Connectivity:
The connection consists of an HDMI input, a VGA input, a DisplayPort input, a mini-jack audio input, and a headphone output. The screen also has two built-in 2 W speakers, the quality of which does not replace a dedicated speaker kit, but they can help out to watch a short video, podcasts or TV shows.
Pros
Well managed gamma and temperature
Wide viewing angles
Good value for money.
Reduced consumption
Cons
Limited contrast
Lack of color fidelity
Bottom Line: Philips offers a Wide Color Gamut monitor supposed to display extended colors, but it would already have to content itself with correctly displaying standard colors, which is not its case. It is all the more unfortunate that the gamma and the temperature are fairly well managed. For the rest, it's an entry level monitor with limited ergonomics and no USB hub. It still has one advantage: its very low power consumption, but that's about it.
7. AOPEN 27HC1R Gaming Monitor Under 300$ Curved
Key Specifications
Size 27″
Display TypeLED-backlit LCD monitor / TFT active matrix
Panel Type VA
Brightness 250 cd/m²
Aspect Ratio 16:9
Refresh Rate: 144 Hz
Response Time: 4ms
Native Resolution Full HD (1080p) 1920 x 1080 at 144 Hz
Color Support 16.7 million colors
Horizontal Viewing Angle178
Vertical Viewing Angle178
About:
The Full HD 1080p resolution AOPEN 27-inch curved panel monitor delivers incredible performance. The crisp and vibrant colors deliver at an amazing resolution of 1920 x 1080, and you can enjoy high-resolution entertainment at home. This G-SYNC compatible monitor, validated by NVIDIA, provides more of what you want in the gaming experience. And much more.
Design & Performance:
The 27-inch AOPEN curved screen with full HD resolution (1920 x 1080) provides the sharpest image quality and provides perfect images with a wider field of view. The frameless design eliminates the thick frames found on traditional monitors, thus freeing up valuable space on the screen and allowing you to see more from one end to the other.
The curved 16:9 screen wraps you in the entertainment world, providing a uniform viewing experience without blind spots, with every corner of the screen at the same distance from the eye. Tilting the screen 5 to 15 degrees will make it look more comfortable.
Features:
Nvidia G-SYNC compatible displays have been verified by NVIDIA to work smoothly with GeForce graphics cards for tear-free games at optimal refresh rates.
The 144Hz refresh rate accelerates the frame per second and provides a very smooth 2D motion scene. With a 144 Hz high refresh rate, the AOPEN monitor reduces the time it takes to render images, reduces input delays, and provides a better gaming experience for players.
The fast response time of 4 milliseconds reduces ghosting and streaking, allowing you to watch without delaying the action and without being blurry.
To ensure the best visual experience, the colors are adjusted in real-time. In addition, protecting the eye reduces eye fatigue, and provides a more comfortable viewing experience. Blue light shield and flicker less technology protect your eyes, work, and play comfortably for long periods of time!
Connectivity:
Pros
Boosted by AMD's Radeon FreeSync
Inconspicuous curved monitor design
Cable management integrated into stand
Wide-use monitor with accurate color display
Intuitive joystick for navigating on-screen display menus
Cons
No built-in USB ports
Limited adjustability
Bottom Line: Refreshing design, 178 degree viewing angle, 144Hz refresh rate, refreshing price. Aopen 27HC1R is an excellent economic monitor for minimalist gaming needs.
How To Choose The Best Curved Gaming Monitor Under $ 300 | Ultimate Buyer's Guide 2022
Resolution:
A monitor with multiple pixels will show a sharper image, but the text and icons will be smaller in size unless you configure the operating system to enlarge them. If you have a little poor view, you may prefer a large monitor with a standard resolution, such as a 27-inch with 1920 x 1080 pixels, but the 24 and 23-inch screens often offer the same number of pixels and a price more content.
As for the quality/price ratio in our opinion, the best compromise is, therefore, a 23 or 24 inch with Full HD resolution (1920 × 1080), a category for which there is a wide range of products to choose from. New 4K ( 3840 × 2160) and above 2K ( WQHD 2560 x 1440) monitors, even "cheap", are pouring on the market while Full HD becomes an increasingly cheaper technology.
Also Read: Best 24-inch Gaming Monitor
Panel Types
TN »Twisted-nematic
There are several types of panels used in modern displays. The least expensive is the twisted-nematic type, often simply called TN. These displays can respond very quickly to fast-moving images and are therefore ideal for action games (shooters, driving games, etc), but suffer from narrow viewing angles and worse color reproduction than other types of display.
A narrow viewing angle means that, especially for larger screens, the edges of the screen can show different images in brightness and color, even without having to look at the monitor from one side. Although this technology has made enormous progress, it still cannot guarantee the viewing angles of a not excellent IPS.
Recommended for:
Games
Mainly multimedia use
Low budget
IPS »In-Plane Switching
Much wider viewing angles, better color reproduction can be obtained from an In-Plane Switching (IPS) display, which however has a higher cost than a similar TN monitor. These monitors are perfect for any job involving photography, video graphics, and reading and are generally more relaxing to use than a TN display. One of the aspects that allowed IPS monitors to be successful is their ability to reproduce not only the most beautiful colors but also to support larger color spaces (at least on more expensive products).
The good news is that the price of IPS screens has fallen dramatically in the past two years, and now with less than $ 300 we can take home a professional-quality IPS monitor of considerable size. In addition, the new IPS panels have not very high response times which also makes them suitable for gaming despite not being the best gaming monitors.
Recommended for:
Video and photo editing
Programming
Professional use
VA »Vertical Alinement
Unlike the TN panel, a VA panel does not represent black by keeping the panel backlight on, but it does so by turning it off completely. This makes blacks really black, thus eliminating that grayish hue that remains with TN technology. The contrast of these monitors is more static and therefore higher, and generally ranges from a ratio of 2000: 1 to 6000: 1.
Another improvement introduced by these panels compared to TN panels is the improvement of viewing angles and color reproduction. The shift of the tones is much less pronounced and everything is reproduced with higher precision, but the color range tends to be washed out, with the shadows losing sharpness. In this sense, VA screens could be seen halfway between the TN and IPS technology that we have seen offers very high viewing angles. A VA panel also suffers less from clouding and backlight bleeding, precisely because the backlight is turned off to reproduce black. VA monitors are great for watching movies, where black tones are critical and for home/office use.
Refresh Rate
It is usually expressed with the abbreviation Hz (Hertz), and the higher this factor is, the smoother the video images are.
Note the difference for untrained people after 60Hz is not easy, while for those who already know more, values ​​between 120 Hz and 144 Hz are preferred, but there are also monitors with higher values.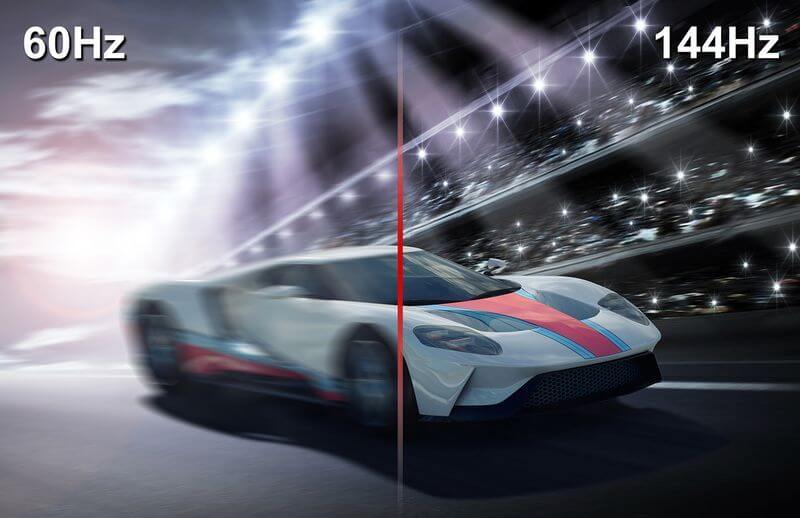 Response Time:
this is a value to take into consideration and on which you have to spend a few more words. To begin with, it shows you the time it takes for a pixel to change color, it is measured in milliseconds (ms). The lower it is, the lower the risk of an image "defect" known as ghosting found in the image below.


The shorter the response time, the less likely it is that your image will become blurry or image/color overlaps can occur. This is a very important factor especially if you don't know how to choose a good monitor for graphics and especially for gaming.
Monitor Stand
Is your current monitor resting on a pile of books? You should consider replacing the volumes with a height-adjustable stand. The perfect position of the monitor improves posture and helps us to get tired less during long work/computer game sessions.
Glossy vs matte screen
Glossy or matte screen? The shiny one has more vivid and bright colors, while the opaque one is not affected by the hated reflections and, in the long run, is less tired. The choice will be a matter of personal preference and the prevalent use of the panel. However, we recommend a monitor with the highest possible contrast ratio, in order to obtain a strong, clear, and deep black image.
In our opinion, high brightness is an overestimated parameter, especially useful if you use the monitor in a very bright room. Also, evaluate this parameter during the purchase phase, but be careful because the lights of the shops or those of the stations in the shopping centers could distort the judgment.
Brightness
The brightness of a gaming monitor is a very important factor to evaluate, as it allows you to be able to have good visual quality even when there is a lot of light in your room.
The standard brightness is 250 cd / m 2 but you could also go on a 300 cd / m 2 , but be careful because a high brightness can cause damage and discomfort to the eyes.
Note: however, remember that if your screen supports high brightness, you can always lower it, but not the other way around.
Contrast
A high contrast instead, allows you to see well especially in games with low brightness, such as thrillers or horror games.
Speakers
If you do not have a dedicated audio system, we recommend purchasing a monitor with built-in speakers and, if desired, a headphone socket. The choice, in this case, is a bit limited, but we will recommend below some models that might be right for you.
However, rare are the cases in which a monitor has good speakers, maybe a cheap TV if you don't want to spend too much and have acceptable audio.
Connectivity
We advise you to check, before purchasing, that the selected monitor has the inputs corresponding to the outputs of the PC. The latest notebooks and video cards are equipped with HDMI output, connectivity that we strongly recommend you to adopt in place of the old VGA and DVI. Monitor packs often also contain adapters, which can alternatively be purchased separately for a few euros.
FAQs
Conclusion
We hope you enjoyed the Best Curved Gaming Monitor Under $ 300 Products Overview & Buyers' Guide. If it was useful, bookmark our site and share it with the people you know whenever they intend to buy something.
Feel free to post your feedback in the comment below.
Top-Rated Curved Gaming Monitor Under $ 300 For 2022
Also Read: