At present, there are high-quality video formats, which seem to take visual communication to another level. The famous high definition formats and extra-large screen TVs have led to a new generation of video formats. In this article, we will describe the differences between HD, Ultra HD, and 4K.
What is the Resolution?
The resolution of a screen refers to the level of definition offered by television, computer or mobile screens, as well as projectors. This is measured based on the number of pixels that the screen is wide and high. For example, a high definition or HD resolution screen has 1280 x 720 pixels.
Also Read: Monitor Buying Guide
What is High Definition (HD)
The first thing we are going to do is define what HD is, so that, in this way, we can compare with the most modern formats and that are currently giving what to talk between devices of large screens.
Also Read: How to Play 4k Video on PC or Mac (Ultra HD) 
High definition or HD by its acronym in English, is a video format that offers a higher resolution of images per screen, than the standard video format.
This high-quality format has 1280 × 720 pixels or 1920 × 1080 pixels, which represents an overwhelming advance compared to 720 × 576 pixels of the standard video resolution.
Thanks to this advance, the HD format allows us to see images with a high level of detail and clarity, improving the visual experience of the user of high definition screens.
Also Read: Best Gaming Monitor For PS4 & Pro
What is Ultra HD?
Ultra HD is a resolution that is commonly associated with 4K resolution. However, these resolutions are different from each other. The resolution Ultra HD or Ultra High Definition refers to that resolution that reaches at least 3840 x 2160 pixels and that keeps an aspect ratio of 16: 9 on the screen.
The name "Ultra HD" was adopted in 2012 by the Association of Consumer Electronics (CEA). This screen resolution is the next step after Full HD or 1080p resolution.
Having 3840 x 2160 pixels, or 8,294,400 pixels total (more than 8 megapixels), the Ultra HD resolution is four times greater than Full HD (1080p) and nine times greater than HD resolution (720p).
Also Read: Best Gaming Monitor For XBOX One
In many cases, it is confused to Ultra HD resolution with 4K resolution. This confusion occurs mainly for two reasons: on the one hand, due to a marketing issue and, on the other hand, because the amount of pixels that the Ultra HD resolution has across the width (2840) of the screen is close to 4000 pixels.
The scan that uses this resolution on the screen is progressive. Unlike the 1080p resolution, this detail is omitted most of the time in the ways in which it is marketed (UHD, 4K, UHDTV).
Also Read: PC Gaming vs Console Gaming | Which One is Best
As for the transmission and consumption of the television signal or online content in Ultra HD, one of the biggest problems is the consumption of bandwidth that it requires to be able to transmit video smoothly.
The transmission must be high speed and it is necessary to have a plan that covers the transmission of this type of resolution quality, which is not always accessible to all audiences.
Also Read: Best Monitor For Video Editing in 2019 | True 4k Photo Editing Panel
As for the viewing distance and screen size, if it is 40 inches and has Ultra HD resolution, the minimum distance at which a good definition could be seen would be about 80 cm.
What is 4K resolution?
The 4K designation refers to a resolution standard of 4096 x 2160 pixels that was developed by the Digital Cinema Initiatives (DCI) for use in film production, both in projection and on cinema screens.
It is known as 4K due to the 4096 pixels that make up the width of the screen, or projection of the image in the cinema. It has a total number of 8 847 360 pixels (almost 9 megapixels).
Also Read: IPS vs TN For Gaming | Which one is best [Solved]
This resolution format is the successor of 2K (also used as a standard in cinema), which has a resolution of 2048 x 1080 pixels or 2 211 840 total pixels. Thus, the 4K resolution has four times more pixels than 2K.
Also Read: Best Portable Monitor For Laptop 
Differences between HD, Ultra HD, and 4K
Now, with the arrival of the last generation huge screens , there was an evolution in the video format, which led to consider HD as discontinued , since it greatly increases the number of pixels that the screen can display, greatly improving the video, and making it much more real even than in the HD format.
We can say then, that the main difference between HD and other modern formats, such as Ultra HD and 4K is that the latter has better quality and quantity of pixels.
Read my article on 8 Types of Computer Monitors | All About LCD CRT TFT DLP LED
Ultra HD and 4K, in general, are thought to be the same, but they are different. The first has a resolution of 3840 × 2160 pixels and a 10-bit color. While the second (DCI 4K), it has 4096 × 2160 pixels and a color depth of 12 bits. As you can see, in this sense the 4K has better quality and realism, but at the same time it is much heavier, so it requires compression, through the use of plugins to save storage space.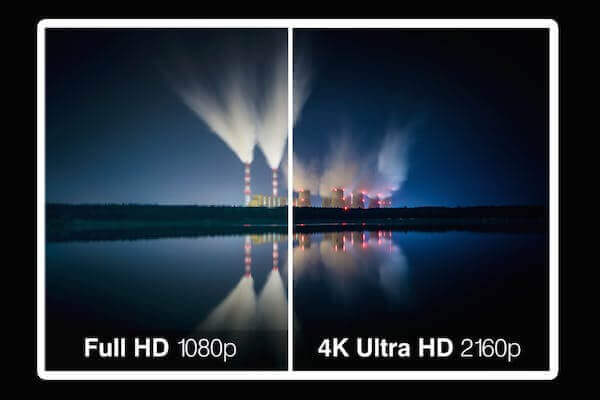 Another difference between the Ultra HD and 4K is that the Ultra HD maintains the current 16: 9 TV format, allowing you to take advantage of the entire screen size. While the 4K, requires a complete change of the format, because if not, it has black stripes at the top and bottom of the screen, wasting inches of screen.
It is for this reason, that in the market the TV screens are all Ultra HD and not 4K, which is practically not in the market, although sellers try to tell us otherwise.
You may also be interested in; Best Console Gaming Monitor
Well, it seems a bit complicated but it is merely a communication strategy. Here we leave you the table with which you will know that it is really 4K.
| Resolution | Pixel resolution | Aspect ratio | Known As |
| --- | --- | --- | --- |
| 4K | 4,096 × 2,160 | 1.9: 1 | 4K DCI (Digital Cinema Initiatives) |
| UHD | 3,840 × 2,160 | 1.78: 1 | 4K, UltraHD, Ultra-High Definition, 2160p |
| 2K | 2,048 × 1,080 | 1.9: 1 | |
| WUXGA | 1,920 × 1,200 | 1.6: 1 | Widescreen Ultra Extended Graphics Array |
| FullHD | 1,920 × 1,080 | 1.78: 1 | 1080p, FHD, HD, High Definition |
Note: And so while the screen does not have 4000 pixels is not real 4K.
[youtube https://www.youtube.com/watch?v=RodCjVf-5AE]
FAQs For Difference Between UHD and 4k
Why would we need 2 different resolutions? How did this happen?
It's a long story, so as not to make this article too long, let's just say that the movies were scanned at 2k (2048px) before the 4k arrived, so when it came to scaling the resolution, only the number doubled, becoming 4096.
On the other hand, the 2k never arrived or will arrive on television. Instead we have High Definition (Full HD TV) 1920 × 1080 and twice that horizontal resolution is 3840 (UHD), or in other words, UHD is four times FULL HD.
Also Read: Best Monitor for Programming & Coding 
In summary, there are two 4k classes:
For Television: 3840px horizontal (UHD)
For Cinema: 4096px horizontal (DCI 4k)
Now that you know the difference between 4k and UHD, it should be noted that normally, all (or almost all) we refer to as 4k to any of these 2 resolutions (unless it is a specific issue that requires making a difference), even the manufacturers of cameras and televisions use the term 4k to refer to any of the 2 resolutions.
Also Read: What is HDR Gaming
The reality is that the difference is very small and it is practically impossible to notice the difference at a glance between one and the other, especially if we take into account that there are still people who say they do not notice the difference between HD and 4k !.
Is 4k really better than 1080p?
Yes…! There are a lot of reasons that have led 4K technology to rise above 1080 in terms of quality. These reasons are mainly focused on factors on the ways to solve small details on the screen, especially the most delicate ones and even more so by being very close to it. And, from the point of view of production, the ability to adapt the recordings to lower resolution formats without losing an iota of its high contrast and the detail of the original.
Also Read: Response Time vs Refresh Rate in Monitor | The Higher is Better or the Lower One
Conclusion
So this was all the differences between HD, Ultra HD, and 4K.
Top-Rated UHD & 4K Monitor
Also Read: