If you want to enjoy the ultimate XBOX One experience on the big screen, then you have to pick the Best Gaming Monitor for Xbox One X.
If you are fed up with the low resolution of TV and you desired for console gaming monitor to get a clear view of every inch, then we bring a comprehensive guide and selection of XBOX One Gaming Monitor for you.
We will cover each and everything in our detailed and in-depth research guide on Console Gaming Monitor for XBOX.
All your queries will be answered…
Best Gaming Monitors for Xbox One X | 2023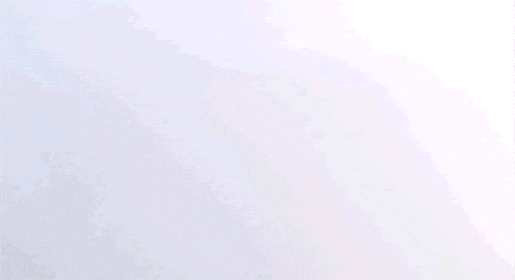 Gamers desired for a gaming monitor to get the best & responsive viewing experience during gameplay because the ordinary TV/LCDs not fulfilled the demand of gamer's i.e. high response time, input lag and refresh rate as well as resolution & contrast.
To rescuer, this problem the Gaming Monitor come into Market, with great features and Prices.
They are specially made for XBOX lovers & designed to provide smooth gaming experience and perfect viewing angles, without Console Gaming Monitor I can say your XBOX is incomplete.
What is HDR on Xbox One?
The High Dynamic Range Imaging also called HDR on Xbox simply means that you will get more color, quality images during gameplay.
To make HDR works…you have to pick the 4k HDR on Xbox One as well as 4k Gaming Monitor for XBOX.
You will surely get the top visual benefit of games and apps that support HDR.
Also Read: What is HDR Gaming
Keep Reading Our Article Till End…
We have a Buyer's Guide and FAQs section to assist you to pick the Best Gaming Monitor for your Xbox One.
The Comparison table will show you the Best Gaming Monitor for XBOX One, these are the top choices of different gamers in 2023 and onward.
Best Gaming Monitors for Xbox One X in 2023 | Comparison Table
Top Quality | Best Rated | 5-Stars Picks
Best Gaming Monitors for Xbox One X in 2023 | Products Overview
1. ASUS VA327H Curved Gaming Monitor For Xbox One X (Editor's Choice)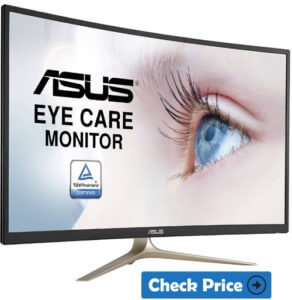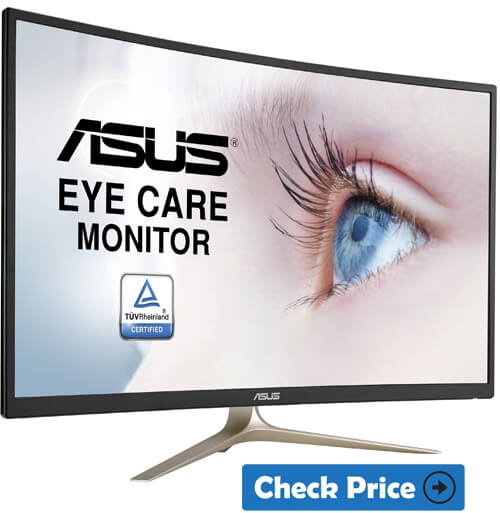 Key Specifications
Screen size: 31.5-Inches
Resolution: 1920×1080 FHD
Brightness:  250 cd/m²
Response Time: 4ms
Refresh Rate: 144Hz
Contrast Ratio:  3000: 1
Aspect Ratio: 16:9
LCD Type: LCD
Description:
Enjoy the an immersive gaming experience with the VA327H a gaming monitor,
Design
Performance
Features
It a thin profile & curved design with vertical alignment panel (VA) technology.
The curve is so perfect, the screen can be viewed from almost any angle.
The 1,800R curvature of the VA327H ensures that each point on the screen is equidistant from your eyes so you can enjoy game marathons with maximum comfort. The curved screen dramatically increases the feeling of immersion with movies and games.
Contrast 3000: 1 / ASCR 100 000 000: 1 and 4 ms response for superior image quality.
The Response time & refresh rate is perfect for fast action games, the contrast is great and you will enjoy the black dark games like call of duty.
31.5 "FHD screen with 178 ° viewing angles and 1800R curvature that enhances the immersive feel of games and movies.
The contrast ratio of 3000: 1 provides lifelike images with deep black tones and radiant whites, while wide viewing angles reduce chromatic distortion and preserve contrast, even when viewing the image from extreme angles.
The GamePlus button activates the crosshairs and timer functions: Choose between four points of sight that adjust to different game scenarios and improve your skills in real-time strategy games with the timer.
GamePlus includes the cross-hairs and timer functions to improve the gaming experience.
The anti-flicker technology reduces eye fatigue, making viewing more comfortable after several hours in front of the monitor
It comprises input connectivity for both HDMI and VGA as well as VESA mount.
Its stereo 2W speakers deliver voluminous sound while removing the need for external speakers.
the new-fangled SplendidPlus Video Intelligence Technology that improves videos and images by enhancing color brightness, contrast, and sharpness.
[youtube https://www.youtube.com/watch?v=AwJAABZAeZQ]
Pros
Truly vivid visual experience
Exclusive ASUS GamePlus crosshair and timer for an improved gaming experience
Motion Blur reduction technology
Bottom Line
: If you are looking for a
curved gaming monitor Under 300
with a lot of features as well as on low priced , then ASUS VA327H would be ideal choice.
2. Viewsonic XG2700-4K – Best Freesync Monitor for Xbox One X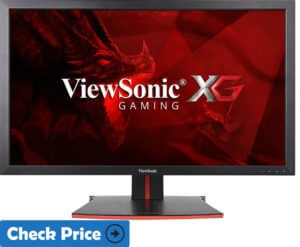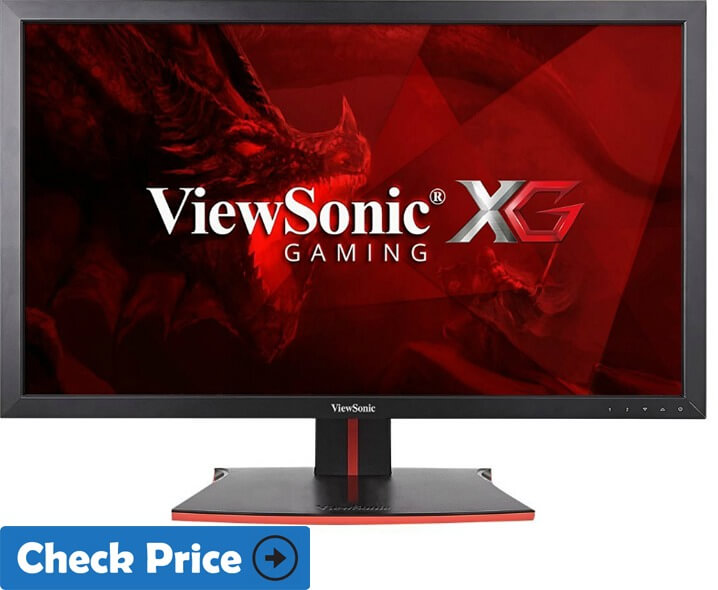 Key Specifications
Screen size: 27-Inches
Resolution: 3840 x 2160 FHD
Brightness:  300 cd/m²
Response Time: 5ms
Refresh Rate: 60Hz
Contrast Ratio: 1,000:1
Aspect Ratio: 16:9
LCD Type: IPS
Description:
To select a gaming monitor, nothing more important than the resolution. The resolution is the number of pixels displayed on your screen. The more pixels there are, the better the accuracy of the image. With a resolution of 3840 x 2160 and a pixel density of 163 dpi, the XG2700-4K is the high-end monitor!
If this is your first Ultra High Definition screen, you will certainly be dazzled. For this techno, we often hear that the image is truer than true. Obviously it is impossible, however, the first preview gives absolutely this impression, so the pixels are hard to discern. To summarize, in terms of resolution, that's what we do best.
Design
Performance
Features
The screen rotates 90 degrees clockwise thanks to its Vesa support. The rocker is forward 5 degrees against 15 back. The ergonomics of horizontal rotation escaped my logic.
The 3840 × 2160 Ultra HD 4K beyond the graphics capabilities. With the 178 ° angle of view of its IPS Super Clear panel and its 10-bit rendering, the color rendition is of a quality that leaves you open-mouthed.
For compatibility reasons, I launched No Man's Sky on an HP Omen to assess the fluidity offered by the AMD FreeSync technology present in the monitor. I did not notice any jerkiness, latency or overflow.
The Frame Rate Control FRC technology will simulate frequencies that the slab cannot originally generate. This makes the image more precise.

With 5 USB ports, 3 HDMI ports, 2 Display Ports and a 3.5 mm audio output, the XG2700 connectivity is generous. In addition to freeing the computer, positioning 2 USB ports on the right edge of the screen is really convenient to access.
All these video inputs also allow the display of 4 different sources on the same screen. They are very useful to supervise the state of several machines or to compare the differences of the same game on PS4, Xbox One or Wii U.
AMD FreeSync
Pros
It shows a real comfort of viewing in the dark environments of some video games
The navigation is pretty simple
Bottom Line:It offers an image rendering that has nothing to envy to its competitors of the same range. This monitor is monstrous! What to dream of better to fully enjoy the contents in very high definition. It will be adapted to all kinds of uses: gamers, graphic designers, etc. Obligatorily, we can only recommend it.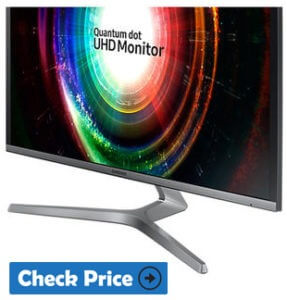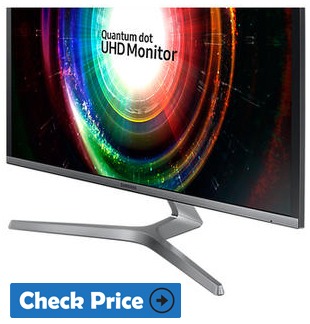 Key Specifications
Screen size: 28-Inches
Resolution: 3840×2160 UHD
Brightness:  250cd/m²
Response Time: 1ms
Refresh Rate: 60Hz
Contrast Ratio: 1,000:1
Aspect Ratio: 16:9
LCD Type: TN
Description: If you are looking for a high-performance display that gives you a picture of the highest quality, then the SAMSUNG U28H750 is ideal. In addition, it has original, innovative and practical functions.
For graphics, movies or games (Xbox one & ps4), the SAMSUNG screen is a true ally. With its large workspace, you display more web pages, images, and text in 4K, without zooming or scrolling pages. And for your games, its 1ms response time and AMD FreeSync technology with black equalizer give you maximum fluidity.

Also Read: Best Monitor Under $300 for Gaming
Design
Performance
Features
The screen SAMSUNG U28H750 has an aesthetic design that will please you, with its thin frame, its matt slab, and its metal foot. But it has also been designed to ensure total comfort. For example, it has an anti-flicker system to reduce blue light.
This SAMSUNG screen is also equipped with innovative and convenient features like the Picture-by-Picture system for multitasking by connecting two different sources with equal picture quality. The Picture-in-Picture function allows you to display the equivalent of two monitors in one, resizing the image up to 25% on the screen.
The SAMSUNG U28H750 28-inch display offers Ultra High Definition resolution, four times faster than Full HD. But that's not all, it's Quantum Dot technology offers perfect contrasts with a palette of over a billion color shades. The images are crisp, pure and precise. 
The Samsung U28H750UQU monitor has four times the definition of Full HD. Its larger workspace allows you to better visualize your documents or web pages, without having to scroll or zoom.
It allows you to display your 4K content in all their splendor, with a level of detail of unprecedented realism that will give you the impression of being at the heart of the image.
The quantum dots (or quantum dots) infinitely small of the UH75 allow obtaining 1 billion shades for brightly colored images and varied. Thanks to its richer greens and reds, this screen is able to better meet your professional needs for photo editing and graphic design.
The AMD FreeSync technology synchronizes the refresh of the graphics card and screen to minimize slowdowns and ensure smooth playability. The game mode optimizes the colors and contrast of the screen to ensure the most realistic scenes. You also get a fast response time of 1 ms for parts always more intense!
The features Picture-by-Picture Samsung allow you to connect to two different devices at the same time while maintaining the original quality of the image. The Picture-in-Picture function easily replaces a second monitor, even for your multitasking activities. You can resize the second image so that it occupies up to 25% of the screen and position it wherever you want.
Sober and elegant, the Samsung U28H750UQU monitor will be ideally placed on your desk. Tilt for optimal position, it also sports eye comfort technologies. So, find the benefits of FlickerFree to fight against flickering and an Eye Saver mode to protect your eyes from blue light.

Pros
2 HDMI ports and a DisplayPort will bring you practical solutions in everyday life.
Eye Saver technology with reduced blue light emission
Typical energy consumption: 34 Watts (maximum 59 Watts)
3-year manufacturer's warranty
Bottom Line: If you are a gamer as well as graphic designer, then we suggest this monitor modle to you. It one of the best and powerful multi-tasking monitor.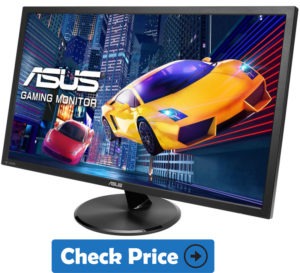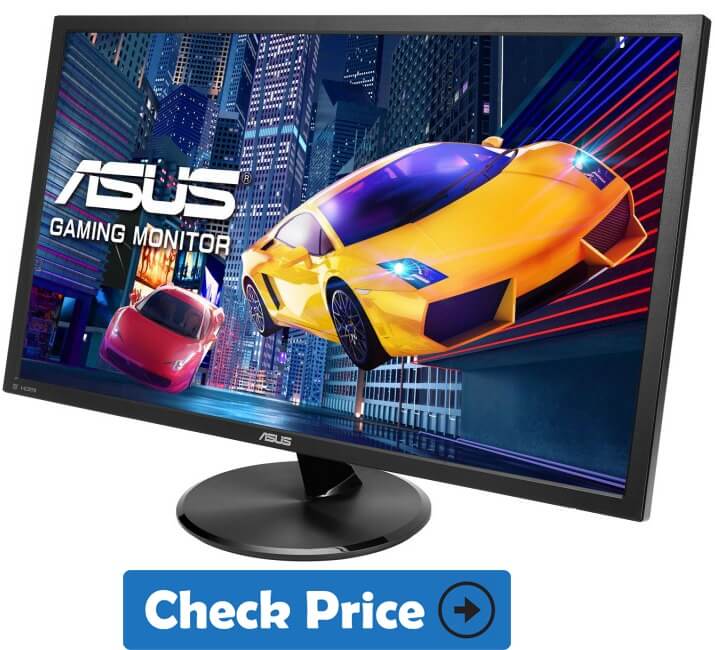 Key Specifications
Screen size: 28-Inches
Resolution: 3840×2160 FHD/ 4K
Brightness:  cd/m²
Response Time: 1ms
Refresh Rate: 60Hz
Contrast Ratio: 1000 : 1
Aspect Ratio: 16:9
LCD Type: TN
Description:In 28-inch format, this VP28UQG offers a 28-inch panel displaying a definition of 3840 x 2160 pixels. Its mechanics provide a response time from Gray to Gray 1ms .
Let's say for example the OSD crosshairs, the frame-rate counter (counting FPS) or profiles depending on the type of game. All this little world is gathered around the name Asus GamePlus.

Design
Performance
Features
The design is quite simple by today's standards, with generous frames and a base with which you can only adjust the tilt of the monitor.
This model has GamePlus technology that adds cross-linking on the screen, FPS counter, timer, among other interesting details to check the performance of games without adding any application to the system.
Adaptive-Sync technology with 1 ms of response time to enjoy the most fluid and fast gaming action.
Exclusive ASUS GamePlus technology with peephole, FPS counter timer, and screen alignment.
The viewing angles of 170 and 160 ° in horizontal and vertical. The brightness is announced at 300 cd / m2 against a contrast ratio of 1000: 1. Added to this is a dynamic "mega contrast" function.
The equipment is based on several video inputs. We have a DisplayPort 1.2a and two HDMI 2.0. The audio has a DAC with a 3.5 mm jack. This makes it possible to recover through a headset the audio carried by the HDMI port.
Asus VP28UQG is completed with the support of the adaptive V-Sync technology through AMD FreeSync (40-60 Hz).
It has the TUV Rheinland certificate that certifies the use of Flicker-Free technology to reduce visual fatigue together with a reduction in the emission of blue light.
It is incorporated 3 video inputs in the form of a DisplayPort 1.2a next to two HDMI 2.0, headphone jack via the 3.5 mm jack
Pros
It have everything you need in terms of gaming
Budget friendly
Bottom Line: Those who want a good monitor for their games, which meets the complete needs, and without spending too much money, then this model is perfect.
5. LG 43UD79-B Best Big Size Monitor for Gaming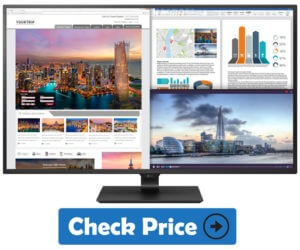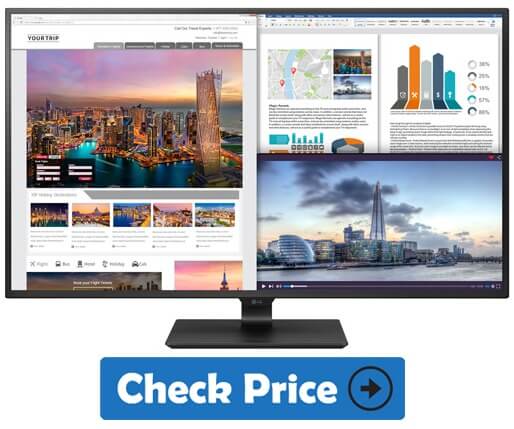 Key Specifications
Screen size: 43-Inches
Resolution: 3840×2160 FHD / 4K
Brightness:  350 cd/m²
Response Time: 5ms
Refresh Rate: 60Hz
Contrast Ratio:
Aspect Ratio: 16:9
LCD Type: IPS
Description:
So, if you want to enjoy the games on a big screen, then LG 43UD79-B will serve you the best viewing experience.
Indeed, it is a very impressive monitor, both in terms of size and image quality that offers you a world of possibilities to fully enjoy the content of your PC.
I make a detailed analysis of this Xbox One gaming monitor, analyzing point by point all its aspects & features.
Design
Performance
Features
And it is that every time bigger resolutions allow more centimeters of screen without that it affects in images of worse quality.
Within the monitors for PC or console, we have seen diagonals of more than 30 inches in a more or less usual, but this LG exceeds that mark with many inches of difference and is that yes and other models seemed great the LG 43UD79- B and its 42.5 inches screen may seem to you mammoth.

A monitor for which a 42.5-inch 8-bit IPS panel has been used, capable of generating a color depth of 10 bits and offering a UHD resolution of 3840 x 2160 pixels. Therefore, this generous diagonal will not be affected by the poor image quality, at least if we talk about resolution.
To personalize the experience, this monitor incorporates a number of image modes. For example, we have a game mode, which at the same time has several different configurations. And a reading mode, which I find very useful if we have to spend long moments in front of the screen reading. What this mode does is reduce the harmful blue light. Those of cinema or photos, according to the contents with which we work.

The maximum brightness of 350 cd / m2, a refresh rate of 60 Hz, a contrast of 1000: 1 and a response time of 8 milliseconds, which can be somewhat high if we compare it with other market options.
Its viewing angles of up to 178 degrees both horizontally and vertically. Taking into account its size and the split-screen, the 4K resolution of 3,840 x 2,160 pixels is loved.
Technologies used in this monitor know as AMD FreeSync (to synchronize the frames between graphics and screen), Black Stabilizer or Dynamic Action Sync (DAS) with which you can achieve up to four screens with Full HD resolution of four different sources.
It has a DisplayPort 1.2a input, two HDMI 2.0 inputs, two HDMI inputs 1.4, one USB Type-C port, two USB 3.0 ports, and one RS-232C connector.
It has 2 speakers of 10W power with a remarkable performance, you don't need to install external speaker.

Pros
Designed to work with a split screen.
Bottom Line:If you are looking for a large diagonal UHD monitor, then the LG 43UD79-B would be ideal for you. It is a monitor designed especially for the user who likes to work with video or photography & gaming and this is noted by the good assortment offered in terms of connectivity
6. BenQ PD3200U – Best 4K Monitor For Gamers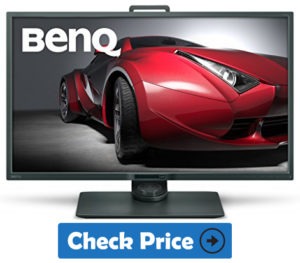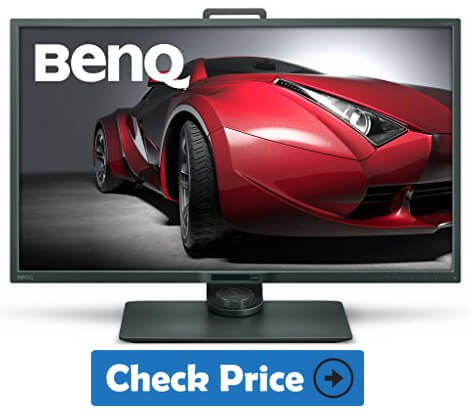 Key Specifications
Screen size: 32-Inches
Resolution: 3840×2160 UHD/ 4K
Brightness:  cd/m²
Response Time: 4ms
Refresh Rate: 60Hz
Contrast Ratio:
Aspect Ratio: 16:9
LCD Type: IPS
Description:
If you are looking for the best budgeted 4k gaming monitor for Xbox one x, then Benq PD3200U is a high-end monitor that works especially in the treated image to offer not only an incredible 4K resolution within a 32-inch screen, but also a number of technologies for creative professionals with more than 300% of space to work and a reliable representation of color.
Design
Performance
Features
The Benq Ultra HD 4K PD3200U monitor offers, you have to rest on its careful design, with a traditional format that manages to achieve good levels in its frames or in its overall thickness. Strictly its dimensions correspond to 491.66 x 740.28 x 223.62 mm.
On the other hand, surprising the peculiarity of its base to be the one that includes several keys to enter some of its available image configuration modes, more precisely in a wheel shape called "Hotkey Puck" that is placed on the union with its foot.
It is even possible to achieve the ideal ergonomics through a wide variety of adjustments of height, inclination, rotation, stroke and oscillation of the monitor. For example, in a vertical orientation, your "smart detector" automatically rotates the contents of the screen to display it correctly.

It is necessary to complement its 32-inch IPS technology screen with a resolution of 3840 x 2160 pixels at a frequency of 60Hz, with a native aspect ratio of 16: 9 and a contrast ratio. 1000: 1 In addition, your response time is 4 ms.
The Benq PD3200U, the ultra HD resolution of 4K offers an extraordinary sharpness with respect to the fine details and textures of the images, thus achieving an optimal visualization and work experience. Intense visual

The advanced functions that this alternative brings, there are three modalities that modify the visual parameters to adapt to different types of uses. The first is called "darkroom mode " and is responsible for adjusting the brightness and contrast of the images to create the optimal working environment in darker post-processing environments without losing realism.
If 32 inches is enough space to work simultaneously, there is no missing in this Benq Ultra HD 4K PD3200U monitor a KVM switch feature that allows users to control content from two different computers on the same screen through single-player operation keyboard and mouse.
A reliable representation at 100% of the color range sRGB and Rec.709 from a wide-angle of vision. All monitors of this Benq line have Technicolor certification.
In the case of working with popular software such as AutoCAD, the small details that should be observed in this type of editions are also emphasized, so that the "CAD / CAM mode" attains a greater contrast in the lines and shapes of the technical illustrations, improving the smallest existing objects.
The "animation mode" logically focuses on perfecting each movement that the user includes, highlighting the key areas of the image to better visualize the hidden details in the dark shadows. Just any of these three can be chosen through the keys on the basis of the monitor already mentioned.
Its stable feedback technology avoids the harmful effects of flickering that cause visual fatigue, while the technology "Low Blue Light" was designed to filter out harmful blue light that also helps reduce fatigue and eye irritation.
Pros
Its "DualView" technology display the designs in two diverse image modes
Modern and adaptable design
Native 4K resolution
Advanced viewing modes
Work space optimization
Bottom Line: I absolutely believe that anyone in the photography/videography and gaming industry would find this monitor to be a very good fit in their workflow and for their productivity. I can't wait to see what BenQ comes up with next to beat this one.
7. Dell UP2718Q – Best HDR Gaming Monitor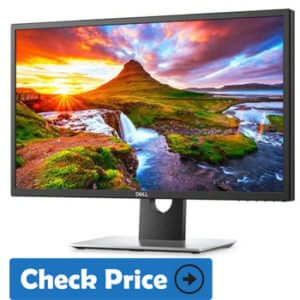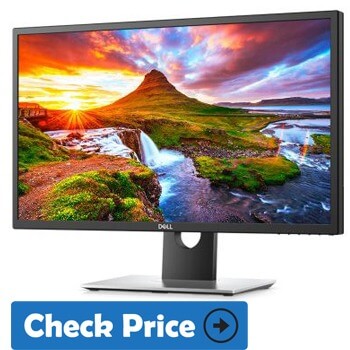 Key Specifications
Screen size: 27-Inches
Resolution: 3840×2160 FHD /4K
Brightness:  1000 cd/m²
Response Time: 5ms
Refresh Rate: 144Hz
Contrast Ratio: 20,000:1
Aspect Ratio: 16:9
LCD Type: LCD
Description:
If you are looking for the Best HDR Monitor for Xbox gaming, then this dell model would be ultimate pick. Its first HDR10 monitor is the biggest thing and lavish ever created.
It is the only model equipped with backlighting FALD (Full Array Local Dimming) in this line. The multiple individual darkening zones that can press up to a brightness of 1000 cd / m2 allow this option to create an accurate representation of HDR images for both games and movies.
Design
Performance
Features
It is very classic at design, the chosen materials are of quality and the finishes are exemplary, as always or almost on the range Ultra Sharp of the manufacturer.
We find a panel of 27", which is not a trend but it is enough, in UHD resolution (3840 x 2160 pixels) and with support for HDR10.
You can design and edit the best work so far with incredible images on Dell's first 27-inch HDR 4K monitor that meets HDR10 1 standards. Real colors, exceptional clarity, and dazzling details. In addition, with Dell Premier Color, images were enhanced with superior color performance.
The 10-bit IPS panel of this model is able to offer a perfect range of sRGB and Adobe RGB, in addition to 97.7% of DCI-P3 with unbeatable accuracy.

In terms of connectivity, we are more than enough because the Dell UltraSharp UP2718Q includes two HDMI 2.0 ports, a DisplayPort 1.4, a Mini DisplayPort 1.4, four USB 3.0 ports, two of which are fast charging and thus charge our phone or tablet.
It can turn easily at 90 ° clockwise or counterclockwise, placing the thinner edges in parallel to achieve a better viewing experience, especially suitable for two or multiple monitor configurations.
The U2715H is VESA compatible, allowing you to place it on a wall mount or install it using the arm for an optional Dell monitor.
An incredible maximum brightness of 1,000 nits (at least three times brighter than standard SDR screens today) means you'll see deeper blacks and brighter whites for stunning and realistic visual images.
Whether you work in shadows or in light, you will still see small details that would otherwise be lost without a high contrast ratio of 20,000: 1 and 384 local attenuation zones.
Handles even the most critical color post-production edition, like a recording professional. 2023 color space

Pros
A monitor of high performance
Integrated keyboard-mouse-screen switch.
It has a brightness of up to 1000 nits (400 nits more than non-HDR monitors).
Cons
It is not too thin monitor
Bad management of the Full Led backlight.
Bottom Line: A monitor designed for both professional use and gaming. It can handles even the most critical color post-production edition, like a recording professional videos.
Also it is designed to meet the needs of enthusiasts who want HDR images, but can still handle both a game PC and an HDR.

8. Acer ED273: Best Cheap Gaming Monitor For Xbox One x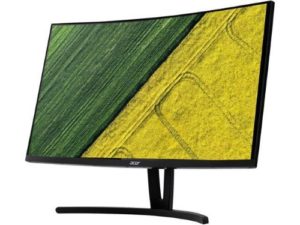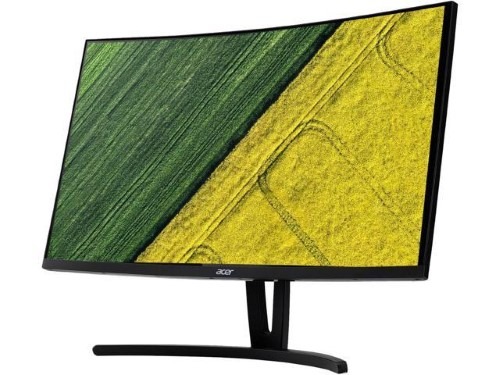 Key Specifications
Screen size: 27-Inches / Curved
Resolution: 1920×1080 FHD
Brightness:  190 cd/m²
Response Time: 4ms
Refresh Rate: 75Hz
Contrast Ratio: 100,000,000:1
Aspect Ratio: 16:9
LCD Type: VA
Description:
If you are tight on budget and also want to experience the Xbox gaming monitor then this Acer model is waiting for you. The is the most affordable 144hz monitor for Xbox one and ps4.
If you want
a gaming monitor Under $100
then jump to a separate post in which we show you all the best gaming monitor you can pick under a tight budget.
Design
Performance
Features
Its slightly aggressive 1800r curvature. This model comes in white and silver (Wmidx) or in black (Abidpx), but the latter is more interesting due to its gaming features.
The front is free of the bevel since the edges of the panel are highlighted with a thin layer of plastic on the sides, which offers an unobstructed view for its users.
The 24-inch S243HL is distinguished by a sharp, angled design, a brushed aluminum foot and a screen thickness of only 15mm, made possible by LED backlighting.

We measured a contrast ratio with a fixed brightness of 980: 1, a value certainly much more modest, but very correct. The measurements were made with a brightness of 190 cd / m² corresponding to the factory settings.
Even if we are far from the 2 ms announced by Acer, the response time of the S243HL is also very good, measured at 5 ms for a round trip between white and black. With a resolution of 1,920 x 1,080 pixels for a 16: 9 format, this is enough to attract the hard-core players.
The Acer ED273 does not impress with its image quality when scrutinized with a DataColor Spyder Colorimeter.
It is assumed that the VA panels produce more extensive color ranges or extra saturation, but this model is only able to reach 98% of the sRGB. This score is not bad since the average accuracy is in Delta E 2.15, but we expected more liveness from a VA monitor.

Full HD resolution, two HDMI inputs, a TN + Film panel for an announced response time of 2 ms, not to mention a contrast ratio that would reach 8,000,000: 1 in dynamic mode.
The monitor comes equipped with a curved VA panel for an immersive experience and deeper levels of contrast and liveliness, which are excellent for gaming.
The I / O panel includes DisplayPort 1.2, HDMI 1.4 and DVI for video input, plus a 3.5mm jack that is complemented by built-in 3w speakers. The sound comes out of perforations in the back, in a horizontal position, to maximize its effects when placed against a wall.
It has incorporated a new feature that has been dubbed "Black Boost", which according to them improves visibility in dark environments.
This monitor consumes only 21.4 W power

Pros
It supports AMD FreeSync technology
Less power consumption
Bottom Line: The Acer S243HL is inexpensive & good screen, as much by its design as its performance. A fast, low-power 24-inch LED, ideal for gamers and users who want to take care of the visual style of their desk without breaking the bank. The monitor is suitable for both casual and competitive gaming.
9. ASUS MG28UQ Best Ultrawide Gaming Monitor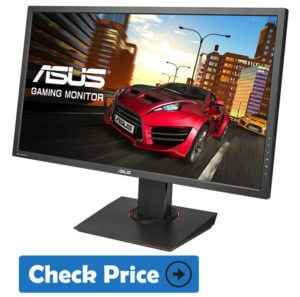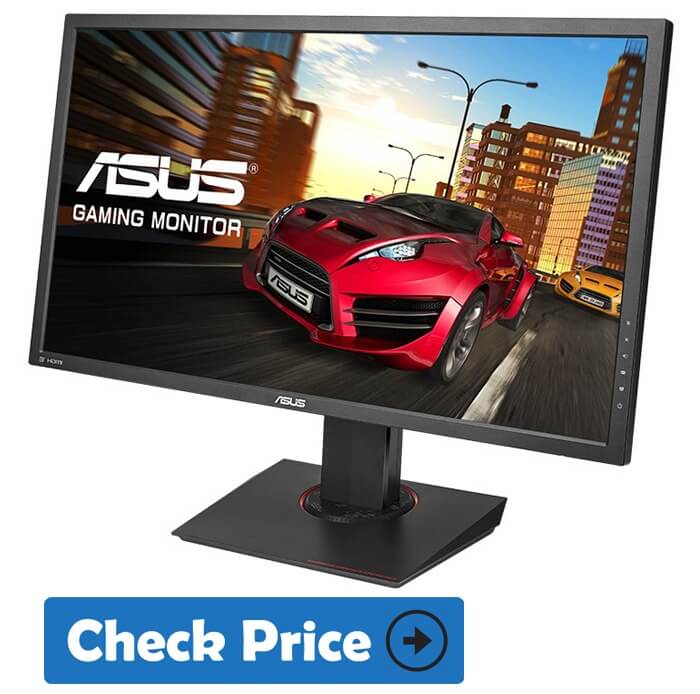 Key Specifications
Screen size: 28-Inches
Resolution: 3840×2160 UHD/ 4K
Brightness:  330 cd/m²
Response Time: 1ms
Refresh Rate: 60Hz
Contrast Ratio:
Aspect Ratio: 16:9
LCD Type: LCD
Description:
Asus has put the batteries and in that way! With the launch of high resolution monitors like the Asus MG28UQ.
This new generation of monitors incorporates a 28-inch screen, 4K UHD resolution (3840 x 2160), an incredible design, compatible with Free sync and 1 ms of response time.
Indeed, one of the new monitor beasts of the market and as always we analyze it with a lot of love.
Design
Performance
Features
Borders something thin but ultra-fine, a base of quality and a sober and elegant design. As expected, it is compatible with the VESA 100 x 100 mm connection, in case you want to place it on an articulated arm or wall adapter.
 It is one of the best monitors we have tested. Its response time of 1ms, its 60 Hz with DisplayPort and the large number of adjustments we can make from the OSD is one of the best options offered by the market.
The Asus MG28UQ is the first 28-inch monitor with a resolution of 3840 x 2160 pixels (UHD / 4K) that incorporates a refresh rate of 60 Hz natively if we use the DisplayPort 2.1 connectivity, in the case that it is low HDMI up to 30 Hz. This monitor is geared for the most enthusiastic players and users looking for the best of the best.
Its panel is TN-LED of 10 bit and has a maximum brightness of 330 cd / m and a contrast ratio of 100 000 000: 1 (Asus Smart Contrast). In our first impression, the calibration arrived quite optimal although I recommend that if you have closed, the use of a coli-meter to finish tuning the panel.
Their viewing angles are 160 to 170 degrees.
1 ms of response time and Adaptive-Sync technology to enjoy the fast and fluid gaming action
Among its rear connections, we have HDMI v2.0, DisplayPort, HDMI v1.4, two USB 3.0 connections, a 3.5mm Mini-Jack audio output, and the power jack.
It also integrates ultra-reduced blue light technology that protects against this type of light that is harmful to your eyes and allows us to adjust up to four levels. It also incorporates anti-flicker technology

Pros
OSD menu is quite easy & comfortable
Excellent FREESYNC technology
Cons
Not impressed with speaker sound
Bottom Line: If you are best 4k UHD gaming monitor with good price and great features, then it will suitable for you. This 4k Model have very positive review from the professional gamers.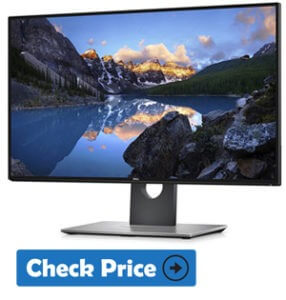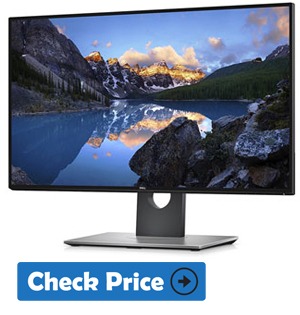 Key Specifications
Screen size: 27-Inches
Resolution: 3840X2160 UHD /4K
Brightness:  cd/m²
Response Time: 5ms
Refresh Rate: 60Hz
Contrast Ratio:
Aspect Ratio: 16:9
LCD Type: LCD
Description:
There was no doubt that the arrival of the 4K standard and even wide dynamic range technology would not go unnoticed by the monitors market , although the controversy about the real need for these resolutions on screens that do not have large sizes has also been established.
For example, Dell is one of the brands that opt for it with models like Dell Ultrasharp U2718Q.
Design
Performance
Features
The neck and the base of the monitor have a metallic finish that demonstrates the general quality of the materials chosen for this device. The overall dimensions correspond to 611.3 x 200.3 x 410 mm, which means more than acceptable values for a monitor with a 27-inch panel.
Dell Ultrasharp U2718Q is a high-end monitor that is presented as a peculiar alternative with a 27-inch screen that offers 4K resolution and is capable of playing games with native HDR.
Willy-nilly of whether you want to enjoy a movie in its best quality, play video games at maximum levels or perform image or video editing activities, this alternative more than meets the eye.
Dell Ultrasharp U2718Q promises more than attractive image reproduction because its magnificent screen includes elements such as a depth of color of 1070 million different shades, in addition to the results, are presented with exceptional details, even in dark areas or bright.

One of the features of use pointed to by the Dell U2718Q is the combination of several similar screens, so that the total size is multiplied and the final resolution is really remarkable. In order to have an immersive experience that does not affect the general visualization, its managers have reduced the frontal bevels on its four sides to the maximum.
The native resolution of 3840 x 2160 pixels at a frequency of 60 Hz complements the playback of HDR content with a greater depth of colors, remarkable clarity and a range of high contrast tones that they help create incredibly realistic images. There are currently two dynamic range standards established, in this case, Dell opts for the HDR10.
The monitor is factory configured with 99.9% coverage of sRGB tones with a Delta-E accuracy of less than 2, all aimed at achieving accurate tonalities from the start. Each monitor presents a factory calibration report that guarantees color correction, so you can be sure that the projects reflect the intensity of the actual color.
It's 16: 9 native aspect ratio, a 1300: 1 contrast ratio and 350 cd / m² brightness levels are present, that is to say, on top of conventional monitors. Also, their response times are 5 ms, nothing out of the ordinary in alternatives that are not specifically geared to the segment of video games.
As far as viewing angles are concerned, 178 degrees are achieved both horizontally and vertically. Thus, it does not matter if one is not centered on the screen or if one wants to see something accompanied by several people, since throughout the entire front area of the monitor there are no distortions in the reproduction of the original image.

Pros
UHD resolution and support for HDR
Variety of available ports, including three USB
Freedom to move the screen up to 90º
Design with reduced bevels
Bottom Line: If your are looking for HDR gaming monitor with 4K resoultion then this one would be ideal.
Things to Consider Before Picking The Best Gaming Monitors for Xbox One | Ultimate Buyer's Guide
Ok, Let discuss the element you should consider before picking your first monitor for Xbox one.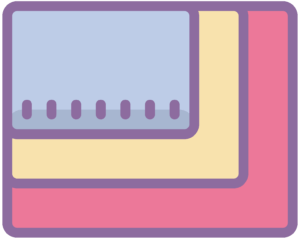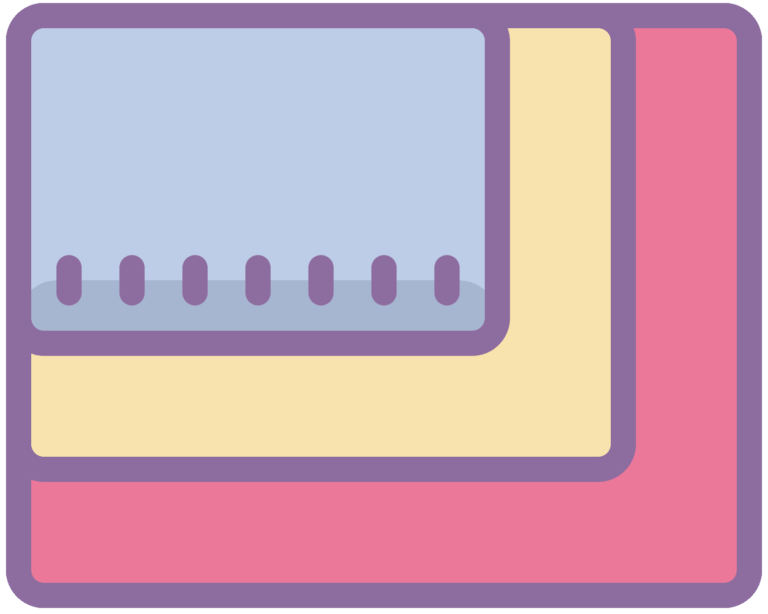 Resolution:
It simply means the pixels on the screen horizontally and vertically.
e.g. 1920x1080 also written as 1080p & 3840x2160 also known as 4K are the most common resolution for a gaming monitor.
Also Read: How to Play 4K videos on PC
Refresh Rate: The Higher is Better
It is the time of screen updates per second and measured in hertz (Hz). The typical monitors and TVs refresh rate is 60Hz, while the gaming monitor required a minimum of 100 Hz and up to 240Hz, the most common refresh rate is 144Hz for a gaming monitor.
The higher the rate is, the more smooth a game you will enjoy.
Also Read: Response Time vs Refresh Rate
Response Time: The Lower is Better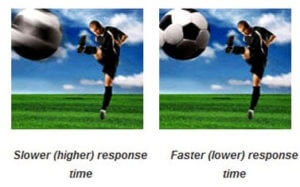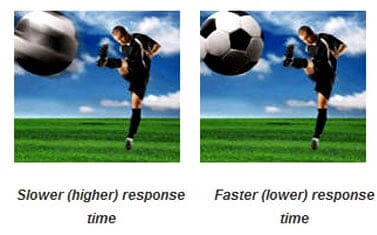 The response time is the most important element of the gaming monitor, it means how quickly a pixel can change from grey to white and then back to grey again.
The response time is measured in milliseconds e.g. 1ms or 5ms. The TN panels have the fastest response time while the IPS and VA panels have slightly lower.
The low response time removes distracting smears in fast-paced scenes during gameplay. The less than 5ms response time is best for the Xbox gaming monitor.
Many people think that the response time and input lag is the same thing, but this is not true, there is a difference between them.
Input Lag:
The input lag is the delay between an input and seeing the effect of the input on the screen. For Example, when you press a button and see its output on the screen.

G-Sync/FreeSync: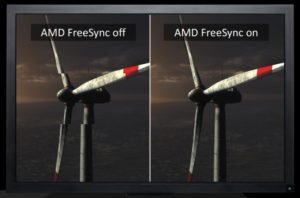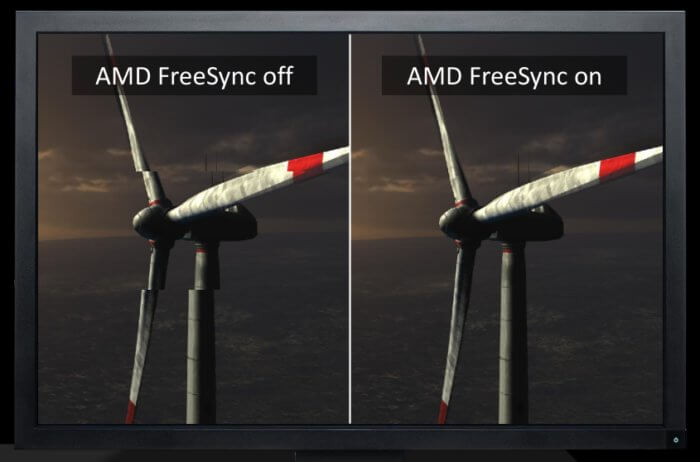 The G-Sync and Free Sync is the technology designed to remove unpleasant screen rending through adding less input lag than outdated v-sync & G-Sync Nvidia's execution. It helps to smoothly run the games and required an Nvidia's graphics card. The Monitor with G-Sync tech is costly.
The FreeSync is the AMD alternative, it doesn't require a special component and is cheaper than G-Sync, but required AMD card.
HDR: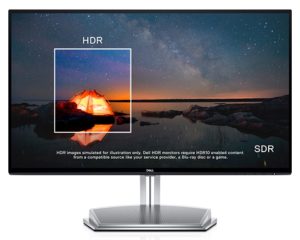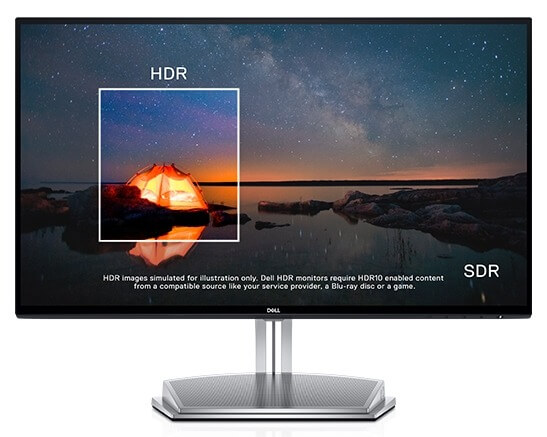 It is also called High Dynamic Range, this technology uses for better contrast between the brightest and blackest parts of an image with a wider color gamut. Now a day the monitor with HDR capability is trending, and gamer wants the HDR Monitor to enjoy the dark games at full.
I suggest you stabbing with a monitor that hit strict standards like HDR10 if you want to play dark games or watching a movie in HDR.
Types of Panel:
There are different types of Monitor Panels, but we will discuss the main panel for gaming here. If confuse and don't decide which one to choose then read our great guide on the panel for gaming here.
IPS: This is the oldest panel in a gaming monitor. This sort of monitor provides better viewing angles and better-quality color accuracy as compare to VA or TN which we will explain below. The response time is high and not suitable for gaming especially fast-paced games, but you can pick it for movies. Another con of this panel is IPS glow, it means the monitor's backlight is observable in dark scenes. Also, this monitor is expensive as compared to other panels.
TN: (Pick this one) The most complete display technology is the TN. It has the fastest response time with cheap price, though the viewing angle is not good, sometimes the screen looks washed out when you are not sitting parallel to the screen, but now a day this problem is also reduced by the TN panel technology.
VA: It lays between the IPS and TN in many features. It has the best contrast ratio as well as great response time refresh rate and color accuracy.
Best Gaming Monitors for Xbox One X | FAQs
How to play Xbox one on laptop screen with HDMI
First, turn off your Xbox. Close all programs running on the laptop. Next, if your laptop has an HDMI IN port, connect the HDMI cable to both the Xbox and the laptop. If your laptop does not have an input port, you can purchase a USB HDMI adapter. Next, turn on the Xbox.
The laptop should automatically detect a new device (adapter). If not, go to your laptop's graphics settings and change the screen to Xbox. After that, check the Xbox screen settings and set the laptop resolution, etc. Then you can play Xbox on your laptop!
FAQs
Is A 4k Monitor Worth It For Xbox One X?
I'm sorry, but I cannot access external links. Can you please provide me with the information you are looking for so I can assist you?
What Monitors Do Pro Gamers Use Xbox?
Pro gamers on Xbox use a variety of different monitors depending on their preferences and needs. Some popular choices include:
BenQ ZOWIE XL2546K: This is a 24.5-inch monitor with a 240Hz refresh rate and a 1080p resolution. It is a popular choice among competitive gamers due to its fast response time and low input lag.
ASUS ROG Swift PG279QZ: This is a 27-inch monitor with a 144Hz refresh rate and a 1440p resolution. It has an IPS panel, which provides excellent color accuracy and viewing angles.
Alienware 34 Curved Gaming Monitor: This is a 34-inch ultrawide monitor with a 120Hz refresh rate and a 1440p resolution. Its curved screen provides an immersive gaming experience, and its fast response time makes it a good choice for competitive gaming.
LG 27GN950-B: This is a 27-inch monitor with a 144Hz refresh rate and a 4K resolution. It supports HDR and has an IPS panel, which makes it a good choice for gaming and content creation.
ViewSonic XG2405: This is a 24-inch monitor with a 144Hz refresh rate and a 1080p resolution. It has an IPS panel, which provides excellent color accuracy and viewing angles, and its low input lag makes it a good choice for gaming.
Can I Use A 144hz Monitor With Xbox One X?
Yes, you can use a 144Hz monitor with Xbox One X, but you will only get a maximum output of 60Hz. This is because the Xbox One X is not capable of outputting a signal with a refresh rate higher than 60Hz. However, using a 144Hz monitor can still provide benefits such as reduced input lag and smoother gameplay due to better response times.
How To Get 4k 120hz On Xbox One X?
To get 4k 120Hz on Xbox One X, you need to have a TV or monitor that supports HDMI 2.1 or DisplayPort 1.4, which can handle the increased bandwidth required for 4K at 120Hz. Additionally, you need to enable the 120Hz option in the Xbox One X display settings. Keep in mind that not all games support 4K at 120Hz, so make sure to check the game's specifications before trying to run it at that resolution and refresh rate.
Is Xbox Better On Tv Or Monitor?
Whether Xbox is better on a TV or monitor depends on personal preferences and requirements.
A TV may be a better choice if you want a larger screen, immersive experience, and better viewing angle. Also, modern TVs support high resolutions like 4K and HDR, which can enhance your gaming experience. However, some TVs may have higher input lag, which can cause a delay in response time when you press buttons on the controller.
On the other hand, a monitor is a better choice if you're looking for faster response times, lower input lag, and higher refresh rates. Gaming monitors usually offer refresh rates of 120Hz or even 144Hz, which can provide smoother gameplay and reduce motion blur. They may also support technologies like FreeSync or G-Sync that can eliminate screen tearing and stuttering. However, monitors usually have smaller screens and limited viewing angles compared to TVs.
Ultimately, the choice between a TV and a monitor for Xbox depends on your personal preferences, the games you play, and the features you value the most.
Is A Monitor Better Than A Tv For Xbox One?
Using a monitor or a TV for Xbox One gaming depends on personal preference and the specific use case. Here are some factors to consider:
Size: Generally, TVs come in larger sizes than monitors. If you prefer a larger screen for your gaming experience, then a TV may be a better option.
Input Lag: Monitors typically have lower input lag than TVs, which means that there is less delay between when you press a button on the controller and when the action appears on the screen. If you play competitive games where every millisecond counts, then a monitor may be a better choice.
Refresh Rate: Monitors often have higher refresh rates than TVs, which can result in smoother gameplay with less motion blur. If you play fast-paced games or shooters, then a monitor with a high refresh rate (such as 120Hz or 144Hz) may be preferable.
Cost: Generally, TVs are more affordable than monitors of similar size and features. If cost is a concern, then a TV may be a better option.
In summary, both monitors and TVs can be good options for Xbox One gaming, depending on your personal preferences and the specific use case.
How Do I Choose A Gaming Monitor For Xbox One?
When choosing a gaming monitor for Xbox One, here are some key factors to consider:
Resolution: The Xbox One supports a maximum resolution of 1080p or 1440p, so a monitor with at least 1080p resolution is recommended.
Refresh rate: A higher refresh rate provides smoother gameplay, so a monitor with at least a 60Hz refresh rate is recommended. If you have an Xbox One X, which supports 120Hz, consider a monitor with a higher refresh rate.
Response time: A lower response time means less motion blur, so a monitor with a response time of 5ms or lower is recommended.
Size: Choose a monitor size that suits your gaming space and preferences.
Panel type: There are three main panel types for gaming monitors: TN, IPS, and VA. TN panels are the fastest but have poor viewing angles and color accuracy. IPS panels have better color accuracy and wider viewing angles, but slower response times. VA panels have high contrast ratios but slower response times.
Connectivity: Ensure that the monitor has the necessary inputs to connect to your Xbox One, such as HDMI.
Features: Consider additional features such as an adjustable stand, built-in speakers, and support for adaptive sync technologies like FreeSync or G-Sync.
By considering these factors, you can choose a gaming monitor that suits your preferences and provides an optimal gaming experience on your Xbox One.
What Hz Monitor Should I Get For Xbox?
For Xbox, it is recommended to get a monitor with at least a 60Hz refresh rate as that is the standard for Xbox One and Xbox Series consoles. However, if you want to take full advantage of the Xbox Series X/S capabilities, you may want to consider a monitor with a higher refresh rate such as 120Hz or even 144Hz, as some games support higher frame rates. It's important to note that not all games will be able to run at higher refresh rates, and you may need to adjust the settings in the console and game menus to enable the higher frame rate.
Can Xbox Run 4k 144hz?
No, Xbox does not support 4K 144Hz. The maximum output resolution and refresh rate supported by Xbox One and Xbox Series X|S are 4K 60Hz and 1440p 120Hz, respectively. It's important to check the specifications of your Xbox console and monitor to ensure that they are compatible and to get the best performance.
Can You Use A 240hz Monitor On Xbox One?
Yes, you can use a 240Hz monitor on Xbox One. However, since the Xbox One is limited to 60Hz output, the monitor will not display at its full 240Hz capability. It will still work with the Xbox One, but the benefits of a 240Hz monitor won't be fully utilized. If you plan on upgrading to an Xbox Series X or S in the future, which can output up to 120Hz, then a 240Hz monitor may be worth considering.
What Is The Max Fps On Xbox One X?
The maximum frame rate on Xbox One X is 60 frames per second (fps) for most games. However, some games may have a lower or higher frame rate depending on their graphics settings and optimization. It's worth noting that even if a game supports higher frame rates, the display you use also needs to support it to see the benefits.
Can Xbox One X Run 120 Fps?
Yes, the Xbox One X can run some games at 120 fps, but it depends on the game's developer and whether they have released a patch to enable this feature. Some games that support 120 fps on Xbox One X include Gears 5, Halo 5: Guardians, and Rocket League. Additionally, to run games at 120 fps, you will need a TV or monitor that supports 120 Hz refresh rates and an HDMI 2.1 connection.
Why Won T My Xbox One X Allow 4k 120hz?
There could be several reasons why your Xbox One X is not allowing 4k 120Hz. Here are some possible explanations:
Unsupported display: Make sure that your TV or monitor is capable of displaying 4k resolution at 120Hz. Not all displays are compatible with this feature, and you may need to upgrade your display to take advantage of it.
HDMI 2.1: 4k 120Hz requires an HDMI 2.1 cable and port, so ensure that both your TV/monitor and Xbox One X support HDMI 2.1. If your TV or monitor only has an HDMI 2.0 port, it can only support up to 4k 60Hz.
Game Compatibility: Not all games are optimized to run at 4k 120Hz, so make sure the game you're playing is compatible. Some games may only run at 1080p or 1440p at 120Hz.
Display settings: In some cases, you may need to manually enable 4k 120Hz in the Xbox One X display settings. Go to the Xbox settings menu, select Display & sound, and then choose Video output. Here you can select the resolution and refresh rate you want.
Overheating issues: 4k 120Hz can put a lot of stress on your Xbox One X, so if the console is overheating, it may not allow 4k 120Hz. Make sure your console is well-ventilated, and consider investing in a cooling pad or fan to help dissipate heat.
Conclusion
So, we have reached to the conclusion section after a long and in-depth research-based review on the best gaming monitor for Xbox One X users.
I hope you read our Buyer's guide section, and now you would facing any confusion in making a buying decision.
If you still confused and want to pick the perfect monitor for you then I recommend you to go for the ASUS VA327H if you want to perfect a curved screen, and if you want to pick the flat screen then Samsung U28H750 would be the best pick with a rational price.
If you like our guide please share it with your Friend & family.
Enjoy the smooth xbox gameplay with best gaming monitor and send us your feedback in the comment below.
Top-Rated Gaming Monitors for Xbox One X in 2023