I have done in-depth research on monitors and write this comprehensive Monitor Buying Guide, It will solve all your problem regarding monitors.
Keep Reading this Monitor Buying Guide till the end and you will get very useful information regarding monitors.
What is the best monitor that you can buy today? It's a question that many of us usually ask ourselves. There are all kinds, with a variety of sizes, resolutions, and technologies. It is not for less; It is the most important component of a computer because without it we could not use it.
The problem is that when fulfilling a function as basic as it is to show the information that we use in the on-screen computer, many run to the first that fits their needs. Whether for the price, performance or simply for marketing reasons.
Therefore, we will show you a complete guide with recommendations about the art of choosing a monitor according to your needs. Fortunately, it is a large market, so you will have no problem finding one following these guidelines.
The purchase of a computer monitor is an investment of the future to which it is convenient to pay due attention. In the acquisition of a new PC or in the update of an existing one, too often we get carried away by the marketing of the "FPS" or more "GHz" leaving aside the valuation that deserves the most important peripheral of our computer system.
The result is unbalanced equipment that does not take advantage of a good monitor and its various applications as the main display screen for our desktop PC, as a secondary screen to which we connect our laptop to increase productivity on the desktop, for use with our video game console or multi-screen systems.
What is Monitor
The technology of monitors has evolved by leaps and bounds, along with computer technology. From the old green phosphor monitors to the modern LED systems.
The technologies that govern these devices have also evolved offering their users greater image quality, being friendly to the environment and taking care of the visual health of the users.
We can find an infinity of brands recognized worldwide that provide us with the best quality monitors such as Acer, Asus, BenQ, HP, LG, Samsung, Viewsonic.
Monitor Technologies
The monitors currently offer an incredibly wide range of colors, and if this variety of colors has not been increased it is because the human eye can not distinguish a greater quantity. We can currently find various lighting technologies developed to improve the function and performance of monitors, among which we can mention the following:
If you want to learn more about Types of Monitors, you can visit the separate post for that.
LCD lighting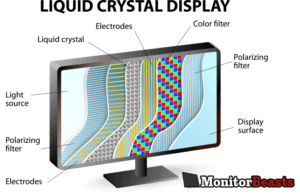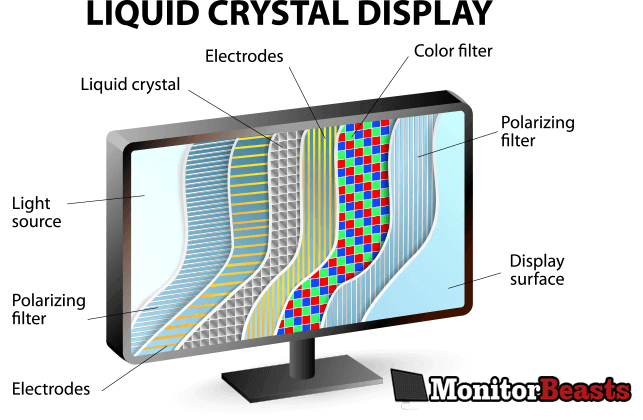 (Liquid Crystal Display) Thanks to its slim design, LCD monitors became one of the main purchase options to complement computer equipment, offering high-quality service, comfortable and energy-saving. The operation of these devices is that the molecules of this material are distributed in a pair of sheets, forming axes. That is to say, it is like forming a plane with a vertical axis and a horizontal axis generating magnetic fields that guide the light in the crystal to obtain clear and high-quality images.
LED lighting
This technology is based on the emission of light through diodes, these diodes can be turned on and off in groups which allows for much better contrast, in addition to offering us more than evident energy savings compared to their predecessors. Among the main features of LED monitors are the obtaining of purer colors, the ability to create more real dark colors and energy savings.
Also Read: Best Portable Monitor for Laptop
3D Compatibility
3D monitors are devices manufactured with specialized technology for the visualization of special effects, based on the latest developments. These monitors allow us to play videos and three-dimensional images that can be seen with the naked eye or with special lenses for these devices.
The feeling it causes is incredible, realism has never been experienced to its fullest expression in the comfort of our home or office. Thanks to the new technologies incorporated in the monitors, it will be possible to live an unforgettable experience, for those who love video games this device will be simply essential.
Also Read: Best 1440p Monitor
We recommend checking the specifications of each product, and also take into account if you require additional accessories that you have to acquire such as 3D glasses or 3D adapters for proper operation.
Image Processing Technologies
In this area, computer monitors benefit from many technological contributions. All these technologies aim to increase your visual comfort by reducing your eyestrain.
Flicker Free: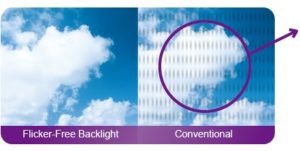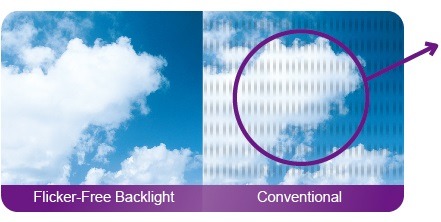 The Flicker is a phenomenon of flickering of the image, it gives the impression that the screen "flashes" very quickly, showing black bands rising or falling. Flicker Free technology can reduce or even completely eliminate this phenomenon.
By choosing a Flicker Free screen you offer an incomparable visual comfort, ideal for anyone spending a lot of time on a screen.
Picture in Picture (PIP):
Most monitors offer several types of connectors that can connect a laptop, a desktop computer and even a video game console at the same time. But only PIP compatible screens are able to display the image of two sources at the same time.
Thanks to PIP you are now able to work on a desktop document while watching a video in a small box near one of the edges of your monitor.
You may also read: Best Console Gaming Monitor
Picture by Picture (PBP)
As the PIP display mode, the PBP allows to simply divide the screen into two surfaces separate display. For example, you can use two computers on the same monitor at the same time.
Monitor Buying Guide 2019
Today, we talked about the Monitor Buying Guide reviewing the key aspects to take into account so that each user has enough information to choose the model that best suits their needs. And it's important because the good ones are not cheap and surely we will not replace them in enough years.
We will finish with a selection of the current offer with models to cover all the consumer market segments in terms of characteristics and price.
If you want to Pick the Gaming Monitor Under 100$, then read our great post here.
Things to Consider before picking the Best Monitor in 2019
It is important to know the specifications that our monitor must cover before deciding on a particular model, especially if we only look at the design and the price.
The truth is that it is very important to make the right decision regarding its functionality, that is why below we list the important points to verify to buy the ideal monitor that meets the needs for the equipment that will be used.
To give you an example of why it is important we can mention the fact that a designer who uses AutoCAD will not acquire the same monitor as a person dedicated to making videos or photographs or who is dedicated to writing texts or games.
Size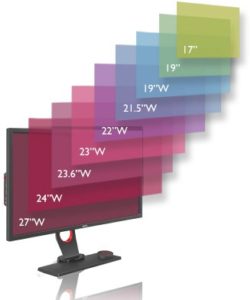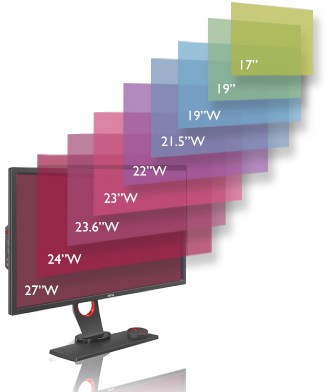 Surely the screen size is one of the first aspects to assess the purchase of a monitor. It is measured as the diagonal distance in inches from one vertex of the screen to the opposite. The offer is very broad, starting at 14-15 inches for mobile monitors and finishing above 50 inches. The last known global average was 21 inches, although it has increased in recent years and new purchases are frequent diagonals of 24-27 inches.
It is convenient to assess the size next to the resolution looking for balance. It is useless a 40 inches with low resolution or a 22 inches with 4K where you will leave your eyes. Further. Before buying, make sure you have space on the desk because large diagonal monitors have a colossal width.
Resolution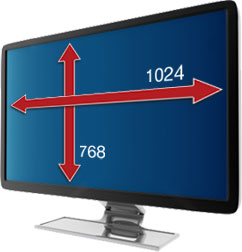 It is the number of pixels that can be displayed on the screen and we will see it as maximum resolution or as the native screen resolution. For its differentiation, we will mainly review the product width by height in pixels, although we can also find them by the name of the standard or by its commercial name (HD, FHD, 2K, 4K, etc.). Currently, we can find native resolutions from 1024 x 768 pixels (XGA). Above, 8K monitors are on the way, with impressive resolutions of 7680 × 4800 pixels (WHUXGA).
In an all-purpose consumer computer monitor, we should not rate anything below Full HD (1920 x 1080 pixels). As we said in the section on size, look for the balance between resolution and size.
Aspect Ratio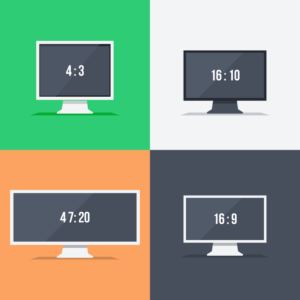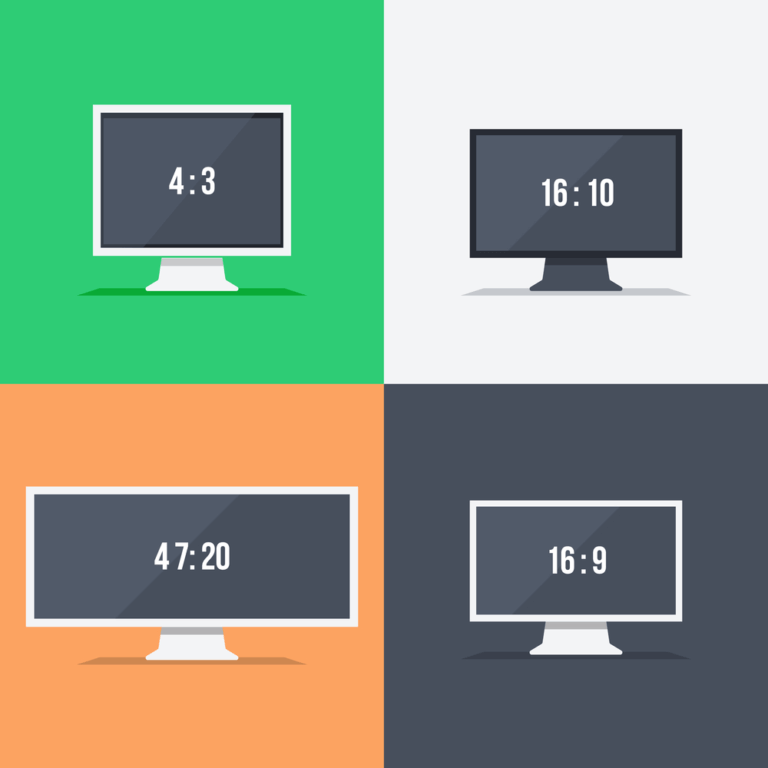 It is the ratio between the measures of width and height of a monitor, calculated by dividing both and usually expressed as "X: Y", although we can also find it by its commercial name, as an example "ultrawide". There are a lot of them although the most frequent in current monitors are 16: 9, 16:10 or 21: 9.
For example, resolution 1600 x 900 will have a very square format, 4: 3. In contrast, Full HD monitors like 1920 x 1080 will have 16: 9 or 16:10 formats.
Also Read: How to Setup Multi-screen Monitor
Type of Panel
Leaving aside the classics based on cathode ray tubes (CRT of huge "ass" and consumption, but with good image quality and chromatic variety) and until the massive arrival of OLEDs that aim to revolutionize the entire sector of screens, the choice by type of panel that forms the screen goes through the LCD and TFT LCD, in their different versions are the most used today.
Here we will find -in order of quality- the most basic and economical TN, MVA, PVA and IPS with their variants and their improved variant, PLS, surely the most suitable in monitors for general use. Another feature implemented is that of touch technology, although it is not widespread in computer monitors.
Also, Read Difference Between TN and IPS Panel for Gaming
TN: It has a good response time because its crystals have enough space to move between them, therefore react quickly to abrupt changes in lighting. What we must take into account is that due to these spaces between the crystals there are light leaks which makes the image have standard quality. They have good image quality, as well as a limited range of colors.
IPS: The technology of IPS panels is to offer greater viewing angles and improvements in response time. That is why this type of panels have become favorites to be used in video games and movie playback. The reproduction obtained with these monitors is almost as if we were watching the scenes live with very real colors, obtaining excellent brightness and sharpness in the images.
MVA: In this type of panels, the crystals are much closer together, which results in virtually no light leakage as in TN technology. What gives us a better image quality although due to the small space between the crystals the response time increases. This type of panel sometimes produces, especially in fast-moving scenes, an effect called "ghosting" which refers to a slight wake in the scene.
PLS: This panel is the most technologically advanced, offers panels in parallel that unlike previous technologies gives us the greatest possible angle of view, true-to-life colors, improved response times almost equal to TN.
Curved Panels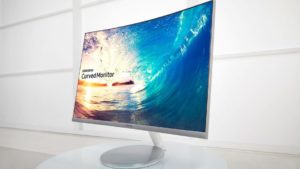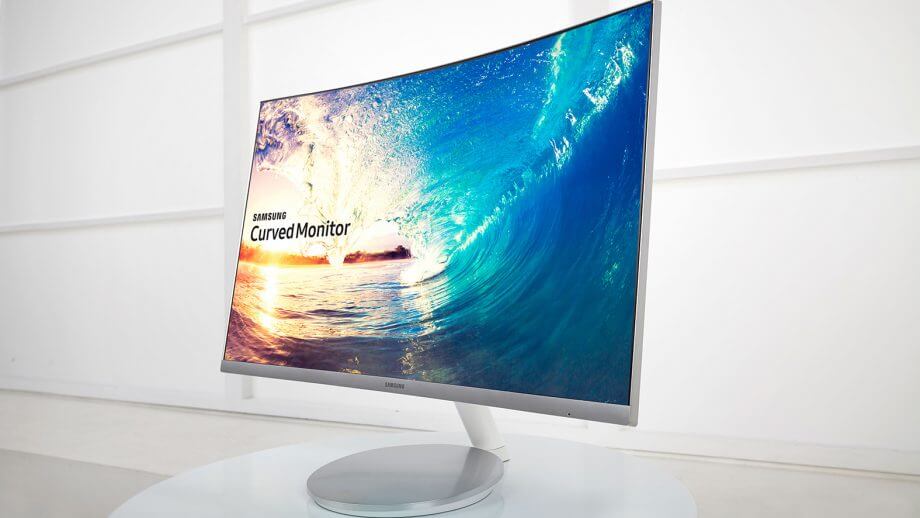 It is another of the emerging technologies that promise a greater "immersion" and improve the vision on the sides in larger models, as we said in our special on curved screens. The radius of curvature indicates a greater or lesser curve and is practically the only parameter different from those of a flat monitor that we will have to evaluate.
Among its advantages, it should be noted that in large diagonals the sensation of immersion exists and allow to enjoy a wider field of vision and with less distortion at the edges of the screen.
It is important to note that, spending the same, we can buy a flat TV better than the equivalent curved model. And try to see it live because not all users get used to it.
Brightness – Contrast – Color – Viewing angles
We must also take into account the technical characteristics of the screens. The absolute minimums are of a maximum brightness from 200 cd / m2; static contrast ratio of at least 850: 1; viewing angles of 176 degrees or higher and support in% for the different color palettes, although these latter parameters are more important in professional monitors than in consumer models, where creatives have to use models with the best representation of color .
Response Time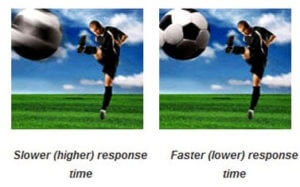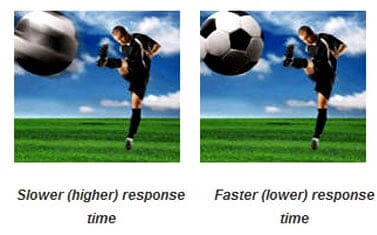 The response time measures, in milliseconds, the time it takes for a pixel to change from white to black. Each manufacturer measures it in the way that best suits him from gray to gray, or between one color and another. The shorter the response time of the monitor, the quicker the action that we run on our PC and visualize it on the monitor. The circumstance is that the fastest panels are TN.
The response time is very important because if it is too high (slow monitor), the pixels take too long to change color when they show a moving image. This causes halos or traces of light when the images on the screen move very fast. This is essential for games, and that is why we are discussing it in this section.
Refresh Rate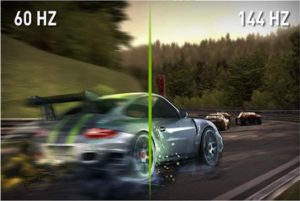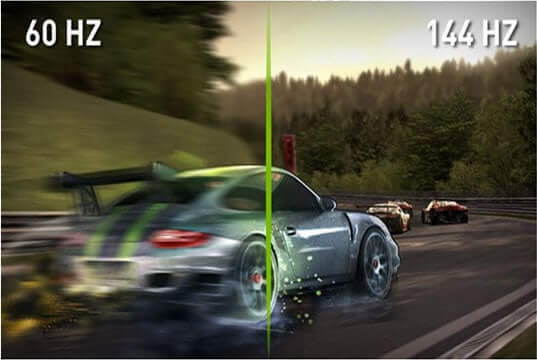 The refresh rate that is measured in hertz (Hz) is the speed at which the screen is able to refresh the image on the screen every second. That is: show a new image. 60 hertz, which is the most usual, implies that the monitor updates the image 60 times in a second. The number of hertz that our monitor has will greatly influence the perception of fluidity in movement.
Reducing it to a simpler spectrum, the refresh rate shows us the speed and the maximum limit at which we can see the FPS of a graph. This means that if our monitor is 60 hertz, it will not show more images per second than 60, that is, 60 fps. The higher the refresh rate, the higher the FPS, the better we will be able to visualize and therefore a softer feeling in the movement. This will mean an extra load on your PC and will have to yield more.
If you are still confused between the Refresh Rate and response time then read our great article here.
FreeSync – G-Sync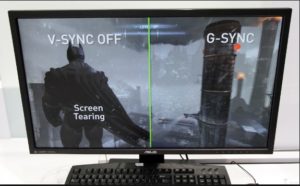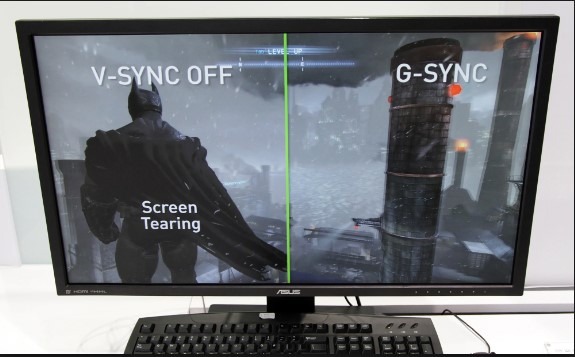 If you are looking for a specialized video game monitor, you should evaluate that it has support for some of the synchronization technologies, dedicated to improving communication between the graphics processor and the monitor, eliminating image cuts or faults that result in flickering or flashing. To do this, they synchronize the refresh rates of the screen and the GPUs, ensuring a smooth, artifact-free performance, minimizing the chopping of the sequences and the delay of the input signal to improve the speed of response, practically at any speed of picture.
AMD FreeSync and NVIDIA G-Sync are available, and in the future, we will see an Intel FreeSync. AMD's FreeSync is based on open standards and is free for manufacturers, so monitors are cheaper than NVIDIA's proprietary module.
Also Read: Best Gaming Monitor Under 200
Connectivity
The best current monitors offer a good number of input connectors. From the old analog VGA connections to the more modern digital ones such as those using USB Type-C and/or Thunderbolt 3. The most used currently go through HDMI and/or Display Port. (If you have questions, you can review our screen interfaces guide ).
Many monitors also offer a hub with several USB ports that we can use to connect peripherals or recharge the batteries of mobile devices. Some include their own speakers, audio inputs/outputs, but only large monitors for multimedia offer quality solutions.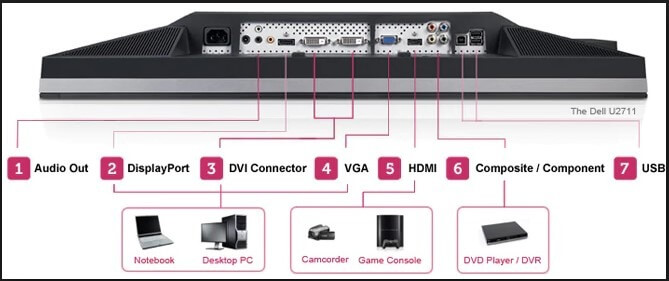 VESA – Ergonomics
If you want to hang the monitor on the wall you should look for it to have VESA support. If you are going to place it on a desk, assess that it has a base that allows you to adjust the monitor at least in height. Other adjustments are those of rotation, inclination or pivot.
Other technologies – HDR – Various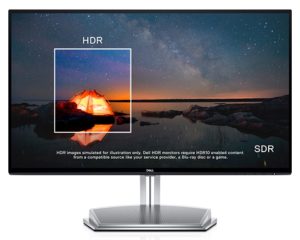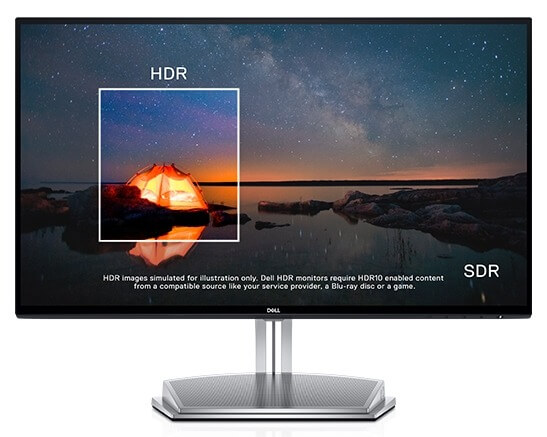 All manufacturers offer screen technologies in which they promise all kinds of image enhancements. There is a lot of marketing and it is preferable to assess on our own with the above parameters. It is worth assessing whether it supports HDR, the standard that defines and provides the high dynamic range or the proportion of light against dark areas in an image. Also interesting are those that have protection against blue light to reduce the damage to our eyes have long exposures.
Also Read: What is HDR Gaming
In monitors for games, we will also see aesthetic features such as customizable RGB lighting systems or predefined game modes that adjust the monitor for use with different genres.
Touch Monitor
In this new era, we have evolved in the technological area to the era of TOUCH, we literally want or intend to perform practically any task at the mere flick of a finger, and of course, the monitors are devices that could not be left behind.
Nowadays it is very common to find touch-sensitive monitors to be incorporated into our computer equipment, hand-held monitors give us greater accessibility and much easier, offering this technology to our family or office workers will bring great benefits, especially if the tasks they perform daily require it, saving time in the development of activities, thus achieving to cover the daily needs of performance and results.
The specific characteristics of each model must be considered, in order not to acquire equipment that does not cover the required profile, we can find TOUCH monitors with multiple simultaneous pressure points, as well as the recognition of gestures and other technologies that will give us the expected result.
Gamer Monitor
The Gamer monitors are created with the special features necessary to enjoy the best images when playing video games on PS2, Xbox et.
The size of the screen greatly influences the Gamer's good practice, so we have the best ones for you with brands such as Acer, Asus, BenQ, etc. with cost ranges for all pockets, since nobody deserves to be left without the opportunity to have the best for the hobby that pleases him the most.
4K monitors
The catalog of 4K monitors is increasing and is one of the most attractive formats of the current panorama of display screens and therefore we mention them specifically. The standard that regulates the ultra high definition includes different resolutions from 3840 x 2160 pixels and in the future, native resolutions of science fiction of 7680 x 4320 pixels (8K).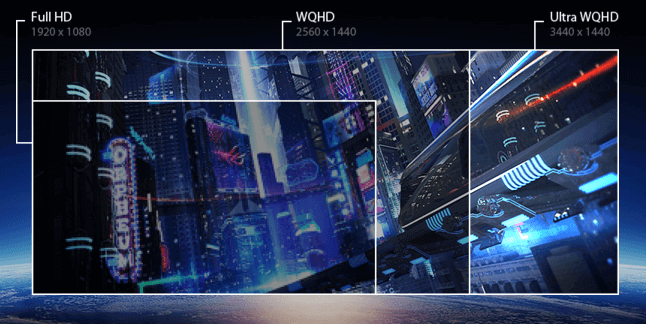 In addition to resolution, the standard requires an increase in the quality of the panels, under PLS or Plane to Line Switching technology, covering at least 100% of the sRGB color range and having Technicolor certification. Although the price has been decreasing, it is not going as fast as we would like the consumers to the extent that it was promised at the time and is one of the aspects to be solved in order to enjoy this resolution.
In a computer desktop, another issue to solve is that not all applications are optimized to work in these resolutions. The main operating systems, Windows, OS X and Linux, do offer support although it must also improve.
As for games, if you have had the opportunity to play them in 4K you will have verified that it is an amazing experience. But it has a big problem, you need high-end equipment and therefore a big investment to move the games at reasonable rates because the drop in frames in 4K is brutal. To play in 4K resolutions with activated filters that squeeze the quality of the great games and avoid the lowering of frames, you have to bet yes or yes for the high range of dedicated graphics. And not just because 60 FPS recommend directly using multi-graphic configurations in SLI or Crossfire.
If you have a big budget to acquire one of the new 4K monitors, go ahead. It is a great investment if you accompany it with suitable hardware to move it. The support of the operating systems is improving with each version, as well as its scale functions. The multimedia content is slowly coming (Blu-ray 4K on the way) as well as applications optimized for this resolution. The games are a joy in multi-graphics configurations and there will be more and more titles, but you know, they also have disadvantages. Beyond 4K, there are already 5K monitors on the market. The 8K monitors are already on the way, but right now they have no market except professional niches very, very determined.
UltraWide Monitors
The ultrawide (or ultra-wide screen) monitors is another of the industry's current bets to boost the sales of these peripherals, essential in any computer desktop. The characteristic that defines these monitors is their aspect ratio, a measure of the ratio between the width and height of the screen. that we saw in the general characteristics.
If in the old cathode ray (CRT) monitors (and televisions) the most widespread proportion was 4: 3 (4 pixels wide by 3 pixels high), the arrival of the LCD and TFT models offered other formats that until then only we saw on film screens: 15, 9, 16:10 or 16: 9 which is the most widespread today.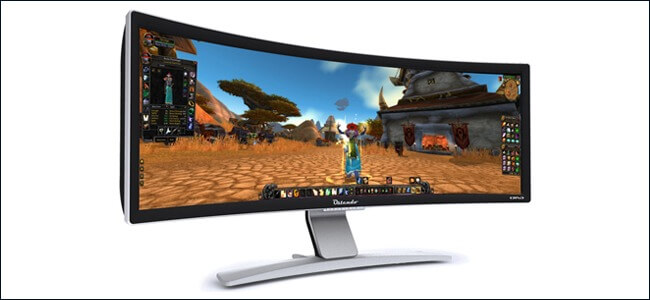 To offer some of the advantages of increasing the amount of information (across the board) of multi-screen systems, the industry began to offer a 21: 9 format, which is the standard used in most film recordings and its exhibition in cinemas. cinema. From there it reached the market of monitors although its massive presence is relatively recent and are not for all users.
The denomination of UltraWide monitors corresponds as we have seen to the format 21: 9, a commercial denomination used by marketing and that actually is defined more correctly by its real proportion 2.37: 1. The screen is wide, very wide, compared to 16: 9, the most widely used in the market for its use in high definition television and most computer monitors, and with a real ratio of 1.77: 1.
The defenders of this type of format for the computer desktop value the greater space of vertical visualization what allows to see a greater number of open windows, greater immersion in video games, and perfect experience when watching movies.
Not all are advantages. Horizontal visible space is lost, which may affect, for example, web browsing or working with a spreadsheet. In video games, it is true that it is a joy in games with support for the format, especially in driving simulators or flight or in some strategy, but in others, neither is supported nor the scaling is correct.
Conclusion
The monitors are an indispensable part of the operation of our computer, also if we have a portable computer is very how to add a monitor for greater comfort in the work area. We know how important it is to have the right means to obtain beneficial results at work, home, or business.
When purchasing your new device, you should assess the needs to be covered to avoid having to make unnecessary changes later. The range of products in the area of monitors offers us a number of options that range from basic requirements to complex technology needs such as 3D reproduction, TOUCH screen, built-in high-fidelity sound, specialized connectivity, whatever you need. you can find it
With Monitor Beasts, you can find all these products, from the comfort of your home. The final decision is yours.