Finding the Best 1440p Monitor for gaming has been one of my goals for a long time; There are many different panel technologies and types of monitors, it can be difficult to know which monitor is right for you.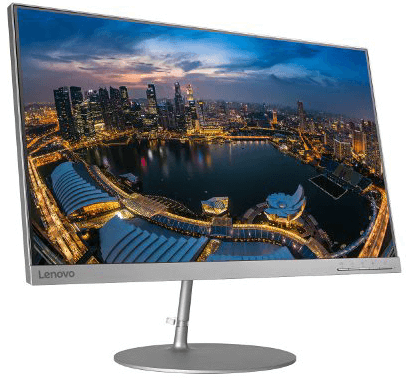 Although it is worth doing your homework because without the best 1440p gaming monitor it does not matter which graphics card you are premiering, your games will look bad.
But…
Don't worry, we've chosen the best gaming monitors, in a variety of categories, to help you make your decision as easy as possible.
Although first there are some questions that need to be asked.
Do you prefer the quality of the image over the response of the pixels?
Are you interested in the world of pro-gaming and competitive e-sports and crave high-tech refresh rates of TN technology instead of a quality panel?
Do you want a traditional 16: 9 screen
have you been seduced by an ultra-widescreen with an aspect ratio of 21: 9?
Does it absolutely have to be 1440p Resolution?
So many questions …
But the fact that there are so many different monitor options these days is so welcome that it can be disconcerting. For a long time, we have been severely limited in our gaming monitor option –
Previously we only chose such a large screen, and with a native resolution as high, as our bank accounts would allow us. The technology simply did not move as fast as the rapid iteration that followed almost every component on our gaming PCs.
But since the technical options have grown, it is now more difficult to know which is the best 1440p monitor for gaming today. So we've put together our favorite monitors to give you a definitive guide of the best monitors available in a few select categories.
What is 1440p Monitor
Resolution: 2560 x 1440 (2k, WQHD)
Number of Pixels: 3,686,400
PPI in monitor 24 inches: 122
PPI in monitor 24 inches: 109
The sweet spot for a 27-inch monitor is the 1440p resolution.
Best 1440p Monitor
1440p vs. 4K Resolution | Advantages
The manufacturing costs of the 4K / UHD panels have been reduced in such a way that some manufacturers seem to be using them for their QHD monitors (2,560×1,440 pixels) since comparatively the native QHD panels cost as much or more than the 4K panels.
Your 1440p monitor could, therefore, be a 4K layer monitor, which, by the way, you can not "transform" into a 4K monitor.
Also Read: Best Gaming Monitor for Xbox one
How the MonitorBeasts Test the Monitor
For our reviews, we use a mixture of our own perception and knowledge, along with measurable tools. These include the X-Rite i1 Display Pro colorimeter to find interpretations of brightness, contrast and color accurateness. We also use this tool to calibrate screens to see what they are proficient in their best version. We also use a Leo Bodnar input delay analyzer to see how good each panel is to play.
Best 1440p Monitor 2022 | Comparison Table
Top Quality | Great Price | 5-Star Rating
Best 1440p Monitor 2022 | Products Overview
1. ASUS MG279Q  Best 1440p Monitor (Editor's Choice)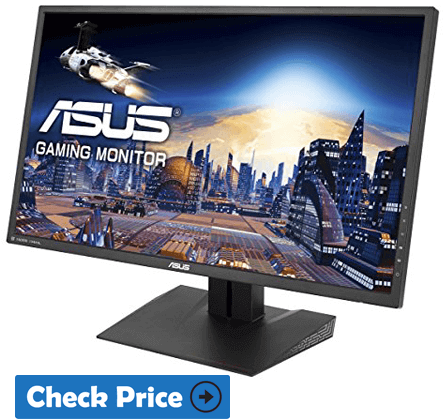 Key Specifications
Display Size: 27-inch
Resolution: 1440p
Panel Type: IPS
Response Rate: 4 ms
Refresh Rate (Hz): 144Hz
Sync Technology: FreeSync
Dimensions (WxDxH):
Weight:  lbs
Contrast Ratio: 600:1
Aspect Ratio: 16:9
Brightness 200: cd/m² 
About Monitor: 
The Asus MG279Q features a 27-inch IPS panel with a Quad HD resolution of 2560 x 1440 px which is more responsive, but with viewing angles. a little more limited.
This model supports a refresh rate of 144 Hz and is also compatible with FreeSync technology, but only between 30 and 90 Hz.
Design
Performance
Features
Connectivity
An angular design, a matte black plastic that does not retain fingerprints and light touches of red to emphasize the gaming side.
The screen edges are a little thicker than those of the PG279Q and the finish is slightly down, especially at the foot, but remains good. The 27-inch slab benefits from a matte coating that limits annoying reflections.
The foot is adjustable in height by 15 cm, the inclination varies between -5 and 20 °, the rotation is managed on ± 60 ° and the monitor can rotate in portrait mode.
The foot only 24 cm deep leaves enough room for the keyboard and the mouse.
The definition Quad HD is very comfortable to play, but can cause some problems in office. Indeed, if it is very nice on a 32 inch monitor (≈81 cm) it may be too fine for some users on a monitor of only 27 inches (≈69 cm).
The MG279Q does not use PWM ( Pulse Width Modulation ) to adjust the brightness; it is, therefore, devoid of flicker. Asus has also integrated a Low Blue Light mode to reduce blue light emission.
This monitor consumes about 28 W with a white set at 150 cd / m²
This screen is compatible with FreeSync technology that dynamically hold the screen refresh rate to the number of images per second produced by the graphics card to prevent image tearing phenomenon ( tearing ) and micro-slowdowns ( stuttering ).
The supported frequency range is limited between 30 and 90 Hz, while by turning off the FreeSync, the display reaches 144 Hz.
The reactivity measured at 7.5 ms is one of the best measured on an IPS panel.
I measured the delay lag ( input lag ) at 25 ms. There is thus a little less than 2 frames per second difference between the action performed on the keyboard or mouse and its impact on the screen.
The two 2W speakers deliver a fairly average audio output. They are just getting ready to watch videos online.
To navigate the menus of the OSD, Asus always uses its clickable joystick: you can go from one menu to another very quickly without having to move your finger.
It has two HDMI ports, a DisplayPort 1.2 input, Mini-DisplayPort input and a headphone output.
The presence of two USB 3.0 ports makes it better then its competitors.

Pros
Maximum frequency of 144 Hz
Perfect viewing angles
FreeSync compatibility
One of the best 1440p ips gaming monitor
Final Thoughts: The Asus MG279Q is an excellent 1440p monitor for players. The IPS panel is one of the most reactive on the market, the ergonomics are complete, the viewing angles are good.
2. ViewSonic VA2719 Best Budget 1440p Gaming Monitor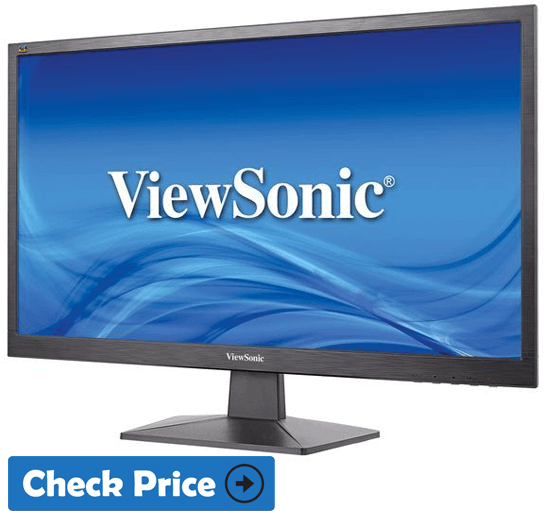 Key Specifications
Display Size: 27-inch
Resolution: 1440p
Panel Type: IPS
Response Rate: 5 ms
Refresh Rate (Hz): 60Hz
Sync Technology: N/A
Dimensions (WxDxH):
Weight:  lbs
Contrast Ratio: 600:1
Aspect Ratio: 16:9
Brightness 200: cd/m² 
About Monitor: 
Increase visual comfort and maximize productivity with the ViewSonic VA2719-2K monitor ! Its large 27-inch IPS display is high resolution and offers rich, nuanced colors; ideal for working on graphics applications and enjoying quality multimedia entertainment.
It is one of the affordable 1440p monitors on the amazon market.
Design
Performance
Features
Connectivity
The design is worked, especially at the foot. This screen uses a matt slab that filters all reflections. In addition, the screen edges are thin enough.
This monitor offers only one position adjustment: the inclination varies from -5 ° to + 17 °. It does not offer rotation or pivot and, more problematic, no height adjustment.
The back is very classic. The matte plastic is of average quality and the fingers easily leave traces. The shiny side is trying to raise the level.

The technology SuperClear IPS panel provides the same image quality whether you are watching the screen from above, from below, from the front or from the sides.
It is a pretty classic monitor embeds a 27-inch IPS panel displaying a definition Full HD (1920 x 1080 px).
With brightness at 100 in the sRGB mode to achieve a white at 150 cd / m², the Viewsonic VP2468 consumes 21 watts or a relative consumption of 104 W / m²; it is slightly higher than the average.
The Flicker-Free technology eliminates flickering backlight, which can cause premature eye fatigue.

Connectivity is quite conventional: an HDMI input, a VGA input and a DisplayPort input for video. For the sound, there is an input and an analog audio output.
This screen also embeds two speakers of 3 watts whose quality is quite average. They are just enough to watch videos on YouTube.
For the rest, it is advisable to opt for a PC speaker kit or a good headphone.
Pros
Delivers a pretty good image
It is also equipped with a blue light filter
Well calibrated image
Cons
The contrast of this monitor is quite disappointing
No height adjustment
Final Thoughts: If you are tight in budget and still wants to use 1440p monitor then the ViewSonic VX2776 is a monitor that fits in the right way. As long as you use the sRGB mode, the IPS panel is well calibrated, It's a bit chick for a 27 inch monitor at this price.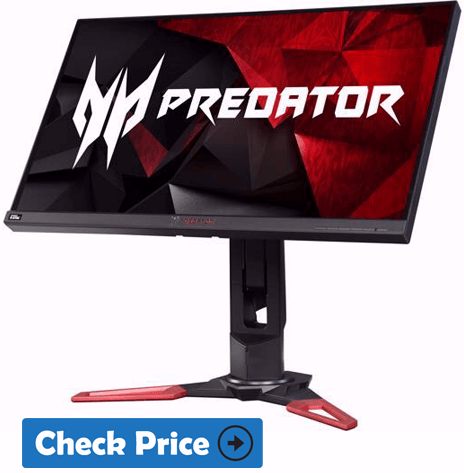 Key Specifications
Display Size: 27-inch
Resolution: 1440p
Panel Type: IPS
Response Rate: 4 ms
Refresh Rate (Hz): 144Hz
Sync Technology: G-SYNC
Dimensions (WxDxH): 24.2 x 10.6 x 21.7 in
Weight:  17.6 lbs
Contrast Ratio: 600:1
Aspect Ratio: 16:9
Brightness 200: cd/m² 
About Monitor: 
This is one of best 1440p monitor for photography, because of its IPS panel and 100% sRGB color gamut and 6-axis color adjustment.
Design
Performance
Features
Connectivity
On the design side, black and red with a definitely gamer style, I'm not super fan but it depends on your tastes.
You can adjust the position of the screen according to your desires: height, orientation, and inclination. It is even possible to put it completely vertically, this can be useful for developers.
The foot is adjustable in height while the screen is tilting at -5 ° and + 25 °.
The definition in 2k can display more details on the screen and is perfect for video editing software and management/simulation games.
The other big highlight of this screen in games is its refresh rate native to 165Hz, it allows a perfectly smooth game. For example, in FPS like CSGo, it allows to better discern the action and thus to be more competitive.
Indeed, the response time is quite high compared to the TN (4 ms) but it does not feel, maybe at every level, it can make a difference but it is really minimal
The screen embeds G-Sync technology, so if you have a graphics card you can remove the tearing effects of the image. This adds to the fluidity and picture quality in games, a good point.
The Acer Predator XB271HU monitor still has a 27-inch IPS panel with a Quad HD resolution of 2560 x 1440 px.
A contrast of 1000: 1 and a brightness of 300 cd / m2 for a response time of 4 ms are perfect for gaming and other entertainment streams.
It retains its G-Sync module allowing it to adapt its refresh rate according to the number of images sent by the graphics card, but the frequency passes from 120 Hz to 165 Hz.
Very good image quality and a good responsiveness/fluidity in games.
It offers a hub with four USB 3.0 ports, a DisplayPort input – essential to enjoy the G-Sync – and finally an HDMI input
Final Thoughts: It's one of the best screens we've had in the last few months! Indeed its IPS panel allows to offer excellent quality in terms of colors and contrasts which makes it excellent in multimedia us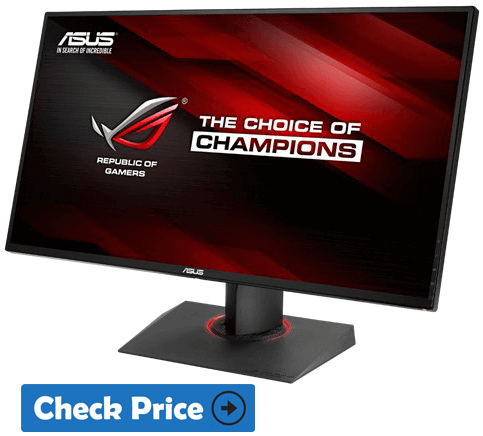 Key Specifications
Display Size: 27-inch
Resolution: 1440p
Panel Type: TN
Response Rate: 1 ms
Refresh Rate (Hz): 144Hz
Sync Technology: GSync
Dimensions (WxDxH):
Weight:  lbs
Contrast Ratio: 600:1
Aspect Ratio: 16:9
Brightness 200: cd/m² 
About Monitor: 
The goal of the player monitors is to make a clear picture in the fastest movements. This model Asus ROG Swift PG278Q combines two new technologies that should fill the most demanding players: ULMB (for Ultra Low Motion Blur) and G-Sync, a technique signed Nvidia to further improve the accuracy of image rendering in full play. We put it to the test.
Design
Performance
Features
Connectivity
In terms of design and finish, Asus once again demonstrates its expertise in the field of monitors. The materials are well chosen (matte plastic), the edges of the screen are fine, the look is "gaming" without being too flashy, and the ergonomics of the foot allows all types of adjustments.
The base differs a little from the competition with an irregular hexagonal shape and supports a V-shaped foot. The ergonomics of the latter are complete (adjustment in height on 12 cm, vertical orientation on 25 ° and rotation to 120 °,
Players will not believe their eyes. Especially those who play games very greedy, and who are not equipped with a card capable of displaying 60 or 120 images per second permanently. Activating the G-Sync option will change their lives (Nvidia GeForce GTX card required). This technique makes it possible to perfectly synchronize the images sent by the graphics card with the screen. It thus eliminates the problems of tearing and makes animations running between 40 and 60 images per second much more fluid. G-Sync does not work in 144 Hz (the screen is, however, able to go up to this refresh rate), but this is not a problem.
A gamer screen that clearly tries to get out of the usual shackles: thin-edge design, Quad HD definition (2560×1440 px), 144 Hz and system G-Sync, there's almost nothing missing from Asus's youngest child.
This large 27 inch displays a beautiful image definition but incorporates especially two technologies G-Sync and ULMB excellent for the players.
You can adjust the overdrive (to increase the refresh rate manually), Ultra Low Motion Blur (ULMB) or the display of a timer and a viewfinder.
Temperatures are good, without glossy effect, intense blacks and whites correct.
We did not notice a light leak, while the brightness is homogeneous over the entire slab.
For its reactivity, even without overdrive, the delay in the display is simply imperceptible, whether in games or watching movies.
The screen menu is accessible via a mini-joystick located at the rear of the hull. Navigation is very intuitive and fast. The settings are limited to the bare minimum (brightness, contrast and color temperature).
Vesa fasteners for a possible wall support
The Monitor has one an HDMI output and two USB 3.0 ports
Important Note: The ROG Swift PG278Q can be used as a standard 144 Hz gamer screen with any graphics card equipped with a DisplayPort output. However, it will be imperative for a Nvidia graphics card (GTX 650 Ti Boost minimum) to take advantage of all the features related to G-Sync.
Cons
Its Expensive
Still only 27 inches screen
Final Thoughts: Asus unsheaths the first G-Sync screen and hits hard. It is also the first TN QHD screen on the market with excellent responsiveness and 144 Hz. While admittedly, it will be criticized for its limited connectivity, but it remains a niche product and fully assumes its status. It will still be equipped with a high-end Nvidia graphics card to take advantage of G-Sync, ULMB and 3D Vision 2.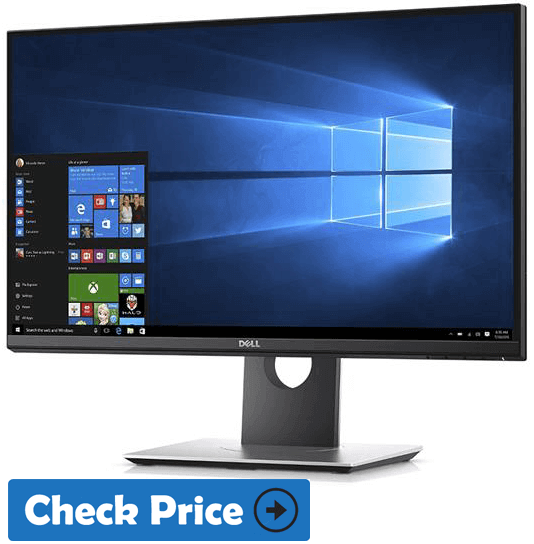 Key Specifications
Display Size: 23.8 -inch
Resolution: 1440p
Panel Type: TN
Response Rate: 1 ms
Refresh Rate (Hz): 144Hz
Sync Technology: GSync
Dimensions (WxDxH):
Weight:  lbs
Contrast Ratio: 600:1
Aspect Ratio: 16:9
Brightness 200: cd/m² 
About Monitor: 
One of the world's leading hardware manufacturers, Dell has added a dedicated monitor to its range this time. Even as going out a 24 "by the natural ways, that's good.
Nevertheless, we have a TN slab of 1ms response time from gray to gray, and despite the dwarfism of this one a definition of 2560x1440 pixels, we know some of our readers who will be able to get excited about the small pitch of this small model. On this subject, CDH does not reimburse your tapestries!
Also Read: Best Gaming Monitor Under $300
Design
Performance
Features
Connectivity
All-night gaming sessions can be stressful, but with these handy and thoughtful designs, you can play comfortably and with real potential.
Tilt, rotate, rotate, and position your monitor in the correct position for ergonomic comfort and advanced gaming.
Switching between systems is now easier than ever. Wide connectivity ports allow you to switch from your PC games to your secondary gaming console without rearranging your cables.
With a refresh rate of 30 to 165 Hz , the Dell S2417DG monitor features a screen brightness of 350 cd / m2 and a display response time of 1 ms, all set for gaming.
Dell is partnering with Nvidia on the next-generation monitor and includes Nvidia G-Sync display technology.
When the Nvidia production is used with compatible GPUs, the on-screen display technology synchronizes the refresh rate of the monitor with the graphics processor unit to deliver a smooth gaming experience.
Faster gaming with a single click, you can use optimal visual settings with RPG, FPS and RTS game types. With this configuration, you can spend less time rearranging your settings and focus on your gaming experience.
The contrast at 1000: 1 and brightness at 350cd / m², viewing angles of 170/160 ° in H / V, in short, we are not surprised. But the list of cool stuff does not stop there: it is G-Sync, and thanks to the overclocking assumed the slab from 30Hz up to 165Hz, you can warm up your GPU and monitor scaling.
The Monitor manages the ULMB which is not the latest version of small flying objects that pass over the beaches in the summer, but the reduction of motion blur.
It is also given to support the 3D Vision of the chameleon, although this technology has really gone to the 69th since the introduction of Adaptive-Sync by VESA.
Horizontal and vertical mode, the monitor can be used in a new generation of horizontal use 170 degrees, while the vertical use 160 degree offers a viewing angle.
On the monitor that meets 100% of the Adobe sRGB color gamut, the screen contrast ratio is 1000: 1.
The monitor also features Flicker-Free technology, which prevents flickering on the screen.
The inputs on the Dell S2417DG monitor are; four USB , HDMI , 3.5 mm headphones and DisplayPort.
Pros
The best image quality of its kind
Elegant design
Versatile features set
Great value for money
Final Thoughts: You'll get a superior, custom-designed gaming experience with the power to customize your settings and switch to 3D mode.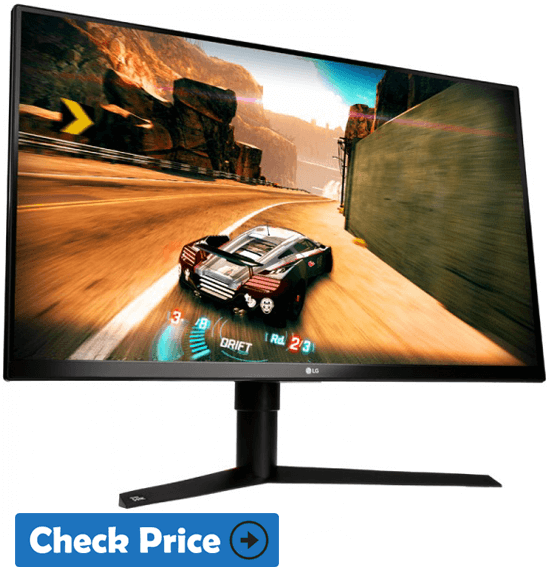 Key Specifications
Display Size: 31.5-inch
Resolution: 1440p
Panel Type: VA
Response Rate: 5 ms
Refresh Rate (Hz): 144Hz
Sync Technology: GSync
Dimensions (WxDxH): 28.1 x 10.7 x 23.8 in
Weight:  14.8 lbs
Contrast Ratio: 600:1
Aspect Ratio: 16:9
Brightness 200: cd/m² 
About Monitor: 
Play games in a realistic way with QHD clarity and detail. With an impressive 2460 x 1440 resolution, the impressive 31.5 ve screen size comes together for an exciting and immersive gaming experience.
Also Read: Best Gaming Monitor Under 300$
Design
Performance
Features
Connectivity
It has the ultra-thin bezel on the three sides of this aerodynamic screen offers a virtually borderless visual experience, without distracting from the high precision and image genius. An elegant addition to any desk. 
Watch how the games come to life with the clarity and detail that QHD brings. The precise resolution of 2460 x 1440 and the incredible screen size of 31.5 "combine to offer an immersive and exciting gaming experience.
This monitor is compatible with NVIDIA G-SYNC *, a screen technology that synchronizes refresh rates with the GPU of PCs with GeForce GTX, eliminating screen fragmentation and minimizing image interruption frames and entry delay, for a smoother and faster gaming experience.
The games played on this monitor are significantly more uninterrupted and clearer than the games on their refresh rate 60Hz or 75Hz. The QHD brings together the clarity of fluent movements, and the gamers will be amazed by the immersive gaming experience.
The zero frame gaming monitor has (31.5 inches) screen and the resolution of 2560×1440 with VA panel & 16: 9 aspect ratio.
In this monitor, games are significantly clearer and more fluid, compared to when you play with monitors with refresh rates of 60Hz or 75Hz. By combining the clarity of QHD with smooth action, players will fall in love with the immersive gaming experience.
Add a different emotion to your gaming space with the amazing LED effects of Sphere Lighting. Players can customize Sphere Lighting with a variety of different colors and lighting modes, to further enhance the gaming experience.
Serious game functions for serious players. While Dynamic Action Sync guarantees a smooth game action, the Black Stabilizer allows you to see the dark scenes in greater detail. The Cross-hair feature helps improve accuracy in first-person shooter games.
Dynamic Stabilization provides smooth movements while Black Stabilizer exposes details in dark scenes. The engagement cursor feature helps increase accuracy in FPS games.
It has USB3.0 port (1 up / 2 down) Fast Charging Support

Pros
Ultra-thin frame
Smoother & faster gaming experience
Stunning LED effects from Sphere Lighting.
Final Thoughts: If you are looking for WQHD resolution 144p monitor then pick this one. It offers decent pixels density for videos/games/images. It's stylish and looks smart on your desk. Its sphere lighting feature is extraordinary offers extra sharp colors.
7. MSI Optix MAG27CQ Best Ultrawide Curved 1440p G-Sync Monitor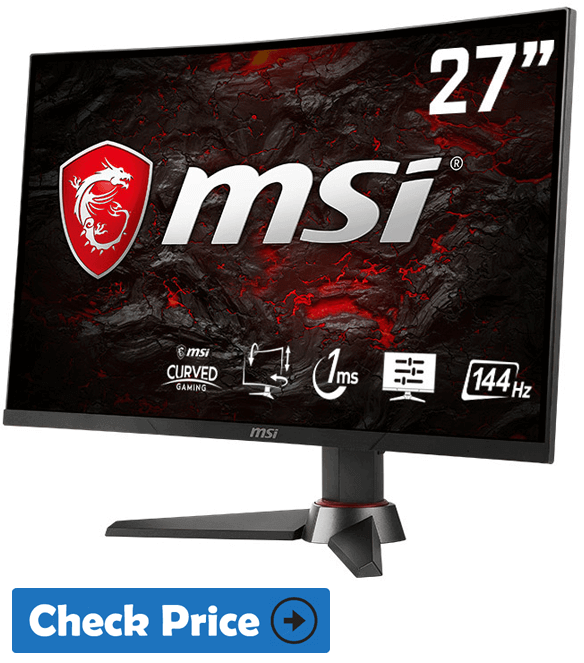 Key Specifications
Display Size: 27-inch
Resolution: 1440p
Panel Type: VA
Response Rate: 4 ms
Refresh Rate (Hz): 144Hz
Sync Technology: FreeSync
Dimensions (WxDxH): 24.1 x 8.09 x 17.09
Weight:  10.7 lbs
Contrast Ratio: 600:1
Aspect Ratio: 16:9
Brightness 200: cd/m² 
About Monitor: 
MSI has succeeded in choosing a relatively small number of screens to make the Optix MAG27CQ special. With a high refresh rate, 1800R curved panels and 1440p resolution, this panel is an idea for those who want a smooth and colorful experience on the gaming platform.
Design
Performance
Features
Connectivity
The design is totally the beauty & the beasts.
The support allows a fall and rise of 65 mm, 45 degrees of rotation and inclination of -5 to 15 degrees.
There are VESA 75 mounts below where the stand is placed, so you are not required to use the support provided.
A better-considered feature is the 'frameless' nature of this design, where only the lower part of the screen has an appropriate edge.
The panel of this design has all the features of the AHVA (Advanced Hypervigilance Angle) technology.
Our tests yielded 100% sRGB and 85% for both NTSC and Adobe RGB, although the Datacolor application does not track values above 100%, unfortunately.
The only caveat is that you only get the 144Hz mode higher in DisplayPort, since HDMI 2.0 only supports 120Hz to 2560 × 1440, and DVI only to 60Hz (with a DVI cable of 24 + 1 pin).
 For desktop work, it is noticeably crisp and clean, and almost completely free of frame shadows.
It is a 27-inch 1800R curved screen with a natural resolution of 2560 × 1440 (WQHD).
If you have a modern AMD GPU, the screen supports FreeSync, which allows the video card to adjust the frame rate to exactly match the playback speed of the frame.
Cons
None found any neg point in this monitor
Final Thoughts: If you are looking for a best 1440p va monitor then pick this one. It is a class device for those who want a curved resolution of 1440p, 144Hz and very little delay.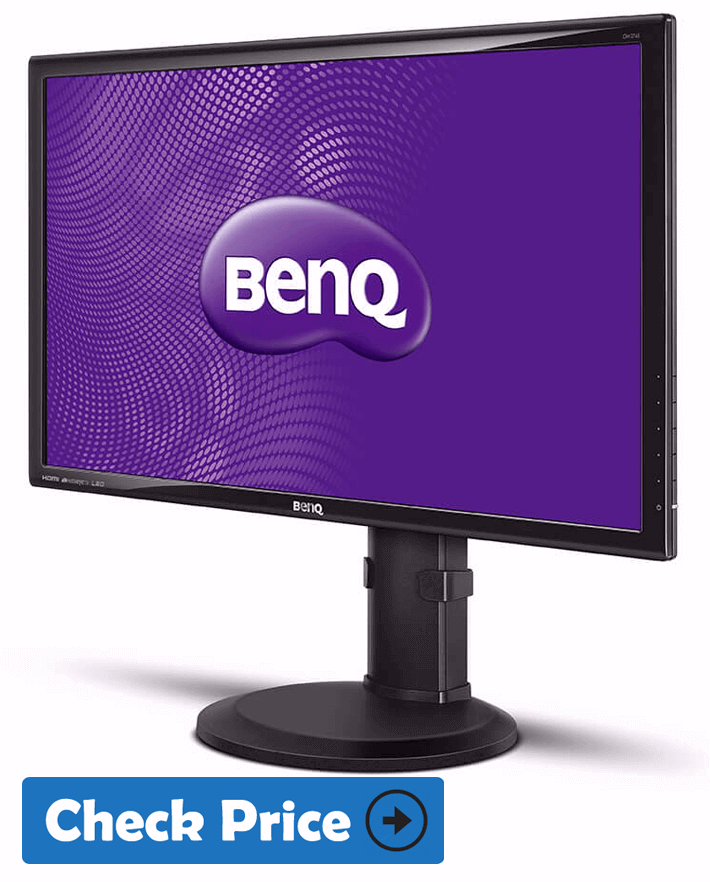 Key Specifications
Display Size: 27-inch
Resolution: 1440p
Panel Type: IPAS
Response Rate: 4 ms
Refresh Rate (Hz): 60Hz
Sync Technology: N/A
Dimensions (WxDxH):9.6 x 21.85 x 25.23 in
Weight: 15.2lbs
Contrast Ratio: 600:1
Aspect Ratio: 16:9
Brightness 200: cd/m² 
About Monitor: 
Enjoy superior image quality with the BenQ GW2765HT monitor ! With its 27 "IPS panel and WQHD resolution.
It delivers a precise image with high-fidelity colors, ergonomic design and Flicker-Free technology to enhance your comfort, and excellent display performance.
The BenQ GW2765HT monitor will be a particularly suitable purchase for multimedia entertainment and graphics applications.
Design
Performance
Features
Connectivity
Very simpleminded design with great adaptability.
The high can be adjusted up to 4 inches, plus tilt and rotate angles to get a seamless view.
It can also be mount on the wall with a 100*100 bolt pattern.

With a WQHD resolution of 2560 x 1440, your workspace grows by 77% and the number of PPI is much higher compared to conventional Full HD screens. A larger workspace also means less scrolling to enlarge and reduce the image, and the extra PPI gives you a sharper, more accurate picture.
Thanks to BenQ's advanced IPS technology and 100% sRGB, each color is reflected with the finest precision, in every detail and from every possible angle of view. Get and share a professional vision.
Improve visual comfort with the BenQ GW2765HT monitor's Flicker-free LED display! This technology provides a flicker-free display that significantly reduces eye strain. This innovation will be especially important for anyone who needs to spend long periods in front of a computer screen!
Each screen produces fatigue due to the blue light spectrum, which is one of the major causes of ocular damage, visual fatigue, headaches, and sleep disorders. BenQ's Low Light Blue technology makes it safer to spend the time you spend in front of your computer. Switch to one of the 4 preset modes using the OSD shortcut (multimedia: 30% off, Internet browsing: 50% off, desktop: 60% off, reading: 70% off) and ease your eyes without loss of visual quality.
A 27-inch monitor with WQHD resolution (2560 x 1440 pixels)
IPS panel: high-quality colors and wide viewing angles (178 °)
Bright and very subtle colors with a dynamic contrast of 20 000 000: 1 (native 1000: 1)
Ergonomic design with 90 ° swivel, 130 mm height adjustment and 320 ° horizontal rotation
Good responsiveness with a response time of 4 ms (gray to gray)

VGA Analog Connector + Digital DisplayPort, HDMI and DVI Dual-Link Connectors (VGA, HDMI and DisplayPort cables included)
Built-in speakers 2x 1 W + headphone jack
Pros
"Flicker-free" screen: better visual comfort, without flickering
Compatible wall mounting (VESA 100 x 100 mm)
Best 1440p monitor under 300 dollars
Final Thoughts: If you are looking for a cheap entry level 1400p monitor then this would be ideal for you & can get under $300. Its features worth more than its price.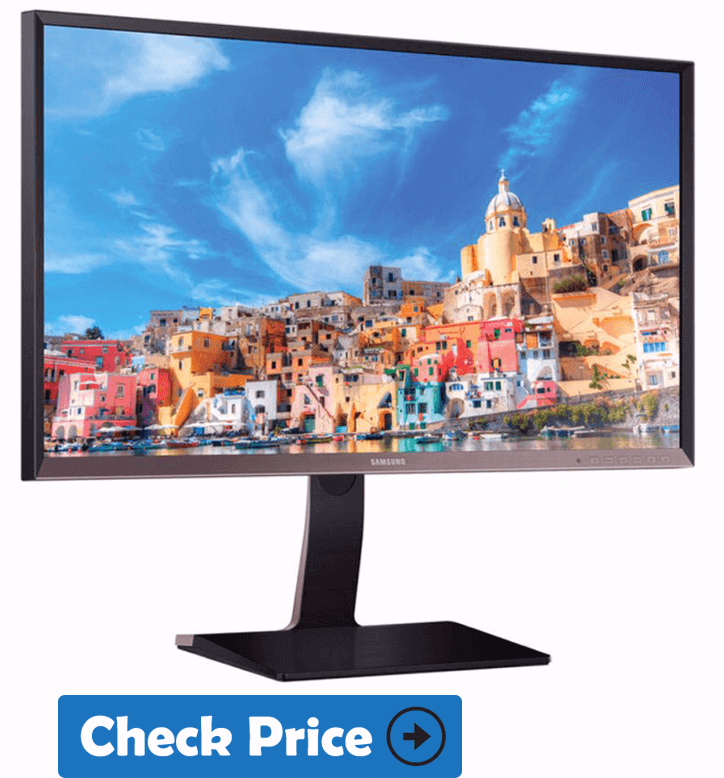 Key Specifications
Display Size: 32-inch
Resolution: 1440p
Panel Type: VA
Response Rate: 5 ms
Refresh Rate (Hz): 60Hz
Sync Technology: FreeSync
Dimensions (WxDxH):
Weight:  lbs
Contrast Ratio: 600:1
Aspect Ratio: 16:9
Brightness 200: cd/m² 
About Monitor: 
Whether you're a graphic designer, photographer, financial service provider, or simply an individual looking for breathtaking picture quality on a daily basis.
The Samsung S32D850T is the monitor you need! Optimized for all those whose activity requires an impeccable image rendering, this screen offers a very high resolution as well as many very practical features.
Through innovative design, useful features and perfect ergonomics, S32D850T itself as a benchmark for the professional monitor.
Design
Performance
Features
Connectivity
It is a perfect aesthetic coupled with exceptional image quality and very elegant design.
I appreciate its ultra-thin frame, this monitor allows you to focus on the essentials during the work. Its central axis design allows adjustment at the ideal height, as well as tilt forward, back, right or left.
For ease of reading, it can also be rotated 90 degrees (Pivot function). The back of the monitor is sober and clean, contributing to the feeling of the order of the workstation even seen from behind.

This Business Monitor meets the most demanding requirements today and covers 100% of the Adobe RGB color gamut while delivering over a billion different colors. The SD850 has a maximum Wide Quad High Definition (WQHD) resolution of no less than 2560 x 1440 pixels – twice the size of Full HD displays – and a 178-degree viewing angle. Its 3.7 million pixels guarantee images rich in details and natural.
The Monitor is also able to display not only in "Picture in Picture" mode (720p) but also in "Picture by Picture" mode, that is to say, powered by two different sources (eg laptop and PC of office). An ideal feature for content designers, programmers, and financial providers.

The SD850 Business Monitor incorporates an Eco light sensor that automatically adjusts monitor brightness based on ambient light, helping to save energy. This professional monitor carries the Energy Star 6.0 label, which certifies its energy efficiency out of the ordinary. In addition, the materials used in its manufacture have been awarded the TCO label.
Covers 100% of the Adobe RGB color range
Restores over a billion different colors
It has WQHD resolution (Wide Quad High Definition): 2560 x 1440 pixels, This high resolution doubles the pixel density compared to Full HD. Offering an incomparable visual experience, it lets you appreciate every detail.
It MVA slab with wide viewing angles (178 °) offer perfect viewing experience.
It has ergonomic design with pivot, 130 mm height adjustment and 60 ° horizontal rotation
"Picture in Picture" & "Picture by Picture" mode.
With Picture-by-picture technology, the monitor can be connected to two PCs at the same monitor and both can be viewed simultaneously on a two-part screen.
The brightness of the monitor is  300 cd / m² (typical), display the dark blacks and bright whites.
Typical Power Consumption 60 Watts (95 Watts with USB Hub)
Eco Light Sensor technology adjusts the brightness according to your environment screen to make it always fits your eyes.
Hub with 4 USB 3.0 ports
DisplayPort, HDMI and DVI Dual Link Connectors
Mobile devices recharge twice as fast with USB 3.0

Pros
Accurate color reproduction perfect for sophisticated graphic design
Auto Rotate function OSD
3-years warranty
Final Thoughts:
A professional, ergonomic monitor for truly professional needs. Its multitasking technology shows you completely new possibilities. If you want a
dual screen
1440p monitor then this would be best choice.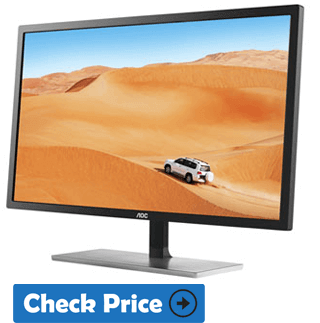 Key Specifications
Display Size: 31.5 -inch
Resolution: 1440p
Panel Type: IPS
Response Rate: 4 ms
Refresh Rate (Hz): 75Hz
Sync Technology: FreeSync
Dimensions (WxDxH): 28.7 x 1.9 x 16.7 in
Weight:  15.4 lbs
Contrast Ratio: 600:1
Aspect Ratio: 16:9
Brightness 200: cd/m² 
About Monitor: 
Experience high resolution with style without delay I appreciate to the AOC Q3279VWFD8 monitor! This superb 31.5 "screen offers a QHD resolution associated with an IPS panel for an intense depth of colors and a high level of contrast.
Its FreeSync technology with 4ms response time delivers extremely smooth gameplay for better performance. For easy connection of all your accessories and equipment, this large AOC display has a wide connectivity including HDMI, DisplayPort and DVI ports, and its modern and refined design ensures easy integration on every desk.
Design
Performance
Features
Connectivity
It is a thin and fresh design with reasonably thick bezels. Though, it's tilt-only (-3.5°/+23.5°) and has no VESA mount feature. 
This large screen gives you more space to play with applications and boost your productivity. With its QHD resolution , it offers a nice pixel density and resizing images is no longer necessary.
With a resolution of 2560 x 1440, the Quad HD (QHD) delivers high- quality image quality and crisp images that reveal every detail. The widescreen 16: 9 aspect ratio offers plenty of room to expand and work; it also allows you to enjoy games or movies in their original format.
Do you play from time to time? With this AOC monitor, gameplay is smooth with AMD's FreeSync technology that adjusts the output frequency of your graphics processor to the refresh rate of your display, eliminating input offsets, tears, and noise. the jerks on the screen.
The Flicker-Free technology uses a DC backlit panel that reduces the levels of shimmering light. Eye fatigue is reduced to a minimum, you just have to enjoy your long intense play sessions without losing comfort!
It has 31.5 "widescreen with QHD resolution 2560 x 1440 and the refresh rate is 75Hz perfect for graphic designers.
The IPS slab display bright colors and wide viewing angles (178 °)
The Monitor offers Intense colors and a high level of contrast
Its 98% sRGB coverage perfect for graphics software.
The Response time 4 ms: high fluidity
DisplayPort / HDMI / DVI / VGA
Final Thoughts: It is the most economical 32″ 1440p IPS monitor screen and its sound worth the money. You get a giant screen with a rich colors, crispy image quality, and a charming performance. I appreciate its low input lag, speedy response time, and AMD FreeSync up to 75Hz.

How to pick Best 1440p Monitor in 2022 | Buyer's Guide
The world of 1440p monitors may seem intimidating to neophytes. Between the many technical terms, the different sizes and the more and more advanced features, it's hard to really know where to start.
Before taking stock of the different criteria to take into account during your research, two questions to ask yourself:
What is your budget?
What is the power of your current graphics card?
It may seem stupid, but by answering these two questions you can already target much more easily your research. For example, if you have a maximum budget of $ 250, your options will be limited to 1080p Full HD screens. On the other hand, if you can afford to invest between 500 and 1000 $, new doors open up for you, with 4K gamer screens or 144 Hz monitors.
Also Read: How to play 4k videos on PC
Regarding your graphics card, you do not have to turn to UHD or 1440p 144 Hz displays if your GPU does not hold water. Of course, you can still invest in a new card a few months after buying your monitor. Keep in mind that you generally keep a screen longer than a graphics card.
Place now the criteria to take into account. There could be several dozens, but those listed below should allow you to make the right choice.
The Resolution – 1080p vs 1440p vs 2160p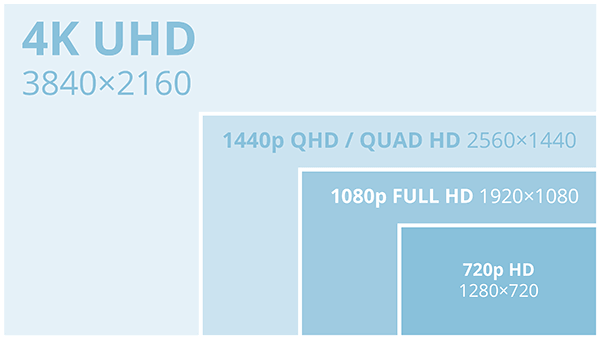 To put it simply, the resolution represents the number of pixels displayed on your gaming screen. The more pixels there are, the more the display will be clear and detailed. However, by increasing the number of pixels displayed, it is also necessary to increase the power of your graphics card if you want to continue to enjoy a smooth experience (often based on a minimum of 60 FPS).
Clearly, it is important to understand that by opting for a 4K screen, you will not necessarily have the opportunity to really enjoy if your GPU does not keep pace. This will obviously depend on the level of graphics selected, but also the optimization made to your different games. Games available for several years do not require the same power as the last AAA titles.
At present, the resolution most commonly adopted by players remains the Full HD, namely 1920 x 1080 px (or 1080p for shorter). More and more players are nevertheless moving towards 1440p monitors (2560 x 1440 px) see to 4K monitors (actually 3840 x 2160 px). With the progress of the current graphics cards, it becomes indeed possible to benefit from a fluid and immersive experience even with these resolutions.
The Size of 1440p Screen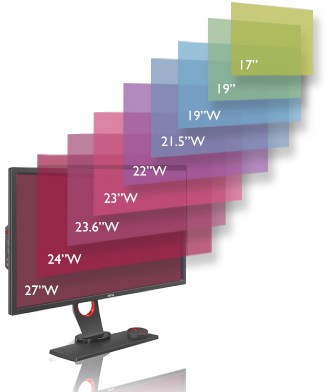 Here, nothing complicated. It will be necessary to choose the size of your screen according to your preferences, but also of the space available on your desk. Some players favor "small" monitors, 23 or 24 inches, so as to more easily obtain a global version of the action.
Others are moving towards somewhat larger solutions, typically 27 inches. It is in this size that we find most monitors in the market, although it is now possible to move towards even larger solutions of 30 or 32 inches for example.
Keep also that a large screen is not necessarily synonymous with high resolution. Between 24 and 28 inches, there are indeed monitors 1080p, 1440p and even 4K. Obviously, the larger the slab, the more resolution will make sense.
Also note that by opting for a wider screen while staying on 1080p, you can lose in image quality and sharpness. In the idea, it is advisable to orientate at least 1440p for screens of 27 inches and more.
In addition to the size of the screen, the second point to consider is the format. If the vast majority of gaming monitors are offered in 16/9, it is now possible to move towards monitors called Ultrawide, offering a 21/9 format. They are usually curved monitors, offering in practice a much better immersion. These panoramic screens are usually offered in 29 "(same height as 24" 16/9) or 34 "(same height as 27" 16/9).
Panel Type  IPS vs TN vs VA
Two screens can offer a similar size and resolution while using a different technology. In the world of player screens, we now find three large families: IPS slabs, TN slabs, and VA slabs.
Also Read: IPS vs TN For Gaming | Which one is best [Solved]
TN (Twisted Nematic) models are currently a standard and are generally the most affordable on the market. They offer the best response rates but have difficulty dealing with IPS models in terms of colorimetric reproduction as well as at the angles of vision.
IPS (In-Plane Switching) models continue to gain a foothold in the sector and more and more players are moving towards this type of slab. They have the advantage of offering better color reproduction and therefore offer a more immersive display. Visions angles are also much better than on TN models, so he does not have to align his eyes perfectly to take full advantage of them. There is obviously a setback to the medal since the IPS models have a slightly higher response rate. However, unless you are really picky the difference is minimal. Note: These screens sometimes suffer from an IPS Glow, presenting a light yellowish veil on the darkest areas.
Finally, we find the models VA (Vertical Alignment), a little rarer, but which are presented as a real in-between.
The Refresh Rate – 60Hz vs 144Hz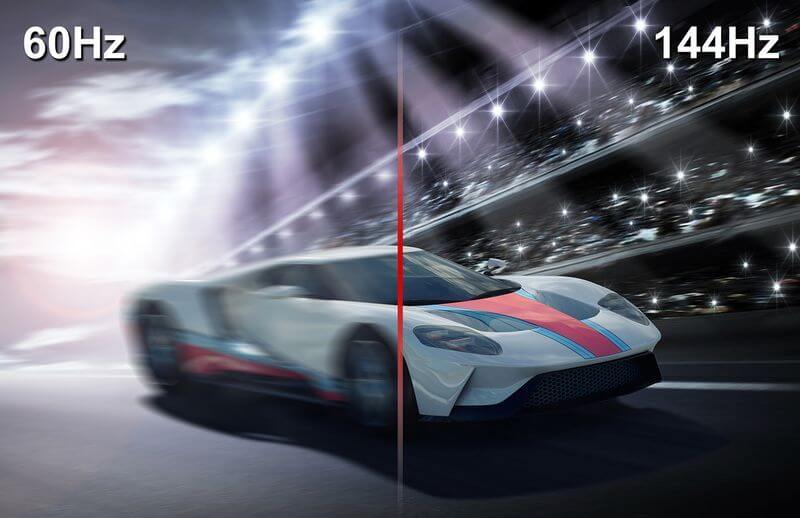 Until recently, the players had little importance to the refresh rate offered by their monitor. Most screens offered a 60 Hz rate, providing a relatively smooth and enjoyable experience. The recent slabs have nevertheless made considerable progress on this point, and today we find more and more screens capable of offering refreshing rates of 144 Hz, or even 165 Hz or 240 Hz. in fluidity, bringing to the use a real gain and comfort for the fastest games.
To simplify things, the refresh rate indicates the number of frames per second displayed on your screen. Clearly, with a standard refresh rate of 60 Hz, you can enjoy your games up to 60 FPS. In the same way, on a 144 Hz screen, it will be possible to display up to 144 FPS. And believe us, difficult to backtrack once you taste it.
The higher the refresh rate, the more the poster appears fluidly and naturally. With the naked eye, the difference between 60 and 144 Hz is clearly visible. Beyond that, the difference is nevertheless more subtle.
In the same way, as for the resolution, your graphics card will play an important role in the FPS displayed on the screen. Clearly, no need to opt for a 144 Hz screen if your GPU is not able to display more than 60 Hz on the latest games.
Note also that at present, not all screens are able to display refresh rates above 60 Hz. This is particularly the case for 4K gaming monitors. In practice, most players are now focusing on 1440p 144Hz monitors, offering an excellent compromise between image quality and fluidity.
Also Read: Response Time vs Refresh Rate
Response Time – 1ms vs 4ms

In a simplified way, the response time corresponds to the speed at which a pixel will change from one color to another (when the screen displays the following image). With a high response rate, a ghosting phenomenon may appear on the screen, which can reduce the quality of the display.
In general, most current PC gamer displays offer exceptionally short response rates, providing a smooth and accurate display. Values often vary depending on the type of slab used. TN models have a response rate of between 1 and 4 ms, while IPS models are generally around 5 to 7 ms. With the naked eye, this difference is not always visible.
Also Read: PC Gaming vs Console Gaming | Which one is Best
The Ports – HDMI vs DisplayPort vs DVI vs VGA
Another important point is connectivity. Opt for a screen with both an HDMI port and a DisplayPort. This way, you can easily connect the devices of your choice, while enjoying G-Sync and FreeSync features if available.
AMD FreeSync vs Nvidia G-SYNC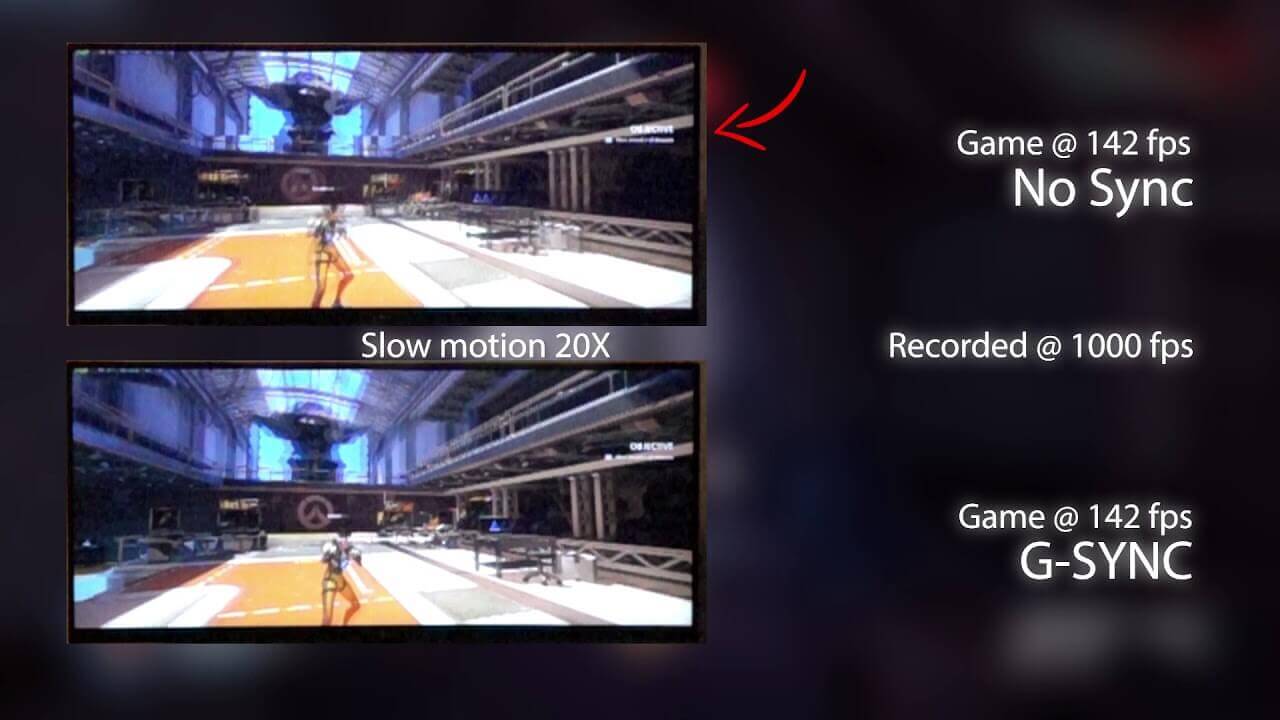 If you have already started your research, it's a safe bet that the terms Adaptive-Sync, G-Sync or FreeSync are not unknown to you. These relatively recent features allow synchronizing the rate of refresh of the screens according to the displayed FPS. In practice, this provides a smooth experience, even when going below 60 FPS. These features also help eliminate screen tearing issues that occur when refresh rate and FPS are out of sync.
For simplicity, the presence of G-Sync (Nvidia) and FreeSync (AMD) will vary your refresh rate dynamically. When a game displays 60 FPS, the screen is calibrated at 60 Hz. If your game knows slowdowns on certain areas and then drops to 45 FPS, the refresh rate will also call at 45 Hz automatically.
To enjoy it, it will nevertheless have a screen and a compatible graphics card. G-Sync models only work with Nvidia cards and are generally 150$ more expensive than their FreeSync homogeneous, working with AMD models.
Design & Ergonomics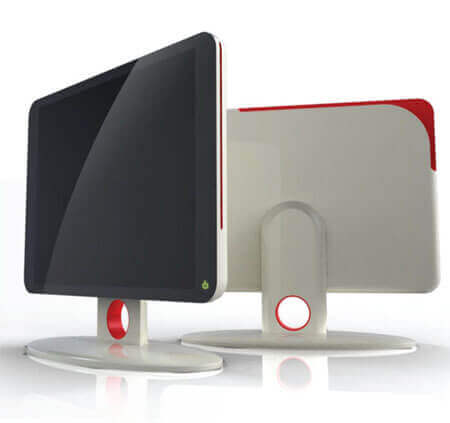 In addition to the many technical features listed above, the design and overall ergonomics of PC gamers may play a role during your research. Manufacturers often tend to play on current trends by offering monitors always more racy, note at brands such as ASUS ROG.
The difference is usually on the back of the screen, at the foot but also on the side of the borders. In the idea, thin borders bring a better immersion, especially if you want to use several screens simultaneously.
The feet can play an important role in the choice of a screen, adopting more or less to the space available on your desk. The bigger the monitor, the more space your foot will take on your desk. Keep in mind, however, that it is still possible to remove the stand and mount the monitor on a wall mount, for example, most models are now compatible with the VESA standard.
And if you are adept at customization and lighting, some monitors even offer RGB screens that can perfectly complement your beautiful gaming setup.
Sound
Finally, some small details can make the difference, such as the presence of built-in speakers (although we often prefer an external solution or a real headphone gamer) or the integration of USB ports to connect its peripherals.
VESA Mount Compatibility
If you are planning to fit your monitor on the wall, then pick the screen having VESA Mount compatibility.
Who Should Buy a 1440p Gaming Monitor
Best 1440p Monitor | FAQs
Is 2k the same as 1440p?
Conclusion
so, It was all about the best 1440p monitor, I hope you enjoy my research-based reviews and guide. Feel Free to post your comments and feedback in the comment section below.
Top-Rated 1440p Monitor of 2022