Every passionate computer player needs a screen that displays all games in the highest possible quality and rich colors. What uses a powerful computer, if the monitor can not play the great graphics of the modern gaming world?
A gaming monitor is needed to make your gaming experience true pleasure with a big screen and high resolution.
In the big gaming monitor comparison on Monitor Beasts, we introduce you to 10 of the best 24-inch Monitor for gaming and focus on the most important features.
Here you will learn everything about screen size, resolution, response time and all other facts worth knowing about each device. In our next guide, we'll explain what to look for in your new gaming monitor to get the most out of your computer games.
Best 24 inch Monitor For Gaming 2022
Best 24 inch Monitor For Gaming in 2022 | Comparison Table
Top-Picks | High Quality | Affordable Price
Best 24 inch Monitor For Gaming | 2022 Products Overview
1. BenQ Zowie XL2540 Recommend 24-inh Monitor For Gaming (Editor's Choice)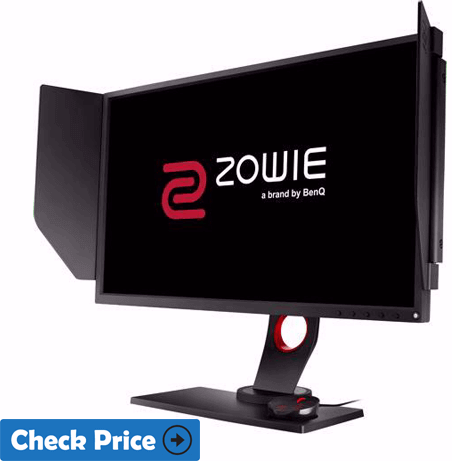 Key Specifications
Display Size: 24.5-inch
Resolution: 1920×1080  FHD
Panel Type: TN
Response Rate: 1 ms
Refresh Rate (Hz): 240Hz
Sync Technology: G-Sync/FreeSync
Dimensions (WxDxH): 22.44 x 17.55 x 8.9 in
Weight: 16.5 lbs
Contrast Ratio: 1000:1
Aspect Ratio: 16:9
Brightness 400: cd/m²
About Monitor:
The BenQ Zowie XL2540 is interesting for anyone who spends a lot of time in front of the screen and wants to spare his eyes.
Because the integrated "Brightness Intelligence Technology" adjusts the image content and its brightness automatically, so protects your eyes and still promises maximum image quality. As a result, BenQ's Eye-Care Monitor is not just for the casual gamer, but also for movies and series lovers.
Of course, BenQ's 24-inch gaming monitor with a resolution of 1920 x 1080 pixels will display your games in Full HD and with 1 ms of response time, you will have the perfect setting for your gaming experience.
Also Read: Best Gaming Monitor Under 300 Dollars
Design
Performance
Features
Connectivity
The gray matte plastic, with a few touches of red as the logo, the ruler and the hole to pass the cables. A sober choice that will mate with all types of setups.
It is possible to make this screen more eccentric and racy by adding flaps on the sides, which gives it immediately a more " gamer" spirit.
The screen was designed for e-Sport. With these components, the pro player can be fully immersed in the game, without his eye being distracted by external sources.
The optical highlights of this device are above all the particularly narrow outer edges and the flat, rectangular stand panel.
The foot of the screen is adjustable in height by 14 cm. The inclination is adjustable between 5 ° and 20 °. The slab also switches to portrait mode. When tilting, we feel a solid screen and quality. The foot is rotated 45 °, it is possible to put the screen vertically and rotate it laterally or raise it accurately with a graduated ruler.

This BenQ XL2540 Zowie is obviously the refresh rate of 240Hz. This means that the monitor actually displays 240 frames per second. If your PC displays 300fps on your game, you will see 240! (unlike 60 Hz or 144 Hz screens) . However, this function is only available in DisplayPort. If the screen is connected in HDMI to your graphics card, the maximum frequency proposed will be the only 120Hz.
This gaming monitor convinces with its exceptionally high 1000: 1 native contrast ratio and the ability to render 16.7 color gradations simultaneously. As a result, the device displays the colors of your games and videos with maximum precision and protects your eyes.
An interesting feature is that the BenQ is able to simulate high-resolution images by automatically increasing the pixel density of video content, ensuring better image quality.
The monitor has a small wired remote control. This allows manipulating the settings screen with buttons and its similar wheel to those found on the mouse. Thus, it is possible to configure three distinct modes, such as specific settings of the games you play most often. This S Switch allows you to easily access the parameters.
This screen features Black eQualizer ( Black Equalizer) color engine technology to illuminate dark scenes without over-exposing bright areas.
It has embedded technologe; Flicker Free (Flicker) and Low Blue Light (less than blue light) .

It offers two HDMI inputs. This allows you to connect a second PC or a console to your monitor and switch back and forth as needed.
It has a DisplayPort and a DVI port. In addition, it has 2 USB 3.0 ports on the left side, as well as 2 headphone jack and microphone, and a retractable holder to drop your headphones.
Pros
Wired remote control
Frequency of 240 Hz
Cons
This Monitor screen has no speaker
Final Thoughts: This monitor is undeniably intended for players seeking responsiveness and fluidity in the game. Refreshment at 240Hz greatly changes our approach and experience of gameplay. All this for a consumption significantly lower than the competition.
2. Asus MG248Q 24-inh Gaming Monitor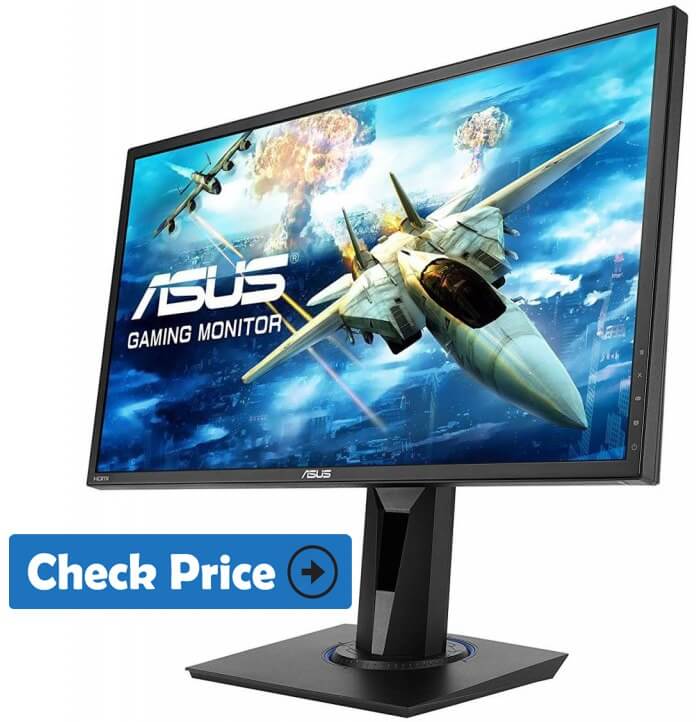 Key Specifications
Display Size: 24-inch
Resolution: 1920×1080  FHD
Panel Type: TN
Response Rate: 1 ms
Refresh Rate (Hz): 144Hz
Sync Technology: G-Sync/FreeSync
Dimensions (WxDxH): 2 x 22 x 13 in
Weight: 11.5 lbs
Contrast Ratio: 600:1
Aspect Ratio: 16:9
Brightness 350: cd/m²
About Monitor:
Of course, a monitor from the Asus brand should not be missing in our gaming monitor comparison. With the Asus MG248Q you get a 24-inch monitor, which is definitely enough for most users to watch, work and watch videos - especially if you plan to run two monitors at once.
Thanks to the very short response time of only 1 ms, the device is ideal for gamers.
Not least because of the good image quality of the Asus monitor. Because the screen resolves with 1920 x 1080 pixels Full HD, which offers you perfect conditions for a pleasant gaming experience.
Through various screen presets, you can easily customize your gaming monitor in contrast, color, and brightness to the respective application.
Design
Performance
Features
Connectivity
The gaming monitor is specifically designed for your long gaming sessions. Its slim profile and narrow frame make it a perfect screen for multi-screen display. The MG248Q features an ergonomic chassis that you can customize to your own height, angle of rotation, tilt, and swivel. Its convenient design allows you to easily separate the monitor from its mount to hang on a wall.
we find a shiny black plastic shell and foot, not necessarily the most original, but with impeccable finishes. Its foot, adjustable in height, can rotate in portrait mode.

The Asus MG248Q gamer screen makes the choice of fluidity and speed with a TN slab clocked at 144 Hz and a response time of only 1 ms in gray-to-gray! And that's not all! This screen also takes advantage of AMD FreeSync display technology!
This feature synchronizes the number of images displayed by your screen and the number of images sent by your graphics card. This results in an extremely fluid image without tearing or stuttering effects. This bluffing fluidity translates into the comfort of play which leaves simply a dreamer. Importantly, this feature is only available through the DisplayPort.
The ASUS MG248Q monitor offers native 1920 x 1080 (FHD) resolution and 276 dpi pixel density. You will experience the pleasure of detailed images with multiple details to immerse you even more deeply in the games.
Its incorporates AMD FreeSync technology, which eliminates image tearing effects and unstable image refresh rates for smooth graphics and gameplay.
The screen resolution MG248Q is a Full HD resolution. This means that there are 1920 x 1080 pixels displayed on the 24-inch slab. This resolution is perfectly adapted to a size of 24 ", allowing you to push your games to the maximum! In other words that 144 images fluids per second to such a definition and with the speed of TN have enough to fill more than one gamer!
It offers high display performance. In addition, its ergonomic design and Flicker-Free and Ultra Low Blue Light technologies ensure top comfort during your long gaming sessions.
With a response time of 1 ms, its display is the fastest and helps eliminate the drag effect. This performance allows you to instantly react to what you see on the screen, especially with fast games. You will be able to take turns like a pro in racing games or make headshots of genius.
This monitor incorporates the exclusive ASUS GamePlus feature, a shortcut that allows you to benefit from improvements directly in your games and play to your full potential. Four different viewers, which are superimposed on your interface, are available to choose what suits you best to play. In addition, a timer is placed on the left side of your screen to allow you to keep an eye on the elapsed time while an IPS counter (images per second) allows you to check the fluidity of the game.
A VESA port 100 x 100 mm is available to fix the screen on an ergonomic arm for more comfort.
Excellent color richness with high dynamic contrast: 100,000,000: 1
Connectivity is also well represented with a DisplayPort (essential for the use of FreeSync), a DVI-D Dual-Link port (to display in 144 Hz without FreeSync), and an HDMI 1.4 port (for a classic display to 60 Hz).  
Pros
Adjustable screen easily and ultra easy mounting
Dual-Link Compatibility
Eye Care technology (Flicker-Free and Low Blue Light)
Built-in speakers (2x 2 Watts)
Final Thoughts: If you care more about what the device does than what it looks like, the Asus gaming monitor is definitely worth considering.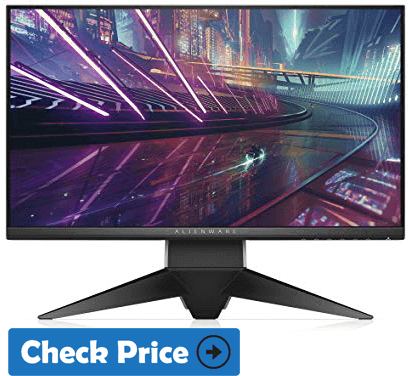 Key Specifications
Display Size: 25-inch
Resolution: 1920×1080  FHD
Panel Type: TN
Response Rate: 1 ms
Refresh Rate (Hz): 240Hz
Sync Technology: G-Sync/FreeSync
Dimensions (WxDxH): 21.88 x 10.57 x 20.56 in
Weight: 14.5 lbs
Contrast Ratio: 1000:1
Aspect Ratio: 16:9
Brightness 400: cd/m²
About Monitor:
Dell showed its Alienware 25 "AW 2518H monitor, designed for gamers with a Full HD resolution (1920x1080 px), the screen has the distinction of having a refresh rate of 240 Hz, or The theory can display 240 frames per second, combining Nvidia G-Sync display technology, which is supposed to synchronize the refresh rate of the display with the GPU and eliminate latency issues. FreeSync also available in this monitor.
Design
Performance
Features
Connectivity
It is well designed, the finishes are impeccable and its design is relatively simple, especially for an Alienware model. Only the Alienware logo gives a clue to the target audience, namely the players. The 25-inch matt slab minimizes glare.
The back of the monitor is fairly classic and only the Alienware logo on the top right sets the tone. A cable management system to get all the connectors out of the base of the foot, to free the office.
The monitor is adjustable in height by 13 cm, tilt between -5 ° to + 25 °, and manages the rotation with a ball joint on ± 20 °. It also embeds a pivot allowing the passage in portrait mode, but it is not really advisable on a TN model, the vertical viewing angles being very limited.

It has a response time of 1 ms, a contrast of 1000: 1, a brightness of 400 cd / m² and angles reduced to 170 ° / 160 °.
With the powerful combination of technology NVIDIA G-SYNC and a refresh rate of 240 Hz , the Alienware AW2518H screen you will experience ultra-smooth parts with sharp graphics and without jerks. In addition, the 1ms ultra-fast response time offers responsive gameplay to not be surprised by your enemies!

This 24.5-inch monitor boasts full HD resolution (1920 x 1080 pixels) and integrates multiple game modes to suit your preferences. Opt for a preset mode (FPS, RPG, RTS) or customize your settings via 3 modes available.'
Personalize your gaming environment with the AlienFX RGB lighting system . Find 16.8 million colors available and fight your enemies under a banner that looks like you! The logo and the elements on the back of the AW2518H illuminate for a total effect.
Ultra Low Motion Blur: blur effects of diminished moving objects
Superior playability with flicker-free ( anti-flicker technology) and ComfortView (blue light reduction)

The video connection consists of a DisplayPort input and two HDMI 1.4 inputs. Only the DisplayPort can reach a frequency of 240 Hz in the native definition of 1920 x 1080 px.
The HDMI 1.4 allows a display in native resolution, the frequency is limited to 120 Hz with this connection. For the rest, the Alienware AW2518HF has a headphone output, a mini-jack output and a hub with four USB 3.0 ports, two of which placed judiciously at the base of the slab.

Pros
Clear, fluid image with NVIDIA G-SYNC technology
Frequency of 240 Hz
NVIDIA 3D Vision compatible
Customizable AlienFX lighting
Final Thoughts: The Alienware AW2518HF is an excellent monitor for players looking for performance above all else. The 240 Hz slab is currently the most reactive on the market and even offers the luxury of being well calibrated. Ergonomics is flawless and connectivity is well thought out, including the headphone jack and USB ports at the bottom of the screen.
4. Acer ED242QR Best Budget 24-inh Monitor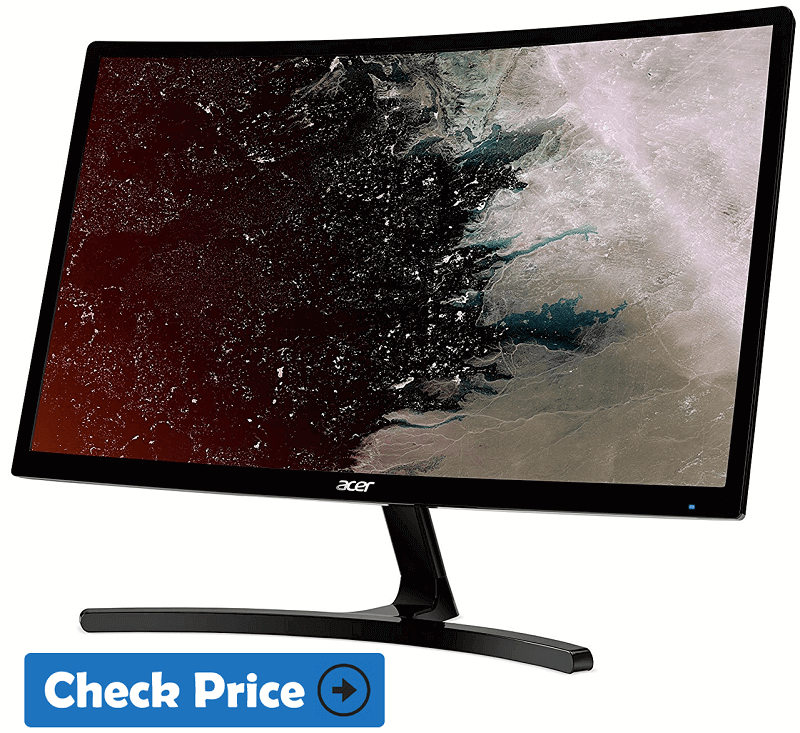 Key Specifications
Display Size: 23.6-inch
Resolution: 1920×1080  FHD
Panel Type: VA
Response Rate: 4 ms
Refresh Rate (Hz): 144Hz
Sync Technology: G-Sync/FreeSync
Dimensions (WxDxH): 19.4 x 54.6 x 40.4 in
Weight: 7.4 lbs
Contrast Ratio: 3000:1
Aspect Ratio: 16:9
Brightness 250: cd/m²
About Monitor:
Also, the manufacturer Acer has a relatively cheap Curved gaming monitor under 300 on offer - The Acer ED242QRA. The size of 24 inches should be sufficient for most fans of computer games. Combined with the built-in FreeSync feature, the 1920 x 1080 Pixel Full HD resolution gives you a crisp, smooth gaming experience.
The VA panel with a contrast ratio of 100,000,000: 1 additionally provides rich colors and an excellent black value. The response time of 4 ms is still expandable compared to other monitors from this price segment, but more than adequate for most computer games.
Design
Performance
Features
Connectivity
The monitor from Acer can convince with its simple yet elegant design. In addition to the curved design, the all-black gaming monitor features the broad and moon-shaped base. This makes the monitor a real eye-catcher in any modern workplace.
The refresh rate of the monitor is 144Hz, which supports in refreshing images at a super-fast speed. Having a fast refresh rate is very vital for console and FPS gamers to win over your challengers.
The response time is 4ms helps in reducing issues of ghosting to a great extent, decreasing it to a very negligible amount.
It has AMD FreeSync technology which helps in synchronization of the monitor's refresh rate with GPU's frame rate. As a result, the user receives a dynamic refresh rate which helps in removing screen tearing & stuttering problems.
The AMD FreeSync technology also decreases the input lag thus increase monitor's performance.
A special feature of the Acer ED242QRA is the Acer ComfyView technology . This also allows for the most lifelike images and high quality of your video games even in sunlight. It reduces light reflections on the matte surface of the screen, making text and images easy to see, even in bright light.
The Acer Curved Gaming Monitor also features a feature that reduces blue light emissions – the BlueLightShield feature. As a result, your eyes are charged as little as possible and a good night's sleep after a long evening in front of the monitor is guaranteed.
Another special feature is that Acer directly supplies a DisplayPort cable with this device, with which you can connect your computer to the monitor. Most comparable devices have only one VGA cable.
It provides a good option of connectivity; an HDMI 1.4 port, a 1.2 Display Port, and a DVI port.
Pros
ComfyView technology
AMD FreeSync technology
144 Hz refresh rate
Final Thoughts:
This monitor will certainly help to meet the needs of the game. If you are considering investing in an excellent
game monitor for less than $400
, this would be ideal choice. The Review of the Acer ED242QR monitor is based on some of the important aspects of the monitor. These factors play an important role in improving the user's gaming experience
5. AOC G2460VQ6 High End Gaming Monitor with 24-inh Screen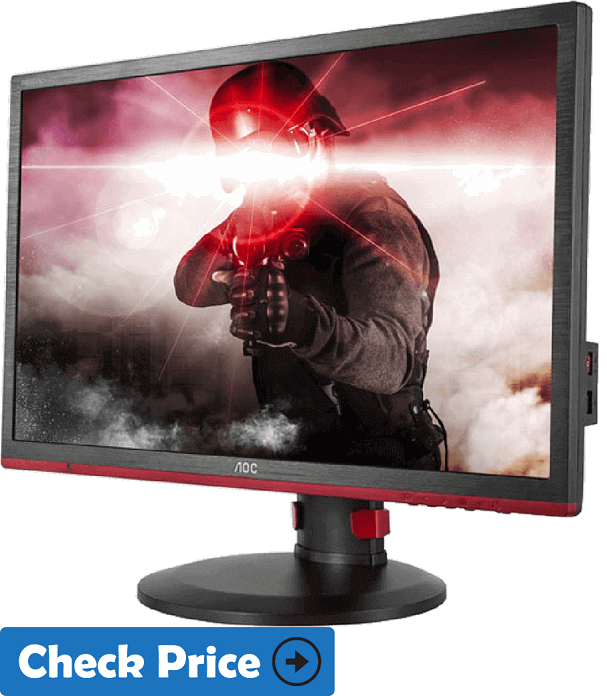 Key Specifications
Display Size: 24-inch
Resolution: 1920×1080  FHD
Panel Type: TN
Response Rate: 1 ms
Refresh Rate (Hz): 144Hz
Sync Technology: G-Sync/FreeSync
Dimensions (WxDxH): 8.61 x 21.56 x 16.68 in
Weight: 6.8 lbs
Contrast Ratio: 600:1
Aspect Ratio: 16:9
Brightness 350: cd/m²
About Monitor:
With a size of 24 inches and a 1920 x 1080 pixel Full HD resolution, this gaming monitor provides you with a solid foundation for your personal gaming experience. On the matte display with TN panel you can enjoy your games with a very good picture quality and without disturbing light reflections.
The 1ms response time and the good frame rate of 144Hz keep your games in full control. Thanks to AOC Flicker-Free technology, this gaming monitor is also able to control the brightness of your screen without disturbing flickering.
In addition, the Anti-Blue-Light function blocks blue light rays without changing the colors. So you can spend long evenings in front of the monitor without your eyes getting tired.
Design
Performance
Features
Connectivity
The mainly in black held gaming monitor has a round and very flat stand panel. The design is rounded off by a red stripe at the bottom of the screen. If necessary, you can simply remove the base to attach the monitor to a wall using a Vesa wall mount.
The foot offers the total for ergonomics, with portrait or landscape mode, vertical inclination, horizontal pivot, height adjustment
The AOC G2460VQ6 has a 24-inch TN panel with a resolution of 1920 x 1080, a refresh rate of 75 Hz, and a response time of 1 ms. These specifications are common in budget monitors where crisp images or responsiveness is very important than high-end specifications.
Fortunately, the AOC G2460VQ6 works very well in terms of image quality and dynamism after examining with a colorimeter. The screen can represent 100% of the sRGB range. This is equivalent to about 78% of Adobe RGB. The average accuracy of the Delta E 1.12 is also phenomenal for TN screens focused on entry-to-midrange games.
It does not reach the specified 1000.1. Instead, users can only use 650:1. This adds a slight wash to black and other dark colors. The limited backlight did not give much room to improve this. Because the range is short, the setting is a little tight.
It has Anti-Blue Light technology that reduces blue light emissions & reduce eye strain.
The most important selling point of this monitor is the FreeSync feature, which runs from 35 Hz to 75 Hz. There is always an advantage to a 144 Hz screen.
With a DisplayPort, HDMI input and VGA input, the AOC gaming monitor offers you three common ways to connect the screen to your computer. The cables is already included.
Pros
Correct color rendering for a gamer screen (Delta E at 2.7)
Overdrive perfectly adjusted
G-sync and ULMB features
Final Thoughts:This Monitor screen has enough qualities to make a good game screen, thanks to its excellent responsiveness. The addition of the G-Sync actually at the time of its release a great value for those who want to afford the new technology Nvidia.
6. Samsung C24F396- The Curved Monitor with 24 inch panel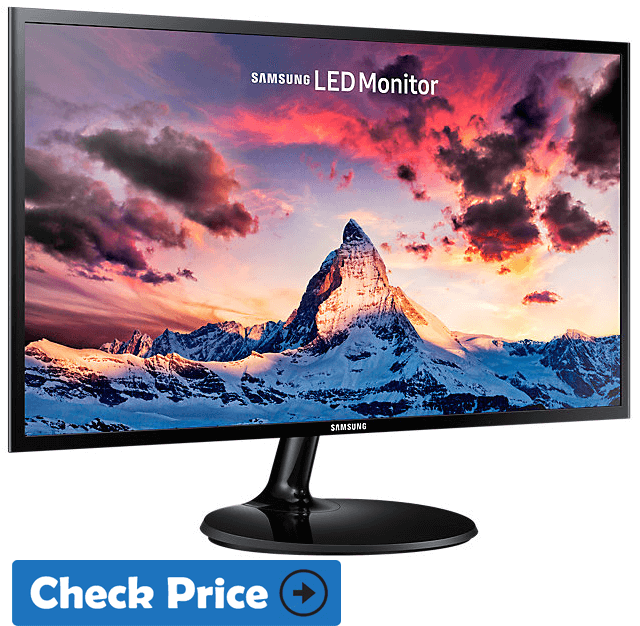 Key Specifications
Display Size: 23.5-inch
Resolution: 1920×1080  FHD
Panel Type: TN
Response Rate: 4 ms
Refresh Rate (Hz): 60Hz
Sync Technology: G-Sync/FreeSync
Dimensions (WxDxH): 8.61 x 21.56 x 16.68 in
Weight: 6.8 lbs
Contrast Ratio: 3000:1
Aspect Ratio: 16:9
Brightness 350: cd/m²
About Monitor:
The Samsung C24F390 is a very beautiful monitor which presents a magnificent line and very fine lines. Upon unpacking, we start to configure it and start a new Samsung experience. It was quite easy to do the initial setup. Very quickly, I had my first experience with this SamsungC24F396.
At first ignition, we are impressed by the quality of the clear and sharp image. The difference struck me because it was an upgrade from my old monitor. I bought a Samsung C24F396 for my home office and so far it has been really great to be my trusted partner. Of course, I also use it for entertainment and gaming too and I can say that Samsung C24F390 offers a truly immersive experience during gaming sessions. It's an absolute winner if you want to spend the evening watching your favorite shows on Netflix.
Design
Performance
Features
Connectivity
Equipped with a VESA mounting location in 75 x 75 mm , do not hesitate to hang it on an articulated arm or any other dedicated support to gain comfort in use as well as ergonomics.
Personally, I think Samsung C24F396 offers an exceptional immersive experience compared to other competitors at this price. Sure, you can't expect to have the kind of immersive experience you would get with a 40 ″ screen, but what you get with this monitor is pretty mind-blowing.
The range of colors and color quality offered by the monitor are excellent and probably among the best in this price range. The vertical and horizontal angles offer exceptional image quality! The refresh rate is excellent and ensures a minimum of saccade, perfect for long gaming sessions.
The Samsung C24F390 has an excellent 3000: 1 exceptional contrast ratio. This means you get crystal clear viewing experience even during the darkest of scenes. The curved display also ensures low light leakage from the edges of the screen.
The Samsung C24F396FHU is a 23.5-inch screen in Full HD resolution (1920 x 1080 pixels) using VA technology. This technology gives pride of place to viewing angles with 178 ° horizontally and vertically, as well as respect for colors. As evidenced by its native contrast ratio at 3000: 1, your photos will never have been so beautiful and your films more realistic! The slab itself is curved, for a design rendering and above all more immersive! You will no longer live your multimedia or video game experiences as before!
The response time is not negligible either with reactivity at 4 ms is gray-to-gray, which makes it versatile for the game if necessary. It is also equipped with AMD FreeSync technology which synchronizes your AMD graphics card to your screen. The result is a smoother image and less stressed components, so you have everything to gain!
The Samsung C24F390 monitor, part of the Samsung CF390 monitor series, offers improved comfort thanks to the deep curvature of the screen which allows the eyes to effortlessly follow images through the screen without having to change the orientation of the eye. To add to that, the Eye Saver Mode will completely change your experience. It controls luminescence blue technology works perfectly to reduce general and especially eye strain. In addition, Samsung's "Flicker-Free technology" further enhances the comfortable viewing experience by minimizing screen flicker. If you are someone who spends a lot of time in front of the computer or simply addicted to video games, this monitor is probably the one for you.
There is an HDMI port and a VGA available – not that big if you want to connect your PC to the monitor more simply. There is also a socket for plugging in your headphones.
Pros
Mind-blowing graphics
Slim and elegant design
Superior image quality
Excellent viewing comfort
A beautiful line
Correct connection
Final Thoughts: If you are looking for a stylish monitor that works well and is loaded with lots of features, the C24F396 is a great choice for you. If you often suffer from eyestrain and spend long hours at the computer, this monitor has been designed for you. Also, since the Samsung brand name is synonymous with quality, you can rest assured that this is a product that will serve you well in the long and short term.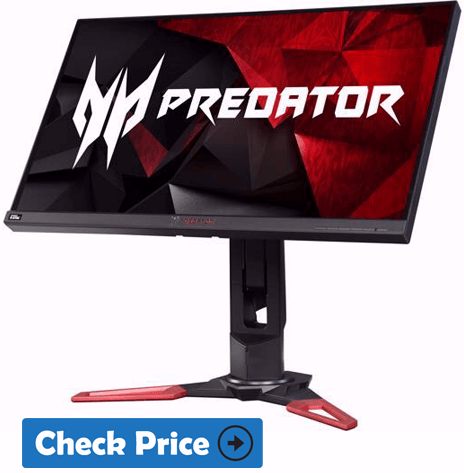 Key Specifications
Display Size: 24-inch
Resolution: 1920×1080  FHD
Panel Type: TN
Response Rate: 1 ms
Refresh Rate (Hz): 144Hz
Sync Technology: G-Sync/FreeSync
Dimensions (WxDxH): 22.3 x 10.6 x 21.4 in
Weight: 13.9 lbs
Contrast Ratio: 600:1
Aspect Ratio: 16:9
Brightness 350: cd/m²
About Monitor:
Design
Performance
Features
Connectivity
You may not like red accent support, but the design is robust and versatile.
The general ergonomics are not neglected with a height adjustable foot (150 mm) which also allows rotation , tilting or pivoting.
Like all 1 ms (GtG) game monitors, the Acer XB241H is based on the TN (Twisted Nematic) panel to speed up response speeds at the expense of color quality and viewing angle.
As a result, there are fewer vibrant colors than IPS and VA monitors, but faster pixel transition times.
The TN screen also has a narrow viewing angle of 170 degrees / 160 degrees, which changes the color, brightness, and contrast of the image when viewed from a specific angle.
However, this is not a problem for most people because most of the time they spend most of their time in front of the screen when it comes to games.
Overall, the image quality of the Acer Predator XB241H monitor is very suitable for TN panel displays.
It provides a color depth of 8 bits, a standard contrast ratio of 1000:1, and a bright peak brightness of 350 nit.
Many image adjustments are available, including advanced 6-axis settings, gamma presets, saturation and more, so you can get more than a decent image on this game monitor.
 The Acer Predator XB241H has an input offset of only 4 milliseconds, which even professional players can't detect.
In addition to a fast response speed of 1 millisecond that effectively eliminates ghosting and fast-moving object testing, faster games are more responsive and immersive.
The monitor has a native refresh rate of 144 Hz and can be overclocked at up to 180 Hz, further improving motion clarity.
The overclocking process is very simple. Set the refresh rate to 180 Hz in the OSD menu (on-screen), and then do the same with the driver on the graphics card.
Don't be afraid to push the Acer Predator XB241H to the fullest, as overclocking doesn't cause frame skips or other visual artifacts.
The Acer Predator range is aptly named as evidenced by its characteristics. Your vision will be sharp and precise, while your reflexes will never have been solicited! The XB241Hbmipr gaming screen is equipped with a TN panel with a diagonal of 24 inches with wide viewing angles (170 ° / 160 °).
TN technology is preferred by players because it is the one that has the greatest responsiveness: only 1 ms for this monitor! The slightest performance gain is essential in all games and it is this saving of time that can make the difference between victory and defeat.
Whatever the game, the fluidity, as well as the sharpness of the images, are two essential things. This Predator monitor makes no concessions and has a resolution in Full HD (1920 x 1080 pixels) associated with its response time of the order of a millisecond. The refresh rate reaches a maximum of 144 Hz but can be overclocked up to 180 Hz via the DisplayPort!
 The G-Sync technology is a technology developed by Nvidia that allows a better flow of the image. To popularize, this synchronizes the number of images sent by the NVIDIA graphics card and the number of images displayed by the G-Sync screen. This is to get rid of the effects of "tearing". Tearing is a visible phenomenon when there is no synchronization concerning the image.
Consequently, the screen refresh rate remains fixed (at 60 Hz for example) and the image is synchronized with the screen. This results in a very strong attenuation of the tearing phenomenon. With vertical synchronization, the screen performs regular scans and displays a new image each time it is scanned. Between each scan, the next image to be displayed is buffered.
The development of G-Sync brings a new dimension in performance management between your graphics card and the Predator XB241Hbmipr gaming screen. The refresh rate will no longer be fixed (60, 120 or 144 Hz), but variable, adapting in real-time to the image sent by the graphics card. This discreet synchronization results in a much more fluid image and less stressed components for better rendering. Exit the buffer and the undesirable effects (tearing or stuttering), the playing comfort reaches new height!
 The Predator XB241Hbmipr PC screen is also compatible with NVIDIA 3D Vision 2 technology. It then becomes easy to give a whole new dimension to your usual and favorite games, you just have to put on the glasses (not supplied). Please note, when 3D is activated, the refresh rate is then 120 Hz maximum. You cannot use G-Sync technology and 3D Vision 2 technology at the same time.
The connection options are not very generous. It has only one DisplayPort 1.2 port, HDMI 1.4 port, 2 built-in 2W speakers and one headphone jack.
The HDMI port of this monitor reaches a maximum resolution of 1920 x 1080 at 60 Hz by the G-SYNC module.
Pros
A response time of 1 ms at 144 Hz!
Unmatched image smoothness with G-Sync
3D Vision 2 compatible and ergonomic
Final Thoughts: The Acer Predator XB241H is an affordable G-SYNC gaming monitor that allows you to enjoy games without tears or stutters up to 180 Hz/FPS. In addition, it has a versatile design and many additional game features including ULMB.
8. BenQ GL2580H -Cheap 24 Inches Gaming Monitor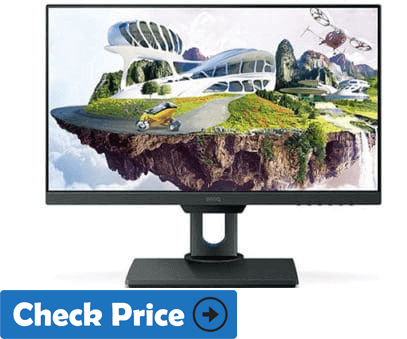 Key Specifications
Display Size: 24.5-inch
Resolution: 1920×1080  FHD
Panel Type: TN
Response Rate: 1 ms
Refresh Rate (Hz): 60Hz
Sync Technology: G-Sync/FreeSync
Dimensions (WxDxH): 16.5 x 6.5 x 22 in
Weight: 10 lbs
Contrast Ratio: 3000:1
Aspect Ratio: 16:9
Brightness 250: cd/m²
About Monitor:
The image quality is very good if a little too bright basic, but the settings are there for that. The assembly of the foot without tools is very simple. Small negative point the angles of view of the screen are not phew, but if you are in front it is good.
Good quality 24-inch screen at a very affordable price. I connected the screen to an Acer tower with windows 8. Please note that the HDMI connection did not work automatically. I had to use the "menu" button to configure the HDMI connection mode. It's not complicated but you have to know it.
As the documentation is brief, I worked for a few days in VGA mode before finding the trick. The advantage of HDMI is that the sound goes through the speakers of the screen with a single connection. I am very satisfied with my purchase.
Design
Performance
Features
Connectivity
Designed to offer an elegant and sleek display, the BenQ 24.5 "frameless monitor has ultra-thin edges and a concealed cable routing system. BenQ's exclusive Eye-Care technology with low blue light and anti-flicker modes provides sharp details in any environment. Combining ultra-fast LED and TN technologies, the GL2580H offers unprecedented visual pleasure thanks to authentic colors, deep blacks, high contrasts, and sharp details.
The plinth with its finely sculpted silhouette has no unnecessary edges, which gives it a sober and elegant aesthetic.
The texturing process gives a luxurious touch and resistant to small scratches.
With a spectacular screen with an ultra-thin edge-to-edge frame, the GL2580H offers an elegant profile that fits perfectly into any type of modern interior.

The BenQ GL2580H's input offset performance is very good with a delay of about 13 ms, which is acceptable even in competitive games, but in this case, it is highly recommended to display a higher refresh rate.
No defects were detected, such as excessive dents or dot missing/dot missing from the backlight. You can also create a custom resolution to overclock the display up to 75 Hz.
The monitor's backlight is free of flicker and incorporates four different levels of low blue light filters: multimedia, web browsing, desktop, and read.
BenQ's exclusive eye-care technologies reduce eye strain for greater comfort, improved productivity and increased workplace safety during extended periods of use. The exclusive low blue light technology filters harmful blue light to significantly reduce eye strain and irritation.
The bottom frame has five OSD shortcut keys and a power button. You can assign up to three keyboard shortcuts as shortcuts for specific features of the OSD menu.
Unfortunately, there are no exclusive game features such as AMD FreeSync, custom crosshairs, and game presets.
The anti-flicker technology eliminates flickering from traditional LCD screens to prevent fatigue and eye damage.

VGA, DVI, HDMI 1.4 and headphone jack are available. The BenQ GL2580HM model also features two 1W built-in speakers. 
Pros
Good value for money
Good screen but not perfect
Very good screen
Final Thoughts: The BenQ GL2580H is a modest and reliable budget monitor, but these days you can find better priced monitors.
9. Asus VG245H Budget Gaming Monitor with 24-inh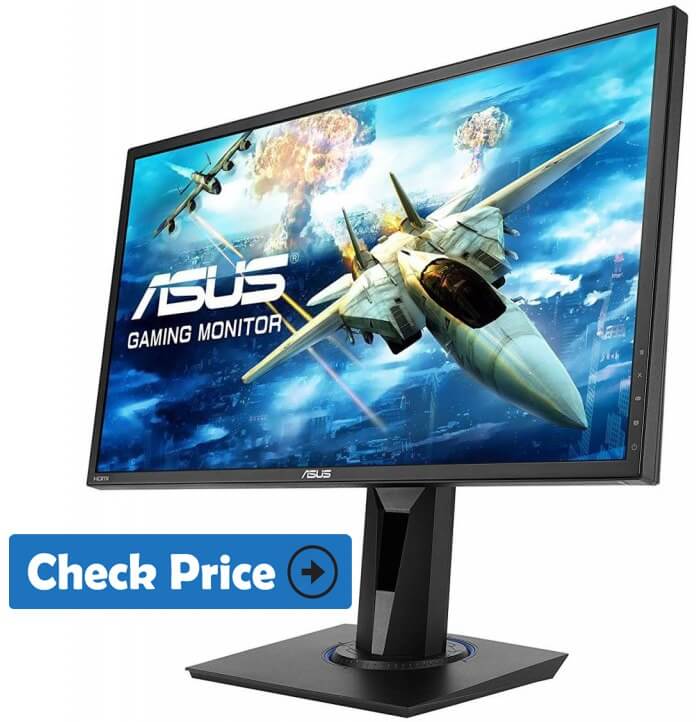 Key Specifications
Display Size: 24-inch
Resolution: 1920×1080  FHD
Panel Type: TN
Response Rate: 1 ms
Refresh Rate (Hz): 75Hz
Sync Technology: G-Sync/FreeSync
Dimensions (WxDxH): 22.1 x 8.4 x 14.2 i in
Weight: 11.3 lbs
Contrast Ratio: 1000:1
Aspect Ratio: 16:9
Brightness 250: cd/m²
About Monitor:
Quite often, unsophisticated consumers tend to neglect screen performance. However, it is this object that we look at for several hours a day. Its properties such as size, resolution and price are major factors, but it is essential to delve a little more so as to make a choice that is suited to its needs.
Computers are now used for many different tasks: for working, for gaming, watching series. To guide you in your purchase, we take into account the properties of the model according to use. Here is, therefore, the Asus VG245H test, which will allow you to form your own opinion.
Design
Performance
Features
Connectivity
The ASUS VG245H 75 Hz gaming monitor offers a wide range of ergonomics with a height adjustment of up to 130 mm, a 90° swivel, a 90° swivel, a 100 x 100 VESA mount, and a -5.33° tilt. Anti-glare matte screen coating is also applied.
As with the screen size, the resolution is the criterion for choosing a monitor. Today, most of the products are HD. It is now a standard, and very few manufacturers deviate from it. The resolution is equivalent to the number of pixels. The sharpness of the image thus increases with the number of pixels. With a resolution of 1920 x 1080 and a pixel density of 91 PPI, the VG245H is quite honorable. With such performances, you will be able to work in good conditions! It is not the big visual slap either, but it is more than enough.
Frequency and response time turn out to be relatively similar! Both are intended to measure the screen display time. However, the frequency can change with respect to the screen size, while the response time is invariable. the frequency of the Asus 1.0 is 56 Hz but let's study the response time preferably. With the disappearance of cathode screens, which did not show any latency (in nanoseconds), LCD screens go to war to display increasingly weak response times . However, this feature is only for FPS gamers, because it has no other importance. You can consider that the barrier not to be exceeded for gamers is 5 ms. With a response time of 1.0 ms, the Asus VG245H is therefore totally suitable for gaming!
AMD FreeSync technology allows you to synchronize the monitor refresh rate with the frame rate of an AMD FreeSync-compatible graphics card or Xbox One GPU.
A certain FPS frequency (frames per second) is then obtained without additional input delays in the screen tearing, stuttering, or dynamic refresh rate range. In this case, it is 40~75Hz/FPS.
The ASUS VG245H FreeSync monitor provides additional game enhancements.
The ASUS GamePlus feature consists of customizable crosshair overlays and on-screen timers that can be placed on the screen to improve video game accuracy and timing.
The connection port includes two HDMI 1.4, one audio output port for VGA, and headphones, and one audio input port for the built-in 2x2W speaker. 
Pros
Ergonomic design
up to 75 Hz AMD FreeSync
Great image quality of TN panels
Fast response time and low input delay
Cons
Color Calibration required
Final Thoughts: The Asus VG245H is a very good monitor with its resolution of 1920 x 1080 . It offers image quality that amply competes with its competitors. With 16,777,216 colors displayed on the screen, and a diagonal of 60.97 cm, this monitor turns out to be really interesting! Perfect for playing video games or watching movies in High Definition, for guaranteed fun!
10. Sceptre Frameless Ultra Slim 24 inches screen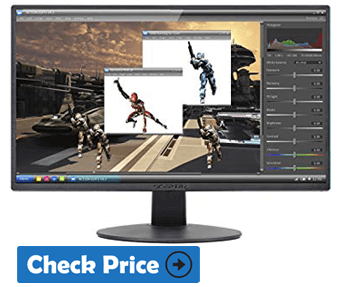 Key Specifications
Display Size: 24-inch
Resolution: 1920×1080  FHD
Panel Type:
Response Rate: 1 ms
Refresh Rate (Hz): 75Hz
Sync Technology: G-Sync/FreeSync
Dimensions (WxDxH): 21.45 x 15.67 x 6.57 in
Weight: 5.7 lbs
Contrast Ratio: 600:1
Aspect Ratio: 16:9
Brightness 350: cd/m²
About Monitor:
Scepter may be well known for making cheap general-purpose monitors and some TVs, but the company is working on low-budget (but high-performance) game monitors.
Design
Performance
Features
Connectivity
The monitor is housed in a shiny black case, and the corresponding curved support supports the screen in landscape mode. Because Scepter designed this monitor in a borderless frame, it is more expensive than the amount paid for it.
Dimensions are 22.7 x 16.7 x 7.6 inches and weigh 8.4 pounds, making it ideal for home workspaces. The stand can be tilted (front to back) and height, rotation, or rotation adjustment is not supported at this price. There is a VESA mounting hole in case the back needs to be supported by a wall.
The Scepter is a very affordable productivity monitor for everyday use rather than part of a new game. This 24-inch monitor features full HD resolution (1920 x 1080), a decent refresh rate of 75 Hz, and built-in speakers.
The response time is 5 ms, and the luminance level is 250 cd/m2. The panel displays fast-moving items well, but in recent high-resolution games, there may be delays.
Scepter is different from the more expensive monitors of PCs and Sony PS4 games. Sure, movement, blurry, and slight screen tears sometimes occur, but if you're playing a casual game after business hours, it helps.
The panel's 13.7 ms input delay (the time it takes for the monitor to respond to controller commands) is relatively short compared to its competitors.
The Scepter is ideal for budget buyers looking for a medium-sized display that delivers stable performance at an affordable price. Its thin bezel metal design provides a transparent display area where two or more monitors can be arranged side by side. If all you're looking for is an affordable, well designed 24-inch monitor, this Scepter is a good choice.
I/O inputs: D-Sub, DVI, and two HDMI ports
Pros
20,000:1 dynamic contrast ratio
Final Thoughts: If you are looking for 24-inch gaming monitor under $100, you can pick this one, it is one of the cheapest monitor in our list.
Things to Consider before Picking 24- Inch Gaming Monitor | Buyer's Guide
You should know that! The mass of gaming monitors on the market makes it understandable if you have long since lost track of things. Whether it's a 144 heart monitor, a 4K gaming monitor, a curved gaming monitor, or a 27-inch gaming monitor, it does not just depend on your own taste, but on your wallet as well. Because more expensive is always possible.
This section will help you to find out which gaming monitor is right for you. We will explain which features you should pay particular attention to.
Monitor Size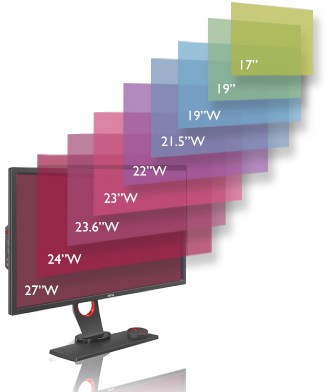 As with all technical devices with a screen, the monitor diagonal is specified in inches for monitors. The exclusion criterion for many gamers today is a screen diagonal of less than 24 inches. These models are no longer considered timely.
For gaming, screens between 24 and 27 inches in size are best, as they allow you to get the best possible distance from the screen. It's best to determine from the beginning if you want a 24 or 27-inch gaming monitor. Also, make sure that the height of the device in the product description is usually stated once with and without afoot.
Whether or not a curved gaming monitor is right for you depends above all on whether the form suits you at all. However, immersion clearly benefits from curved monitors. Also, a Curved Monitor puts less strain on the eyes during long sessions in front of the screen than on conventional models. Pricing, they are usually still on the "normal" screens. However, prices are becoming more and more alike.
The refresh rate (Hz): Especially interesting for Gamers
The monitor should not underestimate the Hz value of the monitor. The refresh rate ensures a fluid-looking image and is therefore essential for a good game flow - especially in fast games. The trend is in the direction of 144 Hz monitors. The 60 Hz version is still frequently offered and also bought but gradually displaced from the market.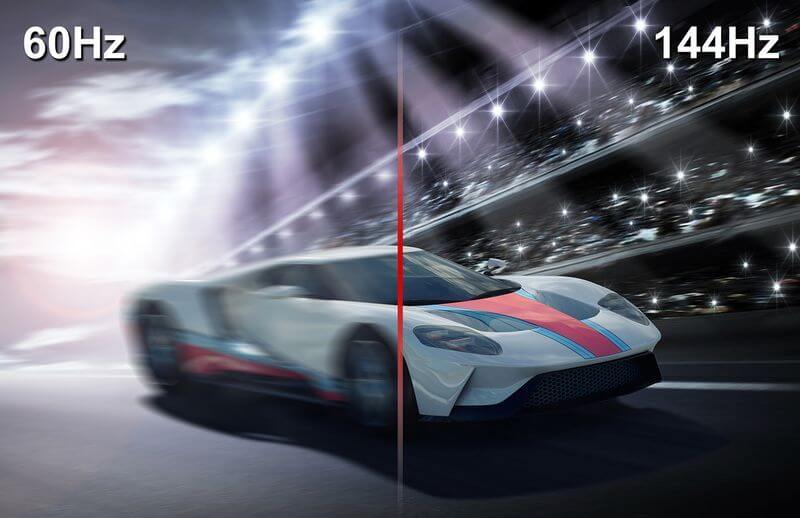 The Response Time (ms): Especially important for Shooters:
The response time describes the rate at which the LCD crystals in your screen can rebuild a new image. In technical jargon, it means image formation time or image formation time.
Reaction time is an extremely important selection criterion for gamers, especially in fast-moving shooters such as Counter-Strike, Over-watch or Battlefield. With a slow reaction time, frustration is inevitable in such games. The good thing, however, is that today's monitors with their modern panels consistently have short screen build times.
Most gaming monitors have a response time between 1-5 ms. This eliminates streaking that occurs over a reaction time of over ten milliseconds.

It often happens that a lack of reaction time is confused with the input lag, which is almost irrelevant in this type of monitor. The input lag stands for the time delay from the receipt of a signal to the structure of the actual image and occurs above all with televisions and old monitors. This makes it more important for consoles like the PlayStation 4 or the Xbox One.
Sync Technology
It's impossible not to talk about the refresh rate without mentioning the disturbing case of G-Sync / Freesync monitors. Imagined by NVIDIA, the first is none other than a technology aimed at systematically calibrating the fluidity of the animation and the refresh rate. Such synchronization means that there are no "breaks" in the image, which English speakers call tearing and which is particularly unattractive. If your graphics card is capable of delivering more fluidity - under any circumstances - than the refresh rate of the monitor, you will not need it.
In the vast majority of configurations, this will not be the case, however, and the G-Sync has been designed to help players. Freesync arrived very soon after: supported by the competitor AMD, it was less ambitious technologically, but just as efficient and less expensive. It should be noted that screens are now compatible with both standards in order to simplify the decisions of buyers.
Panel Types : (TN, PVA, MVA and IPS)
The heart of each monitor is the panel (the actual display). There are four different basic types:
TN Panel (Twisted Nematic)
IPS Panel (In-Plane Switching)
PVA panel (Patterned Vertical Alignment)
MVA Panel (Multi-Domain Vertical Alignment)
Particularly priced is a TN panel (Twisted Nematic), which is used in both monitors and televisions and has dominated the market for a long time. Meanwhile, however, it has gotten the company. Responsible for this is the slightly higher quality PVA (Patterned Vertical Alignment) and IPS (In-Plane Switching) panels, which have a much lower viewing angle dependency. This means that with these panel types it does not matter which position you look at the screen to get a good picture.
The multi-domain vertical alignment ( MVA) panels offer not only excellent viewing angle stability but also outstanding contrast and good color reproduction. However, they usually have a slower reaction time and are therefore only conditionally suitable for fast games.
Older PC monitors are often limited by a fixed refresh rate. In fast games, this can lead to so-called "input lags" – a delay in image composition. Many gaming monitors are equipped with a variable refresh rate of, for example, 60-75 Hz, which avoids these delays.
Connectivity: The interfaces on the monitor
The standard VGA input is hardly used anymore. This was displaced more and more by digital connections such as DVI, HDMI, or display port. While the Display Port is mainly used in the IT industry, the HDMI port has been mostly developed for consumer electronics only.
Almost all graphics cards now have a DVI and HDMI port. As far as the picture quality is concerned, there is hardly any difference between the two connections. If a monitor has only VGA connectors, you should go for it. In this analog interface, it comes to poorer response time and lower image quality.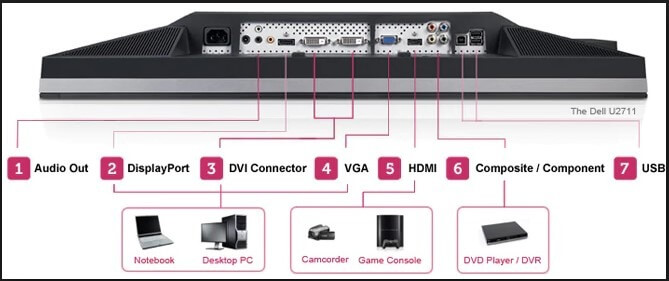 Display resolution
As for resolution, it corresponds to the number of pixels that can be displayed on the screen. The more pixels, the sharper, and the more detailed the images. For games, HD 1080p resolution (1920 x 1080) is the bare minimum. The best game monitors have Ultra HD 4K resolution, which is four times more than 1080p.
Display viewing angle
IPS monitors not only provide accurate and consistent colors, but also provide a perfect 178-degree viewing angle and a stable response time of 4 ms, but not fast enough for professional gamers. for the average player.
Contrast Ratio
The contrast ratio is represented by the difference in brightness between the brightest and darkest colors displayed on the screen. The higher this value, the better the contrast ratio of the screen, however, we must be careful what we talk about static contrast and not dynamic. For example, we frequently find on the technical sheets very high contrast ratios, of 100,000,000: 1 for our TN Acer Predator screen! Again, do not rely on this value and just compare so-called typical, or static, values.
A static contrast ratio of 1000: 1 seems ideal, beyond that the human eye perceives little difference and the screens displaying higher values ​​are mainly intended for image professionals. A screen with a contrast of less than 500: 1 will display dull images, which is generally the case with TN panels. Finally, the contrast is obviously influenced by the luminosity, or luminance, of the panel which is expressed in candela per square meter, but also by the luminosity of the room where the screen is located. Thus, the higher this value, the brighter the screen and its visible image even in a very bright environment.
Aspect ratio
Classic game monitors usually have an aspect ratio of 16: 9. Ultra-wide game monitors, on the other hand, have an aspect ratio of 21: 9, 32: 9 or more. These models create an ideal panoramic view for players, as it allows them to widen their peripheral vision in the game and see more content on the screen at the same time.
Ergonomics /Stand adjustability
we know that the cheapest screens will provide you with much less adjustment options than screens in the middle or high end. We are talking here about the height and tilt settings of the screen, the presence of a possible pivot to tilt it in the vertical position, or a VESA mounting system or a wall mount. Some gaming stamped screens finally include certain elements such as a handle for easy transport, or support to put your gaming headset on.
Sound/Audio
It will be a plus point, if monitor is integrated with speakers.
What does a 24-Inches gaming monitor really look like?
Gaming monitor comparison The modern world of video games has changed dramatically in recent years. Meanwhile, we enjoy breathtaking graphics, some of which look amazingly real. To reproduce this, of course, you need a monitor as well as a powerful computer.
That's exactly what gaming monitors are perfect for when playing high-definition content.
The screens of gaming monitors consist of so-called liquid crystals, which generate the individual pixels, which we also know as pixels. Of these pixels, each monitor has a certain number - the more, the higher the resolution. The combination of a powerful graphics card and a high-resolution gaming monitor forms the basis for enjoying modern games in their full glory.
Today, every gaming monitor has a Full HD resolution of at least 1920 x 1080 pixels. If you take a little more money in the hand, you can now get so-called 4K gaming monitors with a resolution of at least 3840 x 2160 pixels.
The best gaming monitor another feature that sets gaming monitors apart is their fast response time. With conventional PC monitors, the rapidly changing world of games often seems a bit tough, because the pixels simply can not react so quickly. That's exactly what gaming monitors can do to counter this problem by adjusting their pixels within milliseconds.
The bottom line is that a gaming monitor in 2022 is always about the reproduction of a high-quality picture. There are different properties together, such as the resolution and the refresh rate, which we will discuss later. Only if your monitor works optimally with your graphics card, you can immerse yourself in the world of modern computer games and really enjoy them.
These advantages are offered by a Gaming monitor
In most computer games, it is no longer just about pure fun, but also to compete with other players. In order to survive in the competition, of course, the technical requirements are crucial in addition to one's own abilities. If you use a traditional PC monitor with slow response time and a low frame rate, you are clearly at a disadvantage compared to players with a powerful gaming monitor. Because it is the combination of a strong graphics card and a fast gaming monitor, which is the prerequisite for the rapid reactions in computer games, which often decide on victory or defeat.
Just for this purpose, many modern gaming monitors are equipped with special boards manufactured by graphics card manufacturers such as AMD or NVIDIA. This will allow your monitor to sync with your graphics card for the most accurate frame rate possible. This will also allow your monitor to automatically switch to the appropriate mode needed for optimal game performance.
Older PC monitors are often limited by a fixed refresh rate. In fast games, this can lead to so-called "input lags" – a delay in image composition. Many gaming monitors are equipped with a variable refresh rate of, for example, 60-75 Hz, which avoids these delays.
Furthermore advantageous are special technologies that are often installed in modern gaming monitors. This protects your eyes from the monitor on long evenings, which not only protects against tired eyes but also has a positive effect on your ability to concentrate. Other features, for example, allow you to lighten certain areas of the screen, which is especially useful for quickly detecting enemies in dark corners. In some situations, such a thing can be your key advantage.
Of course, we would also like to inform you about the disadvantages of a gaming monitor in order to make a sensible purchase decision. Therefore, we have clearly listed the individual advantages and disadvantages for you:
Pros
Optimal picture quality
High refresh rate
Fast reaction time
Best possible coordination with your graphics card
Different modes
Cons
Somewhat more price-intensive than conventional PC monitors
For an optimal result you need a strong graphics card
FAQs
Is 24-inch monitor is good for gaming?
Yes, this size is almost perfect for gaming.
Conclusion
Well, This was all about Best 24-inches Gaming Monitor, I hope you got you to monitor & playing the games like a beast. Feel Free to post your feedback in the comment below.
Top-Rated 24-Inches Gaming Monitor of 2022