The computers are machines, no matter what you use, each piece has an impact on other parts of your gaming system, for this, we must carefully choose the upgrade that we are going to do and the as gaming monitor is a key part of our rig that can improve or limit the performance and quality of the game.
There are two macro-categories of players, the competitive ones, who try to test themselves online against opponents from all over the world and those who do it for relaxation and distraction in search of a few hours of fun without too many thoughts.
Both need a monitor to get their result, the competitive ones need the speed must point to monitors with 144Hz, 240Hz high refresh rate, suitable for fast-paced gaming, the others are usually oriented more towards beauty, more vibrant colors, IPS panels, and monitors with a good number of inches to fully enjoy the "show" and who can afford it even a 4k monitor for MacBook pro.
In this article, I will try to give some advice to those who want to buy the best gaming monitor Under 400 USD. I have included the most popular gaming models among the players in the research, dividing them according to the price or the main features such as Refresh rate, type of panel, or size.
Best Gaming Monitor Under 400 Dollars
I will try to explain what you need to know to choose the best model for your needs. If you don't know what to look for in a monitor, research can become a pain and there is a good chance of choosing the wrong model.
The market offers a large number of monitors dedicated to players, all with different characteristics with names never heard and untangling in this jungle unless you work in the media-world will not be easy.
Also Read: Best Gaming Monitor Under $300
Best Gaming Monitor Under 400 USD| Comparison Table 2023
5-Stars Picks | High Quality | Top Brands
Best Gaming Monitor Under $400 | 2023 Products Overview
1. Dell S2719DGF Best Gaming Monitor Under 400 USD
Key Specifications
About:
The Dell S2719DGF is a 27 ″ monitor with TN panel and refresh rate up to 144Hz & response time at 1ms, FreeSync, and WQHD resolution. It is one of the best TN screens we have ever seen and the quality is so high that, in everyday use, it can easily be exchanged for a screen with an IPS panel.
Design & Performance:
This S2719DGF well represents the typical design of Dell monitors. A border of only 6 mm surrounds the top and side of the screen, while in the lower part we find a slightly thicker border, of 14 mm. There is also an anti-glare layer, so as to make the monitor appear borderless when turned off.
At the bottom, there are small control buttons: the power button, equipped with a white LED, and others useful for accessing the different image modes, the FreeSync, brightness and contrast, and the on-screen display (OSD). We also find the keys to activate the Dark Stabilizer mode and the one to exit the menus. Pressing the buttons brings up the icon for the relevant function and a status bar at the top of the screen.
Also Read: Best Portable Monitor for Gaming
You can adjust the height and tilt, as well as rotate the monitor 45 degrees in all directions. You can also arrange the screen in portrait mode: it has no use in games, but in the office, it has its advantages.
The strong point of the S2719DGF is the speed; it works natively at 144 Hz, which becomes 155 Hz when connected to the DisplayPort. AMD FreeSync technology allows you to drop down to 40 Hz and the available frequency range allows AMD FreeSync LFC (Low Framerate Compensation) technology to double the framerate when the refresh rate drops below 40 Hz. In this way, we will never see graphic artifacts like tearing, not even using less powerful video cards.
Overall, the monitor's performance is perfect and there are no defects like dead/blocked pixels or excessive bleeding from the backlight. The backlight is flicker-free and has a weak blue light filter, so you don't have to worry about headaches or eye fatigue caused by excess screen use.
Features:
The resolution is WQHD, equal to 2,560 x 1,440 pixels: more than excellent for playing. Do not miss the FreeSync technology, compatible with the latest AMD video cards, which allows you to play without any graphic artifact.
In classic use, the Dell S2719DGF is perfect for surfing the internet and using any of the various writing suites. The excellent colors – in particular, the ideal white point D65 – make it suitable for working. The monitor, thanks to its good fidelity to the sRGB range, also performs well with programs that need a certain color accuracy without needing to touch the OSD, and this makes it very valid for graphic designers who work with Photoshop or similar software. The standard image mode is well calibrated and suitable for most uses.
Also Read: Best Monitor For Photo Editing Under $500
You can then activate or deactivate FreeSync and choose between the three overdrive speeds. "Fast", the option we have chosen, is the second of the three and the ideal compromise between the reduction of blur and ghosting. The Dark Stabilizer feature allows you to increase the detail of the shadows. In the FPS, RTS or RPG image modes, controls to manage color and saturation are also available.
There is no aggressive red or RGB playback color that most people prefer. Raise the screen up to 130mm and install it using a + /-45° rotation, + /-90° rotation, -5°/21° tilt, or VESA 100x100mm mounting template.
Also Read: Best Monitor for coding
Connectivity:
The display connector is down, HDMI 1.4 up to 60Hz, HDMI 2.0 up to 144Hz, DisplayPort 1.2 up to 155Hz, one upstream, and four USB 3.0 ports downstream (BC 1.2 high-speed charging on one port), and headphone jack. The screen is subjected to matte anti-glare treatment.
AMD FreeSync works with DisplayPort (AMD and NVIDIA cards and 155 Hz) and HDMI 2.0 (AMD and up to 144 Hz Xbox One cards).
[youtube https://www.youtube.com/watch?v=6KIkch1-LkI]
Pros
Fantastic color precision
Responsive gaming experience
Low input lag & great response time
Smooth FreeSync & G-SYNC
Cons
Integrated speakers are missing
Bottom Line: It is one of the most accurate gaming monitors ever seen in the price range of 400 USD. The brightness is excellent, reaching a maximum of about 350 candles.
Key Specifications
About:
Full HD monitors still dominate the scene and, although many say the opposite, they are widely spread among gamers, especially among those looking for maximum fluidity.
Among the monitors of this type, we find the proposals based on the 24.5-inch Full HD TN panel with a native 240 Hz refresh rate of AU Optronics.
Also Read: Best portable laptop monitor
Design & Performance:
As for the style, Alienware's proposal is not tacky, but there is no doubt that it is a gaming monitor. The upper and sides frame is 5mm thick, while the bottom frame is 14mm. Let's say that if it is not a frameless monitor, we just miss it and we hardly notice it when playing.
On the monitor, there is an anti-reflective layer with 3H hardness, which rejects direct light well to return a clear and sharp image. The control keys are in the lower right part and the response to the pressure is of quality.
The base is metal and very thin, but solid, without any inclination or oscillation. The upright is thick. The panel slides up and down smoothly for an extension of 10.5 cm. The inclination is 25 ° backward and 5 ° forward, but the rotation is minimal, only 20 ° on both sides. The limit is due to the large size of the upright and the mounting method used. It is also possible to put it in portrait mode.
The AW2518H, a product with support for Nvidia G-Sync technology. The panel reaches 240 Hz without overclocking and allows you to use ULMB mode up to 144 Hz. The previous panels stopped at 120 Hz, an easy value to overcome in Full HD. The bit depth is 6 bits with Frame Rate Conversion to bring the bandwidth to 8 bits.
The video processing is so good that, if you were to see it, it is probably a problem of the content itself and not of the monitor. Like other 240 Hz screens, the AW2518H also focuses on responsiveness and fluidity of movement. With a suitable video card, you can easily reach 200 FPS even in the most demanding games. The QHD and UHD monitors offer higher pixel density, it's true, but seeing more detail will be of little use if your opponents get dry quickly.
If you don't want to spend more you can read my great guide on the best monitor for gaming under 200
Features:
The lighting system is FlickerFree and the electronics are compatible with AMD FreeSync, the technology that allows you to synchronize the display update with the frame generation speed by the most recent AMD cards.
No gaming monitor would be complete without some lighting and the Alienware implementation is effective. It consists of three light bars arranged in a star shape on the back and a small alien symbol in the upper right corner. The OSD has color options. You can choose from 20 primary tones or have it change automatically.
Ergonomic features are compatible with 130mm height adjustment, 90-degree pivot, 20-degree left and right rotation, -5, 25-degree tilt, and VESA 100 x 100 mount. It is covered with a matte anti-reflection coating (3H).
Connectivity:
 a Displayport 1.2, two Hdmi 1.4, four Usb 3.0 plus one for the upstream. The USB ports are divided into two groups, two behind and two in front, in the center under the lower edge. Two mini jacks for audio output and headphones complete the equipment.
Pros
The monitor is very bright
The colors are beautiful and saturated
Best for fast-paced games
1080p 240Hz 1ms models
Cons
Average accuracy without calibration
no gamma option
There are no integrated speakers
Bottom Line:Alienware AW2518H offers fantastic gaming performance with unparalleled speed and response for a 25 "Full HD TN screen. Although many may want higher pixel density, superb image quality will not lose no detail. A unique approach to the range allows you to have a depth of image and a color saturation slightly higher than the other screens. The price is high, but this level of performance conquers. Once you try it you will want it at all costs.
3. LG 27GL83A Monitor For Gaming Under $400
Key Specifications
Size 27″
Panel Type IPS-Type LCD
Touchscreen No
Resolution 2560 x 1440
Aspect Ratio 16:9
Pixels Per Inch (PPI) 108 PPI
Maximum Brightness 350 cd/m2
Contrast Ratio 1000:1
Refresh Rate 144 Hz
Adaptive-Sync Technology G-Sync, FreeSync, Adaptive-Sync
Bit Depth / Color Support 8-Bit+FRC (1.07 Billion Colors)
HDR Compatibility HDR10
Color Gamut 98% DCI-P3 98% CIE1976
Response Time 1 ms (GtG)
About:
The 27-inch LG 27GL850 screen embodies the brand's next generation of gamer monitors. LG promises an ultra fast, precise and ready screen to work with Nvidia and AMD cards, thanks to the support of G-Sync and Free Sync technologies.
Also Read: Top 1440p Monitor
Design & Performance:
this LG 27 inch monitor has it all (we) like it. Starting with its size. Thanks to the "V" shape of the stand, it seems that the screen does not take up much space on the desk. In practice, it occupies the ground well but as its support is not too massive and blends into the background, we no longer pay attention to it quickly enough. Especially when the keyboard, the mouse as well as all possible and imaginable objects populating our office have found their place.
It is possible to adjust its height (great!) And rotate the panel 90 ° to switch it to portrait mode. In dual-screen use, it is very practical to display and follow long Twitch threads for example ... or, more prosaically, to read the text. Of course, it is possible to vary the up / down inclination of the slab but there is no right/left axis. Pity.
Features:
The matte screen tile is IPS type and displays an image in 2560 by 1440 pixels (1440p in 16/9). It is refreshed up to 144 Hz or 144 times per second. With such a speed, the rendering is twice more fluid in games than on a conventional screen, the frequency of which peaks at 60 Hz. The screen is, of course, HDR10 compatible (we made sure) and certified to DCI standards -P3 (98%) and sRGB (135%).
it is compatible with Nvidia G-Sync and AMD Free Sync technologies. Clearly, no matter how stable your graphics card is, the screen refresh rate harmonizes with the number of frames per second generated by the card provided that you check the right boxes in the Nvidia or AMD drivers
The response time (black/white) was flashed to 9 ms by our test device, which is more than correct.
Note that the 1 ms response time displayed by LG is gray-to-gray, a passage easier to negotiate for liquid crystals than that from black to white.
The maximum brightness recorded in the center of the screen is 290 cd / m 2, while LG claims 350 cd / m 2.
The contrast ratio, in sRGB, has been evaluated at 953: 1 which is in line with what the technical data sheet announces: 1000: 1.
Also Read: Best 24 inch Monitor For Gaming
Connectivity:
It consists of three video inputs (HDCP 2.2 / 2 HDMI 2.0 and 1 DisplayPort 1.4), a headphone jack and two USB 3.0 ports. In order for them to be recognized by the PC, you must connect the USB 3.0 repeater cable (supplied) to the back of the 27GL850 and connect it to a USB 3.0 socket on your PC.
Pros
Ergonomics and clarity of the menus
Height adjustment and 90 ° rotation
Overall image quality
144 Hz refresh
Cons
Average brightness in sRGB
No remote control
No horizontal rotation
Bottom Line: We appreciated the possibility of adjusting the height as well as the settings menu, so easy to handle. As for the borderless slab, it is a real pleasure for the eyes. Too bad it did not completely manage to make us succumb, despite very honorable technical services. Either way, whether it's playing or working, it won't disappoint.
4. AOC Agon AG271QX Recommended Monitor Under 400 Dollars
Key Specifications
About:
With the AGON line, AOC is directly establishing itself as a heavyweight in gaming! We thus find the AG271QX which aligns impressive technical specifications as well as a racy design and careful ergonomics.
It is indeed equipped with an ultra-reactive TN panel (1 ms response time who says better?), All in WQHD resolution, or 2560 x 1440 pixels! Rediscover your games with a whole new precision, all with reactivity that will test your reflexes. Will you reach the level required to take AGON?
Design & Performance:
The AGON AG271QX screen is not only about raw power, but also perfect control of its settings. With its graduated foot, choose precisely how high you want to put your screen and keep this setting to reuse it even if you move it later! With an amplitude of 130 mm, this height adjustment is accompanied by a pivot function for use in portrait mode.
Two additional features are added in terms of ergonomics, starting with a 4-port USB hub under the 3.0 standard. Connect directly from your screen a storage device, your mouse, or put your smartphone to charge ... or all at the same time! No need to dive behind the tower, everything is close at hand! The second compliment is a simple swivel metal rod placed at the back of the screen. This rod turns into support for your helmet in order to store it neatly and not have it lying around on your desk!
The 16: 9 aspect ratio of the widescreen provides plenty of space for lying and working; it also allows you to enjoy games or movies in their original format.
Also Read: Best portable monitor for MacBook pro
Features:
With its maximum refresh rate of 144 Hz, do not be afraid to put your games in maximum resolution (2560 x 1440) without suffering untimely drops of framerate! The AG271QX covers you and brings you victory on a silver platter!
In addition to its responsiveness, this PC gaming screen can call on its exceptional fluidity to seduce you thanks to a weighty ally: the Freesync technology developed by AMD! This feature synchronizes the number of images displayed by your screen and the number of images sent by your graphics card. The result is an extremely fluid image without tearing or stuttering effects. This breathtaking fluidity translates into playing comfort that simply leaves you dreaming. Importantly, this feature is only available through the DisplayPort.
Enjoy better eye comfort thanks to Low Blue Light technology! In order to preserve the health of your eyes, this technology blocks part of the harmful blue light rays without altering the displayed colors! With this technology signed AOC, you do not suffer from any darkening or yellowing of the image! In addition, the hybrid solution of AOC's Flicker-Free technology regulates brightness, without flickering and guaranteeing excellent visual comfort.
Connectivity:
Connectivity on its side is absolutely not restricted with the presence of a VGA port, a DVI port, two HDMI ports, as well as a DisplayPort available. This variety of connectors allows you to connect any device in addition to your gaming PC!
Pros
Wide screen with QHD resolution
Great color richness with a dynamic contrast
Analog VGA connector
Built-in 3 Watt speakers
Helmet holder on the side of the screen
Cons
No backlight scanning
Reduced viewing angles
Bottom Line: This monitor is almost flawless. The AOC monitor will seduce all players with its reactive panel, its plethora of connectors and its perfect ergonomics. Fast actions and dramatic transitions are smooth, without the unpleasant effects of ghost images. This would be ideal for passionate gamers.
5. Asus VP28UQG 4k Resolution Monitor Under 400 USD
Key Specifications
Panel Size 28″
Aspect Ratio 16:9
Resolution 3840 x 2160
Brightness 300 cd/m²
Contrast Ratio 1000:1
ASUS Smart Contrast Ratio (ASCR) 100,000,000:1
Viewing Angles (H/V) 170°/160°
Response Time (GtG) 1 ms
Refresh Rate: 60Hz
Display Colors 1.07 billion (10-bit)
GamePlus (modes): Yes (Crosshair/Timer/FPS Counter/Display Alignment)
Low Blue Light: Yes
FreeSync Technology supported
Display & HDMI: 24~99 kHz (H) / 40~60 Hz (V)
About:
ASUS again shows its ability to come out of monitors with impressive features. The VP28UQG is a 4K Ultra HD resolution screen, equipped with a 28 inch TN panel with a refresh rate of 60 Hz and a very fast response time: only 1 ms. Also take advantage of new AMD FreeSync, Flicker-Free and anti blue light mode technologies.
Design & Performance:
This monitor will adapt perfectly to your setup thanks to its classic and elegant design. It features a 2.5-inch thick black cabinet with thick (0.5 inches) glass and matte anti-reflection coating. The back of the cabinet has four VESA mounting holes, supported by a circular base and a mounting arm that provides a 25-degree slope.
Features:
The Asus VP28UQG screen is equipped with a TN panel, which allows it to have a response time of 1 ms. Enjoy superior image quality thanks to its 28 " diagonal with 3840 x 2160 px UHD 4K resolution generating precise and realistic graphics. Immerse yourself in a detailed virtual universe with superb texturing elements for ever more beautiful parties or films! With its frequency of 60 Hz, your VP28UQG screen can generate up to 60 images per second which result in better fluidity for increased precision during your fights.
Thanks to its super-fast response time of 1 ms, you gain speed and reflex: necessary assets for a gamer, no more kinetic blur, and drag effects
Gaming Performance: This monitor offers content at a frequency of 60 Hz, enough to bring smooth and clear images! In addition, this screen carries with it FreeSync technology developed by AMD! This AMD FreeSync technology synchronizes the number of images displayed by your screen and the number of images sent by your AMD graphics card. The result is an extremely fluid image with no tearing or stuttering effects: dominate your opponents in any FPS, racing game, or MOBA. In addition, this VP28UQG monitor has GamePlus, an Asus feature that improves your gaming skills.
Two technologies are at your service to triumph: flicker-free and low blue light. The first will reduce the flickering of the screen, while the second will reduce the blue light emitted by the screen, responsible for eyestrain. Play longer and with more and better eye comfort!
Connectivity:
5-way OSD Navigation Joystick
I/O Ports Signal Input
2 x HDMI (v2.0)
1 x DisplayPort 1.2
Earphone Jack
3.5 mm mini-jack
Pros
A convincing default color rendering
Correct scaling in Full HD for games and movies
Good lateral viewing angles for a TN panel
Smooth and tear-free display
Cons
Upper and lower viewing angles are a bit narrow
lacks built-in speakers
Bottom Line:It   is an exceptional PC screen with its resolution of 3840 x 2160 . It provides image quality that amply competes with its competitors. With high colors displayed on the screen, and a diagonal of 71.12 cm, this PC monitor is monstrous! What to dream of better if you want to take full advantage of software in very high quality. It will suit all kinds of uses: graphic designers, gamers, etc. Obviously, we advise you.
Key Specifications
Size 31.5″
Panel Type VA LCD
Curvature 1800R
Touchscreen No
Resolution 2560 x 1440
Aspect Ratio 16:9
Pixels Per Inch (PPI) 93 PPI
Maximum Brightness 250 cd/m2
Contrast Ratio 3000:1
Dynamic Contrast Ratio 80,000,000:1
Refresh Rate 144 Hz
Adaptive-Sync Technology FreeSync
Bit Depth / Color Support 6-Bit+FRC (16.7 Million Colors)
HDR Compatibility None
Color Gamut 85% NTSC
Response Time 5 ms
About:
The VX3258-2KC-mhd is an excellent monitor with frameless design. The desk next to the Xbox One X looks very smart. The stand is minimalist and fits the overall design of the monitor.
However, the feature that stands out is the curved panel. You can tilt the monitor to find the perfect angle, but unfortunately, you can't move it up or down.
You may also interested in Best Ultra-wide Curved Monitor
Design & Performance:
The curved MVA screen is eye-catching. It is a beautiful 1800R that enhances viewing comfort. The elegant concave screen with very light glasses provides an incredibly immersive viewing experience with panoramic images, vibrant colors, and amazing detail.
It offers significantly less ergonomics than the gamer model. It only allows the display to be tilted up to 5 degrees forwards and up to 10 degrees backward. A rotation or height adjustment of the display is not possible with this monitor
Features:
The WQHD resolution of 2,560 × 1,440 pixels Is almost identical but differs in price and ergonomic functions. Both models offer a curved display with a size of 31.5 inches and a refresh rate of 144 Hz with FreeSync support.
It is a bit slower in response time with 5 ms gray to gray.
HDR: It can also handle HDR image signals, the VX3258-2KC does not support this at all. In view of the comparatively low brightness of the XG3240C, however, this is an aspect that can be tolerated, because real HDR is also not possible with the gamer monitor. The maximum brightness is also what distinguishes the two monitors. Because while the XG3240C should offer up to 300 cd / m², with a maximum of 258 cd / m² being achieved in the test, ViewSonic specifies a maximum of 250 cd / m² for the VX3258-2KC.
The integrated loudspeakers, the gaming variant comes up with two 6 watts instead of the 2.5-watt loudspeaker.
A joystick for the OSD
Fortunately, the VX3258 also uses a joystick to operate the on-screen display (OSD). However, the menu navigation is not optimal, since it is not always intuitively clear whether the joystick has to be pressed or steered down. If, for example, you intuitively expect to go down to the respective submenu in the menu view that folds down by operating the joystick, this will always end the OSD, since the joystick must be pressed for this. The navigation is therefore not optimal, especially since the assignment of directions is not the same in all menus, which is why there are always unwanted actions.
Sound: It has two built-in 2.5-watt speakers. These do a pretty good job. However, when I watched a movie or played a game, I found that I needed to turn the volume to 75 to make the volume 100.
Also Read: Best Curved Gaming Monitor Under 300
Connectivity:

 It features two display ports and two HDMI 2.0 inputs. There is also a 3.5mm audio output jack on the back of the monitor that allows you to connect your favorite gaming headset.
Pros
Curved Screen Design
Dual integrated speakers
3-Years Wattanty
Cons
lack of remote control
Not gaming monitor Under $400, a bit expensive
Bottom Line: If you're looking for a new game monitor, the ViewSonic VX3258 is the place to be. Thanks to the curved screen, it provides an immersive game screen. When you play and watch the TV, you get a clear and vivid image. In addition, there are many settings for personalizing the experience.
Key Specifications
Size 27″
Panel Type VA LCD
Touchscreen No
Resolution 1920 x 1080
Aspect Ratio 16:9
Pixels Per Inch (PPI) 81 PPI
Maximum Brightness 300 cd/m2
Contrast Ratio 3000:1
Dynamic Contrast Ratio 100,000,000:1
Refresh Rate 165 Hz
Adaptive-Sync Technology FreeSync
Bit Depth / Color Support 8-Bit (16.7 Million Colors)
HDR Compatibility None
Color Gamut 92% DCI-P3 118% sRGB
Response Time 1 ms (MPRT)
About:
The MSI MAG271Ris a 27 ″ 1080p 165Hz game monitor based on an VA panel with vivid colors, wide viewing angles, fast pixel response time and many other useful game functions!
It is the perfect monitor for those who like fast competitive games but also want beautiful colors for content creation and/or more immersive image quality.
Design & Performance:
You can raise the monitor screen up to 130mm and tilt it by -5 ° / 20 °, but you cannot rotate or rotate it. You can also mount the screen via the VESA 100x100mm pattern.
The monitor has a matte anti-reflective coating that eliminates reflections and an ultra-thin frame ideal for multi-monitor installations.
MSI specifies a pixel response time speed of 1ms GtG, which is a bit of an exaggeration, but all monitor manufacturers do.
Even the fastest TN panels with a response time of less than 1 ms GtG do not really have an average pixel response time of 1 ms GtG.
Either way, the actual response time of the MSI MAG271R is fast enough to eliminate most of the streaks behind fast-moving objects.
Features:
If the resolution of 1920 × 1080 may seem somewhat exceeded compared to the other specifications, it will allow you to obtain a decent pixel density on the 27 ″ screens of the MSI MAG271R.
The monitor is based on a new VA panel with wide viewing angles of 178 °, a peak brightness of 300 bits, a static contrast ratio of 3000: 1, a range of sRGB colors approximately 100%, 1080p resolution, and 10-bit color depth support.
These specifications are also found in more affordable VA screens, but what sets the MSI MAG271R monitor apart is the high refresh rate of 165 Hz and the fast response time of 1 ms of pixels.
So not only do you get vibrant, precise, and consistent colors, but you also get incredible clarity of movement in fast-paced video games, with ghosting or almost no motion blur.
The wide viewing angles also help ensure that the image stays perfect no matter which angle you view the screen from.
Finally, the MSI MAG271R supports HDR (High Dynamic Range) and carries the entry-level DisplayHDR 400 certification from VESA, which is essentially irrelevant.
Connectivity:
Connectivity options include two HDMI 2.0 ports, DisplayPort 1.2, USB-C (with DP 1.2 Alt Mode and 15W Power Delivery, but no data transmission), a headphone jack, and four USB 3.0 ports (1 upstream port + 3 ports down the left side of the monitor).
Pros
Exceptional pixel response time
Bright and precise colors
Wide viewing angles
Fast response time
Height adjustable stand and lots of connectivity options
Cons
Design lacks swivel options
Bottom Line: Thanks to its VA panel with wide viewing angles, vivid colors and a fast response time, the MSI MAG271R is the perfect monitor for those who are as serious in gaming as in their work. In addition, you benefit from many additional features such as G-SYNC certified compatibility, reduced motion blur, a height-adjustable stand and rich connectivity options.
How to Choose The Best Gaming Monitor Under 400 Dollars | Ultimate Buyer's Guide 2023
Size
Let's say 27 inches is a perfect size. It is true that this involves some logistical problems related to space management. If the room allows it, you can also evaluate a larger size, otherwise, you should not drop below 24/25 inches. Greatness, however, matters little if it is not weighed against the resolution.
The resolution
The market currently offers 3 main resolutions :
Full HD: 1920x1080 pixel resolution. This is the standard that allows you to keep the quality/price ratio under control;
2K Monitor: here the resolution is 2560x1440. It goes down a bit but we are still at a good level;
4K Monitor: the best one, or 3840x2160 pixels, to which you can also associate a machine with excellent performance, to make the most of it.
Resolution of a gaming monitor
Starting from the origin, a pixel is the smallest part of the display, therefore a tiny dot visible when you turn on the computer screen.
Then, once all these dots join together, they form images, precisely those visible on the PC monitor.
At this point, it is possible to decipher the term resolution. It is a numbering that is given by the multiplication of vertical pixels with horizontal pixels. The higher the pixel count, the higher the resolution.
HD (High Definition): this term indicates a high-resolution monitor. It can be 1280x720 or 1920x1080. We often read HD Ready, but this happens when a monitor does not have the high-resolution feature, so it is always good to check before buying it.
The formats currently available on the market are 720p, 1080i, and 1080p, where the letter "p" indicates a real progressive resolution, while the letter "i" indicates a kind of computer system that has the aim of adding pixels to improve image quality.
Full HD (Full High Definition): it is considered an evolution of the HD format. The only thing is that this resolution must have cells of at least 1920x1080 pixels, which means free of any compression or reduction, as was the case for the previous resolution.
2K: is an intermediary between Full HD and 4K. There are several monitors with this type of resolution (2048x1080), but few are purchased because there are no films, games or programs on the market with this resolution on the market, but they go directly to 4K or remain stable at Full HD.
4K: A big qualitative leap has been made here. The resolution consists of 3840 horizontal pixels and 2160 vertical pixels. There are no television programs at this resolution, but it is possible to find films or TV series on some platforms. Even the DVDs have been marketed with such graphics, obviously, they have a higher cost.
Panel Type
The first feature is the panel technology. With LCD monitors there are 3 panels available on the market ( TN, VA, and IPS ), each with its strengths and weaknesses.
The word TN stands for Twisted Nematic. In this case, we are dealing with a panel with a high response speed, low consumption and high brightness, for this reason, they are also very cheap, but their defect lies in the annoying chromatic variation when we look at it from a lateral angle.
The angular vision is better in the VA panels, which are also characterized by a high yield of black, which perhaps makes them more suitable for films.
The IPS technology, on the other hand, has a slower response time than the others but the color rendering is higher, even when viewed from the side angles.
Response Time
The response time, on the other hand, is measured in milliseconds and tells us the speed with which the pixels change from black to white, in a more technical way it is called the time they take to go from one grayscale to another.
Ever heard of the ghosting effect?
This is the effect whereby a moving image on the screen tends to leave the trail of itself. This depends on excessively slow response time. Usually, a value beyond which not to rise is 5ms.

Refresh Rate
The latter is expressed in HERTZ and it is good to remember that it does not affect the quality of the image but its fluidity.
Here you have to be careful, because the refresh rate value, which could be 120 or 140 Hz should be measured to the performance of the graphics card. It is not enough to have a high frequency if the graphics card is not able to process a number of frames per second suitable for the frequency of the monitor.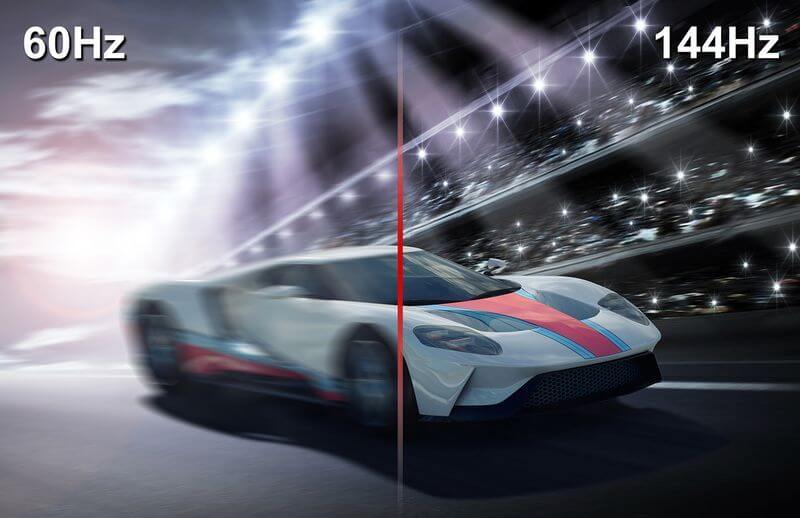 AMD FreeSync and NVIDIA G-SYNC
Before explaining the function of these two technologies, it is good to introduce the meaning of refresh rate, or the monitor refresh rate that is measured in Hz (Hertz). This parameter is vital in gaming monitors, in fact, it varies. The video card sends frames to the monitor and, if the frequency of the latter corresponds to 30 Hz, it means that it updates the screen 30 times per second. This is why it is important to have a good refresh rate, otherwise, shots or non-smooth images occur, which is not very nice for gamers.
At this point, it is possible to talk about the two technologies. Both are based on a variable or adaptive refresh rate and, thanks to them, the video card communicates with the monitor, starting a real synchronization to improve the image quality. However, there are differences between the two.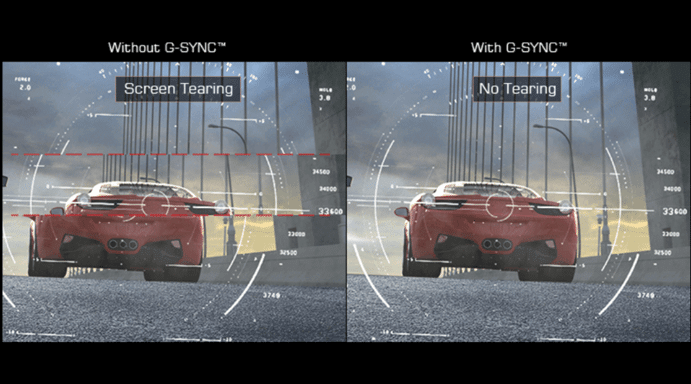 For example, the G-SYNC technology was the first to be designed at the hardware level, that is, it is managed by a particular module made from materials characteristic of NVIDIA. The advantage is that it prevents ghosting by improving the refresh rate. Ghosting is a replica of a part of the image that is transmitted, superimposed on the new frame.
As for the FreeSync technology, it is managed by the monitor firmware and by the video card drivers, therefore not by proprietary components as was the case for the previous technology. In fact, AMD FreeSync is based on open systems, and this is a benefit that should not be underestimated. This technology is based on a link that is called DisplayPort and implies a decrease in the price of the monitor.
In short, if you don't want to spend a lot, you can tack on AMD FreeSync by choosing a compatible video card and monitor; if instead you want to aim for the highest quality, then it is good to turn on AMD G-SYNC, spending a little more.
HDR (High Dynamic Range)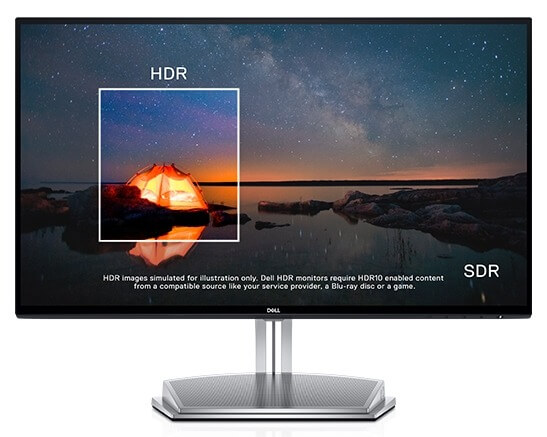 It is a very important technology because it improves images in those areas where there is a lot or little lighting.
It makes them more realistic, increasing the level of detail in each light gradation. HDR technology is not only found on smart TVs but is also available in gaming monitors, because it samples the variation of any dark or bright tone within a transmitted scene, avoiding overlaPPIng bright images or loss of detail for images dark.
HDR is possible because it uses a common electro-optical transfer function, i.e. reproduces images on the monitor almost identical to reality. The goal is to make sure that the human eye does not distinguish what it sees inside the screen from what it sees outside the screen, making everything homogeneous. Hence, HDR technology is undoubtedly better than SDR technology, common for older monitors.
Motion Blur Reduction Technology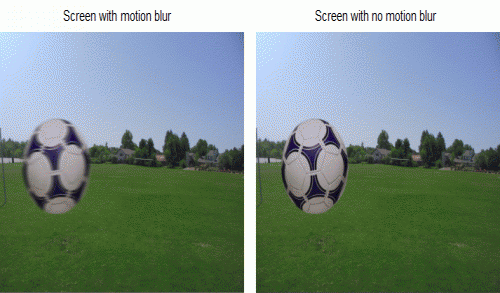 This technology was created with the aim of breaking down the Motion Blur on the monitors, thanks to a stroboscopic effect that provides for the activation and deactivation of the backlighting at high frequencies.
This type of effect is very close to reality, or rather, to what is visible and perceptible to the human eye. Motion Blur generates a kind of trail during a rapid change of view, just what happens to all of us when we quickly turn our heads while observing objects that have a minimum of light of their own. The most classic examples are a lit lamp, the headlights of a car, a candle, etc.
It does not cause any increase in the graphic sector but is adopted only to add that touch of augmented reality. In addition to gaming monitors, it is possible to activate it on professional cameras.
Flat or curved screen?
Between a flat-screen and a curved screen, almost nothing changes, apart from their external structure. The monitors, in fact, have different resolutions (those described above), but there is no curved screen that has better graphics than a flat-screen or vice versa. What changes is their construction method?
What offers a curved screen is greater involvement and a sense of immersion, precisely for the different angles compared to a flat-screen, and offers a better vision, only if the person is in a correct position respecting the focal point.
Also Read: Top Curved Gaming Monitor Under 300 USD
The contrast is more or less similar, in the sense that it is obvious that the more you move away from a central position, the more the image quality appears lower.
From an aesthetic point of view, one must give a point in favor of the curved-screen because it appears more elegant, more modern, and avant-garde, so much so that it takes on a certain charm even when it is off. There are no big differences in quality between the two because the resolutions are the same, but the price rises for curved screens.
Connectivity & Other Factors:
The first thing to pay attention to is definitely the outputs that the monitor has, so you can get an idea depending on the device to which you have to connect it.
In addition to the traditional HDMI output, it may also affect a Dual Link output or a DisplayPort.
The presence of at least one USB port is also another aspect to consider, in some cases, it could be very useful. If you do not want to equip yourself with a sophisticated external audio system, then there is also the presence of integrated multimedia speakers, and their quality.
Then there is the far from the secondary question of comfort. Unless you rely on impromptu inventions, it may be important to have a monitor that has some height and tilt adjustment system.
Most of the standard monitors in circulation do not provide this kind of optional or do not allow particularly fluid movements, while a good adjustment of the height and of the horizontal viewing angle can have a great impact on the gaming experience.
FAQs
What is Gaming Monitor
Let's start immediately with a consideration that may seem obvious but necessary: ​​each monitor can be used for any purpose, in fact, it is not uncommon for a gaming monitor to be described as a very normal screen to be used on any PC.
However, this is not to say that each monitor can meet the needs of different users.
The monitors marketed for the average consumer, standard multimedia monitors, will hardly find appreciation in the player looking for advanced experience and greater involvement as he sits in front of the game of the moment.
For this reason, monitors have been designed for those who love to play, whether they consider themselves a professional or not, monitors that have characteristics that distinguish it from all the other screens in circulation.
There are some peculiarities that make gaming monitors different from traditional ones, capable of enriching the user's gaming experience.
Why I should buy Gaming Monitor
There is a first consideration to make: a player spends many hours in front of the monitor, which implies that the first quality of a monitor should be precise to affect the eyestrain as little as possible.
The games, over the years, have become incredibly realistic, what we ask a monitor, in this case, is to support this realism, guaranteeing bright colors, as similar as possible to the real ones, and a fluid movement of all graphic elements.
Then we ask that there is depth in the sets and that the elements are well contrasted, so as to transmit even stronger the feeling of something real as if we were living that experience live.
These are some of the reasons why it is worth considering buying a dedicated gaming monitor.
What Is The Best Monitor For Gaming Under 400?
There are several good options for gaming monitors under $400, but some of the best ones are:
ViewSonic XG2405: This is a 24-inch IPS monitor with a 1080p resolution and a 144Hz refresh rate. It also supports AMD FreeSync technology and has a 1ms response time.
AOC C24G1: This is a 24-inch curved VA monitor with a 1080p resolution and a 144Hz refresh rate. It also supports AMD FreeSync technology and has a 1ms response time.
MSI Optix G27C4: This is a 27-inch curved VA monitor with a 1080p resolution and a 165Hz refresh rate. It also supports AMD FreeSync technology and has a 1ms response time.
Asus VG249Q: This is a 24-inch IPS monitor with a 1080p resolution and a 144Hz refresh rate. It also supports AMD FreeSync technology and has a 1ms response time.
Acer Nitro VG240Y: This is a 23.8-inch IPS monitor with a 1080p resolution and a 144Hz refresh rate. It also supports AMD FreeSync technology and has a 1ms response time.
All of these monitors offer a great balance between performance and price, making them ideal for gamers on a budget.
Is a 2k Or 4k Monitor Better For Gaming?
The answer to this question depends on various factors, such as the size of the monitor, the distance between the viewer and the screen, and the hardware specs of the computer running the games.
In general, a 4K monitor offers higher resolution and more details than a 2K monitor, which can enhance the gaming experience. However, a 4K monitor may require more powerful hardware to run games smoothly at high graphics settings, which can be expensive.
A 2K monitor, on the other hand, offers a good balance between resolution and performance and can be a more affordable option for gamers.
Ultimately, the best monitor for gaming depends on individual preferences and needs, as well as the budget available. It's important to consider the hardware specs of the computer and the size of the monitor to ensure that the gaming experience is smooth and enjoyable.
What Hz Is Good For Gaming?
The refresh rate of a monitor, measured in Hz, determines how many times per second the screen is updated with a new image. The higher the refresh rate, the smoother the visuals on the screen appear. When it comes to gaming, a higher refresh rate can provide a significant advantage, as it allows for more fluid and responsive gameplay.
For gaming, a minimum refresh rate of 60Hz is recommended, but a higher refresh rate, such as 120Hz or 144Hz, is ideal for more demanding games. In recent years, even higher refresh rates of 240Hz and 360Hz have become available, but they are typically only necessary for professional esports players or those who play highly competitive games.
Ultimately, the ideal refresh rate for gaming will depend on your specific needs and preferences, as well as your budget. It's important to consider factors such as the resolution, size, and panel technology of the monitor, as well as your computer's hardware capabilities when making a decision.
Which Monitor Is Best For Gaming?
There are many monitors available that are good for gaming, and the best one for you will depend on your specific needs and preferences. Some factors to consider when choosing a gaming monitor include:
Refresh rate: Look for a monitor with a high refresh rate of at least 120Hz or higher to ensure a smoother gaming experience with less motion blur.
Response time: The lower the response time, the better the monitor is at displaying fast-moving action without ghosting or blurring.
Resolution: Higher resolutions like 2K (1440p) or 4K (2160p) can offer more detail and clarity, but also require a more powerful graphics card to drive.
Panel type: IPS panels offer wider viewing angles and better color accuracy, while TN panels offer faster response times and lower input lag.
Size: Choose a monitor size that fits your desk space and gaming setup.
Some popular gaming monitors that are worth considering include the ASUS ROG Swift PG279QZ, Dell Alienware AW3418DW, Acer Predator X27, and the LG 27GL83A-B.
Is 165hz Monitor Enough For Gaming?
Yes, a 165Hz monitor is generally more than enough for gaming, as it can display up to 165 frames per second, providing a smooth and responsive gaming experience. Most games do not require more than 144Hz, and even competitive esports titles typically have a maximum frame rate cap of 240Hz.
Additionally, not all gaming systems can consistently achieve frame rates higher than 165fps, so investing in a higher refresh rate monitor may not provide noticeable benefits for most gamers. However, if you have a powerful gaming system and enjoy fast-paced games with a lot of motion, a 165Hz monitor can provide a noticeable improvement over lower refresh rate displays.
What Resolution Is Best For Fps?
The resolution that is best for FPS (first-person shooter) gaming depends on the user's preference and the power of their computer system. A higher resolution can provide sharper and more detailed images, but it can also require more processing power, which can result in lower frame rates.
Generally, a resolution of 1080p (1920x1080 pixels) or 1440p (2560x1440 pixels) is a popular choice for FPS gaming as it provides a good balance between image quality and performance. Some gamers may prefer to use a 4K (3840x2160 pixels) resolution for even sharper and more detailed images, but this requires a more powerful system to handle the increased processing demands.
Is 144 Hz Good For Gaming?
Yes, 144Hz is considered good for gaming as it provides a smoother and more responsive gaming experience than lower refresh rates such as 60Hz or 75Hz. With a 144Hz refresh rate, the monitor updates the screen image 144 times per second, which can significantly reduce motion blur and stuttering in fast-paced games.
Many gamers prefer 144Hz monitors for competitive gaming and fast-paced games like first-person shooters, racing, and sports games. However, for some demanding games, a higher refresh rate monitor like 240Hz might be preferred.
Is 4k Worth It For Fps Games?
It depends on personal preference and the hardware specifications of the gaming setup. While a 4K resolution offers higher detail and sharpness, it requires a more powerful graphics card to maintain high frame rates in FPS games.
In general, most gamers prefer a higher frame rate over resolution for a smoother and more responsive gameplay experience. So, if you prioritize a higher frame rate over resolution, it may not be worth investing in a 4K monitor for FPS games.
Conclusion
Well, This was all about Best Gaming Monitor Under 400 USD. I hope you like my in-depth & researched-based unbiased reviews and guide. Have you discovered your ideal device? Grab one of the many offers of the day on Amazon and enjoy your new gaming experience. Feel Free to post your feedback below in the comment box.
Top-Rated Gaming Monitor Under 400 Dollars For 2023
Also Read: