Monitors are more responsive than TVs, so they are suitable for competitive games. However, for those who don't care about the possibility of longer response times and the possibility of aliases, television is as viable as a monitor, especially for those who need a large screen.f
Not all displays are created the same way. However, in the game world, the choice simply goes by different types of computer screens. Whether it's a PC or a console, the game platform can use a monitor or TV as a screen. You can also use projectors if you want.
But which one is the best?
Answering is not easy, so let's look at the differences and discuss the pros and cons of monitors and TVs.
Gaming Monitor vs TV | Differences
Screen size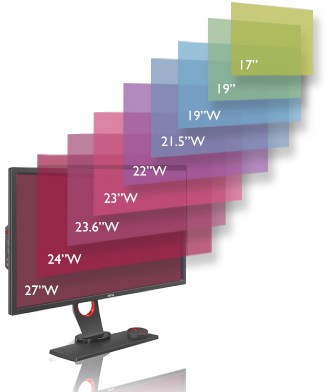 The most obvious difference between a monitor and a TV is the screen size.
Monitors typically range from 19 inches to 27 inches, but modern TVs start with this size suitable for offices, while some models are more than 100 inches. However, the most popular sizes on TV are 30 inches to 60 inches.
The larger the size of the TV screen, the easier it is to play on the couch and make a split-screen multiplayer more fun.
Resolution
Display resolution is an element that is directly related to screen size. As you already know, the resolution determines the number of individual pixels on the screen, and the more pixels you have, the sharper the image.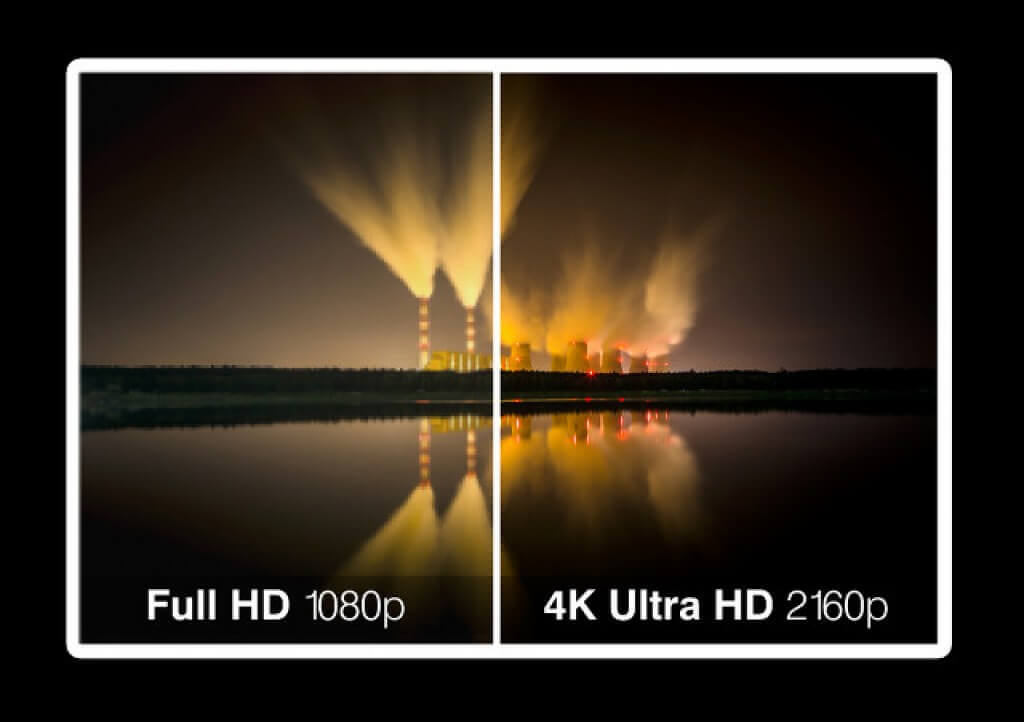 Currently, the monitor comes with the following resolutions:
1080p or Full HD
1440p, or QHD, commonly referred to as 2K, but technically incorrect
UHD, also known as 2160p, or 4K
The 27- inch is roughly the largest size because the monitor is too large to be seen up close, so it sticks to the aforementioned size range.
On the other hand, the TV situation is a little different. Available in versions of 720p (HD compatible), 1080p (Full HD) and 2160p (4K). There is nothing between Full HD and 4K, as well as sizes. Full HD TVs start at 32 inches, most smaller TVs will almost certainly be 720p, and the resolution will exceed modern gaming standards.
It is absolutely forbidden to use a TV instead of a monitor because the TV is intended to be seen from a distance rather than a close-up like a monitor. Also, the larger the screen, the lower the pixel density and the aliasing.
Response time, or more precisely, the pixel response time determines how quickly pixels change color from black to white or from a shade of gray to another.
The key to the game is to allow for smooth camera movement. On the other hand, longer response times result in greater motion blur and potential ghosting.
On modern monitors, you can usually choose a 1-millisecond TN monitor or a 4-millisecond IPS monitor. The latter is limited to longer response times due to the technology used. Conversely, the TV sticks to the IPS panel. Also, because multimedia is not as important as the desired application, the overall response time tends to be longer.

Overall, given that TV response times are higher than monitor response times to avoid consumer bias, TV response times are rarely revealed by manufacturers. Typically, these tend to exceed 10 milliseconds, but there is no clear way to know the level of motion blur you face. The safest route is to stick to well-known brands such as Sony, Samsung, LG, and Philips.
Also, if you're very concerned about motion blur, check to see if you can test your TV directly.
Also Read: Monitor Buying Guide
Connectors
Finally, there is a connector. This is probably where most of the difference between monitors and TVs exist.
Monitors typically have DisplayPort and HDMI connectors for video, and some models also have DVI. In addition to this, most have an audio input and output in the form of 3.5mm jacks. Some models also have USB ports.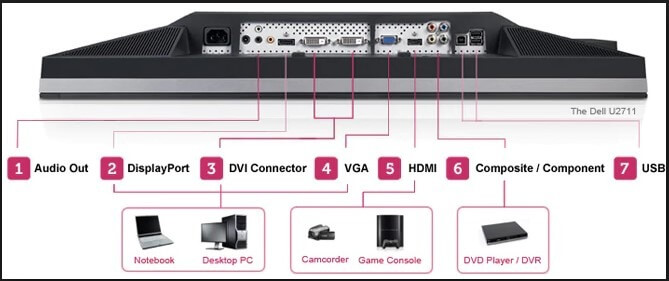 The TV does not use DisplayPort, but only HDMI is used for video transfer. Usually at least two. It also has at least a USB port and 3.5mm headphone jack, but it typically includes hi-Fi speakers and optical audio ports (TOSLINK) for home theater configurations. For TV signals, there is a coaxial connector that is used to connect cables and antennas.
Some models also include SCART inputs for analog, composite, and components. And finally, Ethernet ports are also common in smart TVs that allow wired Internet connections.
Ultimately, you can only use DisplayPort when you connect your PC to the monitor. This is because neither the console nor the TV is used, so it uses HDMI instead.
TV Vs Gaming Monitor | Video Presentation
[youtube https://www.youtube.com/watch?v=beanJ37T0vg]
Gaming Monitor vs TV | Pros & Cons
Monitor
Pros
Faster response times
Higher pixel density
DisplayPort support
High resolutions
low response time
TV
Pros
Large screen
Wide selection of screen sizes
Best Split Screen Multiplayer
Cons
high response time
low resolution
However, the TV cannot replace the computer screen, but the screen cannot replace the TV.
In objective cases, the monitor provides a cleaner image because it is more responsive and has a higher pixel density. On the other hand, if you don't care too much about shorter response times and aliasing, a TV might be as good.
FAQs
TV vs Monitor For Gaming: What's The Difference?
On the surface, there are many similarities between TVs and game monitors, but the different scans.
In addition to being small monitors, pixel density and refresh rates have been much higher since the CRT screen era. Also, the viewing angle is much narrower and does not focus on (generally) color reproduction. There are monitors that change the status quo, but historically monitors have been created to "work" rather than "play".
TVs are typically larger and focus on improving color reproduction and viewing experiences, rather than pixel density and responsiveness. It also tends to be much better to look at from a wide-angle, thanks to display technology suitable for classic living room settings.
Also Read: 8 Types of Computer Monitors
TV vs Monitor For Gaming: Image Quality and HDR
As for resolution, modern TVs are generally 1080p or 4K, but the monitor has 1440p with these options, which can be thought of like an intermediary.
In general, television is focused on a better viewing experience than a game monitor, but the recent influx of IPS monitors is making the fight by one-sided.
However, when HDR is considered, it is not substantially a conflict. Most monitors don't support HDR at all, and some monitors don't yet support an affordable price. In addition, unlike THE PS4 Pro, Xbox One S, and Xbox One X, most content is not HDR-compatible yet when playing on a PC.
Thanks to improved support for HDR and attention to better viewing, the TV won this round.
TV vs Monitor For Gaming: Input Lag
By switching from CRT screens to large flat-screen HD TVs, many players may find that the game can hardly be rub without "play mode" enabled on the TV. In fact, large HD TVs began processing high-resolution signals using their own dedicated graphics processing hardware, making the images cleaner and smoother in motion.
CRT didn't have this problem, but until today it's preferred by some players (close players who are watching you) who want to minimize entry lag.
Monitors do not need to adopt game mode due to acceptable input delays, and overall, monitors work better in this category. Taking into account the presence of a 144HZ monitor, the monitor is better at reducing the input lag than an equivalent TV. This is explained below.
If you look at the numbers, most monitors are between 1 and 5 milliseconds (although some inexpensive, large, or IPS screens will be slower). Up to 20 milliseconds. In general, there is little publicity, and integrated game mode helps to manage this in varying degrees, but the numbers reinforce the slow speed of the TV.
Also Read: How to Play 4k Video on PC or Mac (Ultra HD)
TV vs Monitor For Gaming: High Refresh Rates and -Sync Technologies
First, let's talk about -Sync technology. Specifically, G-Sync and FreeSync. These two technologies, Nvidia and AMD, respectively, focus on eliminating screen crevices by dynamically matching the refresh rate to the frame rate, and improving the perceived smoothness. These two technologies basically do the same thing, both of which are widely supported in the high end of game monitors.
For TVs, it's not easy to prevent the screen from tearing. Some very high-end TVs support G-Sync and FreeSync, but very few. To get these features, you spend more on your TV than on a monitor.
As mentioned in the Terminology section, both types of displays can have a high refresh rate but tend to handle them differently.
When you purchase a 120 Hz monitor, this refresh rate is displayed natively and you can view additional images rendered by your PC during playback.
Buying a 120 Hz TV may give you the effect of a soap opera, and you may not see the benefits of 120 Hz in the game. In fact, most TVs that use high refresh rates use a technique called "interpolation.". It aims to reduce ghosts and make movement smoother. In some cases, this results in what is called the Soap Opera Effect. TV shows and movies seem too smooth and not natural, but it's not a game issue.
Having said that, there are high-end TVs designed for gaming that support these high refresh rates. Just expect to spend more.
Also Read: Dual Monitor Setup
Gaming Monitors vs TV: Price
Game TV exists, but buying a TV with the features you need often drops the price significantly. In fact, TVs are ultimately bigger, more complex, and more expensive to produce.
Both display technologies have a high-end solution to break the wallet, but even low to medium-range monitors have less latency and input lag than comparably-priced TVs. If you're talking about the pure value of pure-play, the monitor is clearly winning.
Also Read: PC Gaming vs Console Gaming
TV vs Monitor For Gaming: Viewing Distance
TV is obviously the winner. The larger the size of them, the much more viable it is to play on the sofa or bed, and this advantage is that the screen only gets bigger. If the monitor and its average size are small, you should stay far closer to the screen. Unless you spend hundreds of dollars on a high-end gaming chair, the fact is that you're not sitting at a desk as comfortable as you sit on a sofa or lie down on a bed.
Also Read: Response Time vs Refresh Rate in Monitor
Viewing Angles
TV wins again. IPS monitors have a much better viewing angle than TN monitors (generally monitors with higher refresh rates, especially in addition to most monitors), but TVs have a wide viewing angle and great advantages in size. If you're playing local multiplayer titles, especially Super Smash Bros. Ultimate or Rocket League, the TV will win again.
TV vs Gaming Monitor | Conclusion
Finally, the biggest problem with playing games on TV is long response times and, in some cases, aliasing.
As mentioned earlier, long response times increase motion blur when the camera moves at high speeds, and the fast game stinks. However, high-quality TVs don't matter much, especially if you're not used to super-fast response times anyway.
Aliasing is still a problem in the console because it does not have the graphics processing power required for anti-aliasing and is usually connected to a large TV.
Also, as mentioned earlier, this means that pixel density is low and there are many aliases. However, if you connect a solid gaming PC to your TV, it won't be a problem when you're watching TV from the right distance.
Also Read: What is HDR Gaming
Top-Rated Gaming Monitors 2023
Top-Rated Tvs 2023
Also Read: