Do you know the true differences between Displayport vs HDMI?
Although many users are convinced that they mean the same thing, this is not exactly the case. There are differences between Displayport and HDMI such as fees or licenses, which although it seems not to make a difference. Because over the years, both have evolved so much that in audio issues there is hardly any difference.
Let's try to clarify these concepts a bit:
Also Read: Response Time vs Refresh Rate in Monitor
HDMI vs DisplayPort
The most obvious difference you can find is the connection socket. Of course, being two different types of connections, each one has a shape and a number of pins, but the differences are not there.
On a technical level, many things can be noticed. Some of them will worry you depending on what you use your pc or the monitor you want to buy for, and others you will simply ignore.
Clarify that I'm going to rely on the latest versions of both HDMI that is 2.1 right now, and DisplayPort that is 1.4.
If you are looking at a PC monitor, check that it supports the same version as your graphic at least to take advantage of any of the two connections.
Let's go for the most significant differences. Note that the latest versions have been released in January 2017 for HDMI 2.1 and March 2016 for DisplayPort, although according to official sources the new version is coming out shortly and I will update the article accordingly.
The second important difference is that HDMI is a proprietary connection interface. That means that in order to implement it on your devices you have to pay certain fees since it belongs to a company. In the case of DisplayPort, the license is free to use, that is, you do not have to pay to make the hardware compatible.
Also Read: Monitor Buying Guide
HDMI
High-Definition Multimedia Interface (HDMI) provides an interface between audio and digital video sources. It is the connection standard that allows us to transmit audio and video (uncompressed) from one device to another (including high definition content). And all in a single cable. Therefore, it is usually used to link the PC and the TV (until the Chromecast arrived and made us forget about the cables).
DisplayPort
On the other hand, Displayport is a standard VESA digital interface. It is free of licenses. And it provides a connection for the transmission of video between PC and TV. Really, we could say they are similar.
In case it is clearer like this … on my MacBook Air, I have Displayport and it is very convenient for me to connect other monitors. To work from home with a monitor, keyboard, and mouse, you will like to have Displayport. The downside is that cables are more expensive because they are less popular than HDMI.
Also Read: PC Gaming vs Console Gaming
The transfer rate and resolution of HDMI and DisplayPort
The transfer rate and resolution of HDMI and DisplayPort Do not be fooled by what seems like a measure of information transfer. Both the connectors and HDMI and DisplayPort cables support a limited flow of information.
This means that if you have a 1.1 cable and connect it to a 1.4 or 2.0 port, you will only get the 1.1 specifications.
In the case of HDMI 2.1, the transfer rate limit is 48Gbit / s, which puts a limit to the resolution of up to 10K at 120Hz. The color can reach 48 bits in 8K with HDR.
The DisplayPort 1.4 connector has a transfer limit of 32.4Gbit / s, resulting in resolutions up to 8K at 60Hz. The color reaches 10 bits in 8K and HDR.
The two cables have the same purpose and action: send digital audio and video in high definition from a source to a screen. However, there are differences between the two, and to show them, we will start with an introduction that explains how each interface came about, followed by an explanation of its distinctions. Check it!
Differences between the twisted pair Cat5e and Cat6
Google announces the construction of an underwater cable in the Atlantic
The appearance of the HDMI cable was more than 12 years ago when the specification of the high-definition multimedia interface was jointly created by six major electronics manufacturers, which are: Hitachi, Panasonic, Philips, Silicon Image, Sony and Toshiba. Today, HDMI Licensing, LLC, a subsidiary of Silicon Image, controls the interface.
The DisplayPort is newer, had its debut in 2006 and was created to replace two other old interfaces: the VGA, of the analog type of 1987, and the DVI (Digital Video Interface) of 1999. These interfaces were the most used in the monitors of PC. The Video Electronics Standards Association (VESA) is responsible for the development and control of the DisplayPort.
For HDMI input and cable, manufacturers must pay a royalty. For DisplayPort, it is not necessary.
Also Read: Dual Monitor Setup
Connectors
The HDMI connector has 19 pins and four different sizes, which are: Type A (standard), Type C (mini), Type D (micro) and Type E. Type A is the most common and the most used, while Type E is used for automotive applications. The HDMI standard usually comes with screws to fix the cable to the socket, so the lock prevents the cables from being pulled and interrupted.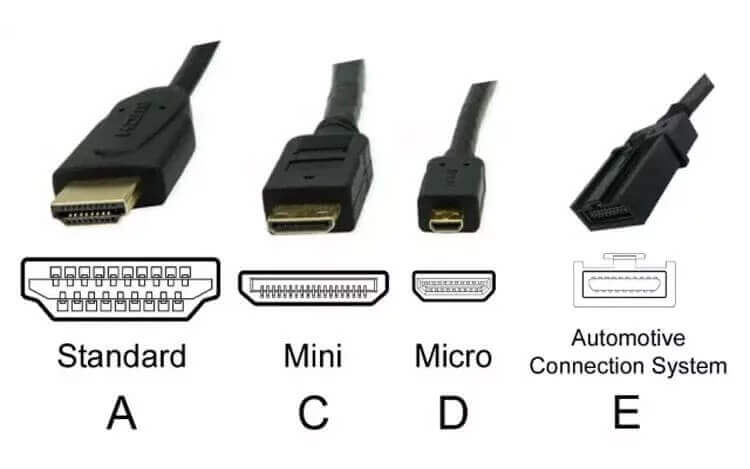 Examples of the types of each connector.
The DisplayPort connector comes with 20 pins and only has two sizes, the standard DisplayPort and the DisplayPort Mini. The interface has the same locking mechanism discussed above, but only in full-size connectors, because the official specification does not require it.
Also Read: What is HDR Gaming
HDMI cables
In the case of using an HDMI cable , attention should be paid to the cable pattern being used, because each cable is intended for a specific task, and if it is used for something that is not intended, it may present audio synchronization errors and video There are currently 4 HDMI cable standards, one more of which will be released with the latest 2.1 specification.
Also Read: How to Play 4k Video on PC or Mac (Ultra HD)
See the current versions of the HDMI cable below:
Standard HDMI cable: bandwidth indicated only for videos with 720p and 1080p resolution;
Standard HDMI Cable with Ethernet: same bandwidth, but supports Ethernet up to 100Mbps.
High-speed HDMI cable: high bandwidth, being able to stream videos with 1080p resolution above, up to 4K and 3D.
High-speed HDMI cable with Ethernet: the same bandwidth conditions as before, but with support for Ethernet up to 100Mbps.
In addition to the above functions, all modern HDMI ports must be compatible with AMD FreeSync technology, which eliminates 'lags' in games by combining the refresh rate of the monitor with the image frequency of the graphics card. However, HDMI is not compatible with Nvidia G-Sync technology, for this you need DisplayPort.
In terms of the material used in cables, copper is generally the most common. The signals can also be transmitted by CAT 5 or CAT 6 cables, coaxial cables or through fiber. "Active" cables are those that have integrated circuits to amplify the signal and are longer and thinner than "passive" cables.
DisplayPort Cables
The DisplayPort is more restricted because it cannot load Ethernet data and also has no audio return channel in the standard option, it only transmits multichannel digital audio. Together with an adapter, you can have a DisplayPort cable connect a DisplayPort source that goes to a VGA monitor. These adapters also allow you to connect a DisplayPort cable to a single-link DVI or HDMI display. On the other hand, HDMI cables can only be connected to the adapter through the DVI interface.
DisplayPort Versions:
DisplayPort 1.2: Supports up to 4K at 60Hz, some 1.2a ports can also support AMD FreeSync
DisplayPort 1.3: Supports up to 4K at 120Hz or 8K at 30Hz
DisplayPort 1.4: Supports up to 8K at 60Hz and HDR
This may seem less powerful than HDMI (especially considering the features of HDMI 2.1), but DisplayPort is present on some of the best screens, such as the Acer XR382CQK, and also has some advantages.
First, it is compatible with AMD FreeSync and Nvidia G-Sync, so you will have an uninterrupted gaming experience, regardless of what you use (as long as your monitor is compatible with technology, of course). In addition, you can control multiple screens from a DisplayPort connection instead of using several ports, which is useful. Laptops can even send DisplayPort signals through a USB-C port.
Audio and video
At this point, it is HDMI that loses points, because with it you can only obtain a single audio sequence and a video sequence, that is, it can only be transmitted to one screen or one monitor at a time. It is a negative point if you think about the number of people who use more than one monitor today.
Already with a DisplayPort cable goes further. An interface guarantees the transmission of up to four monitors with a resolution of 1920 × 1200, or even two monitors of 2560 × 1600. Each screen receives audio and video streams. In some cases, depending on the GPU, it is also possible to mount a connection to join six monitors in a single source.
Also Read: 8 Types of Computer Monitors
Conclusions…
In conclusion, you should keep in mind that the port you choose depends on the resources of your monitor and the resources you need. DisplayPort is a bit more versatile, but if your screen only offers the option between HDMI 2.0 and DisplayPort 1.2, HDMI may be the best option. This is because HDMI 2.0 is compatible with HDR and DisplayPort 1.2 does not. Of course, you will have to check the screen specifications to decide which port to use in your specific configuration.
Was the difference between Displayport vs HDMI clearer?